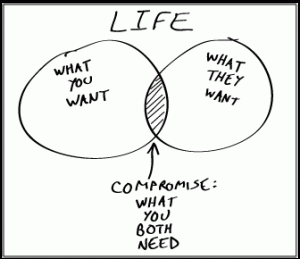 Have you ever noticed that there are at least TWO sides to every argument? I know that sounds like an "duh" statement, but some people still don't see that cold hard fact. Most of the time, each side also has valid points. Jesus tells us to try and reach a compromise without the need of a judge. Try and settle it yourselves.
There are a couple of things that struck me in our reading today. First of all, I noticed that the one Jesus seems to be addressing is the one who is being accused of something. That would be the one who committed the offense, according to the accuser anyway. We all try to avoid being labeled as the "offender." Even as children when we are faced with the question of whom the guilty party is we give that distinction to the two most notorious children in the world, "Not Me" and "I Don't Know." We avoid accepting guilt whenever possible. But Jesus' instructions about making an effort to settle with our accuser first premises that we accept responsibility for the wrong we have done. You will NOT be inclined to settle if you hold yourself blameless. Weather intentional or accidental, we need to accept responsibility for our actions and their results.
My bible helps cued me into the fact that this is applicable on an eternal scale too. "For all have sinned and fall short of the glory of God" (Rom. 3:23). We ALL have wronged God. We need to accept that fact and seek to make amends. God makes that easy for us as He is MORE than willing to settle with us. He sent Jesus to do just that. You DON'T want to face Him in the end without accepting your need for forgiveness. The eternal consequences of that is pain beyond measure.
The second thing I noticed was that Jesus told those listening to "make an effort to settle" the matter. He didn't say you would always be successful. He also didn't say always give in to whatever your accuser says. He said to try your best to find some kind of common ground and agreement. This means that BOTH of you will have to give in on some points. I can promise with 100% certainty that NO situation is seen exactly the same way by all those involved. Each person brings their own experiences, expectations, interpretations, and biases with them wherever they go. To even consider another's point of view you have to be willing to step outside your own interpretation and see the situation through their eyes. That is not an easy thing to do, but it is essential to any lasting resolution. Being willing to listen to the other person's point of view is the first step to resolution.
Personal resolutions also go down a lot easier. Willingly listening and finding common ground is much easier than being ordered to adopt someone else's solution. I have as of yet to see two satisfied parties emerge from a courtroom. When a matter makes it all the way to court the relationship is usually ruined by then and beyond repair. Those who settle it among themselves usually suffer less damage to the relationship.
The last thing I noticed was the price paid for not settling the matter privately. In Jesus' day the courts had a lot more "teeth" when it came to resolving disputes. They had debtor's prisons for monetary disputes. The U.S. has technically done away with those, but a person can still be jailed for failure to pay some civil and criminal debts. I wonder if prisoners in Jesus' time incurred criminal and civil fees with their verdicts too. It sounds as if they did from Jesus' remarks. So choosing not to settle a debt privately left the parties, especially the party ruled against by the judge, in debt to the court as well as their accuser. This was a major risk to take when coming before a judge. There was no guarantee which way the judge would rule. Risk v reward decision there.
Settlements agreements are sometimes very hard to reach. This is usually due to one party viewing to "offense" as more egregious than the other views it. Once again, the need to step outside yourself and see the issue from the other person's perspective is essential. If not, BOTH will suffer.
When it comes to eternal cost, Jesus paid it all for us. We don't have to stand before the Judge and fear the outcome. If we have accepted Jesus' payment for our sins we will be acquitted. NO punishment or fines will be assessed. NO prison time will be ordered. Our freedom is guaranteed. BUT if we reject Jesus' offer we WILL receive eternal prison time and never be free. Sin is NOT worth it!
Thank You Father for making a way for me to be reconciled to You. Thank You Jesus for paying my price! I could never pay this on my own. Help me remember Your generosity when faced with the circumstances where others need my forgiveness. Also help me to admit my guilt when I wrong others. Show me how to plead my case in such a way as to preserve the relationship. Give me the ability to look through the eyes of another so I can appreciate their point of view too. Grant me a gentle heart when dealing with those I come into contact with, including my advisories. I ask that Your Holy Spirit lead me in all my conflict resolutions. Let my will conform to Your will. Let Your light shine through me, even in the darkest places.