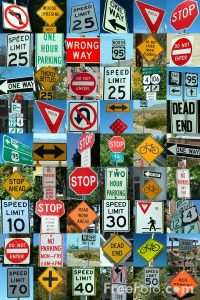 Today our reading is short and straight to the point. Luke is sharing with us snippets of teachings Jesus did before the crowds. Today's teaching is about being alert to the signs.
There are signs all around us that alert us to what is going on. Jesus identifies meteorological signs that are common knowledge in His day as His examples. The main industry in the area was farming so His audience well recognized the truths contained in these signs. As farmers they lived and died by the weather so they watched it closely.
Jesus is talking about another group of signs though. These were being ignored or played off as something else entirely by the religious leaders. Jesus was referencing prophecies being fulfilled right in front of their eyes and the miracles being performed on a daily basis. These signs should have been just as obvious to those looking. But unlike the farmer who WAS looking, the religious leaders of the time were burying their heads and refusing to look.
Burying their heads didn't make the truths revealed by the signs any less valid. It didn't stop what the signs were warning about from coming to be. It didn't even prevent the fallout afterwards from happening. What God promised came about anyway.
I was thinking about the religious leaders' behavior; namely their refusal to believe what was being played out right before their eyes; and was realizing it was also Satan blinding them with his lies. They believed the lies he told them about getting rid of Jesus would ensure their power. They bought into his whole deception, not because he is all powerful but because it went along with what they wanted to believe.
Their behavior reminds me of the kings of Israel from the past who would call for the prophets to come and prophecy to them. The prophets who didn't say what they wanted to hear were the ones to suffer the king's wrath. It didn't matter to them that the prophecies that tickled their ears were false. They only wanted to hear how they were going to succeed.
When thinking about this I also got a picture of my little brother when he was a toddler. He would get into things that he KNEW he wasn't supposed to, like any child will do. But when he was caught by my mom, he would close his eyes really tight thinking that if he couldn't see her she couldn't see him and he would be safe from the trouble. Problem was life didn't work that way just because he wanted it to or thought it should. The same holds true for the religious leaders who dealt with Jesus. They could close their eyes all they wanted and it didn't make a bit of difference.
If you get right down to it, their deliberate blindness played right into God's hands. God's plan called for Israel to reject and crucify Jesus. If the religious leaders HAD accepted Jesus they never would have done what God knew was required. Jesus offered Himself as a sacrifice but they had to draw the knife. No other option would have resulted in our salvation. We know this because Jesus asked His Father the night He was betrayed for an alternate plan. There was none, so He completed the course set out from the beginning. But those who played a part in it WILL answer for it on judgement day.
We need to be alert to the signs of our times too. We are not finished with the prophecies of the bible. We are awaiting our Savior's final return. There are signs that show us when that is to happen. Not the day or the hour but the spiritual season. I started to say that I can't fault the religious leaders entirely for missing the signs because I am uncertain about the signs of our times. But these men were the elite and were supposed to know these things. I am NO WHERE near as educated in bible prophecy as they were, so they are more accountable for their blindness. But I do know that there are signs all around us that the time is near for Jesus to return. I don't know how soon but I wouldn't be surprised by His return at any moment. So we need to be ready when He comes. Be prepared for His coming as if it is today but work as if it is years away.
Father God, thank You for the warning signs. Thank You that I know ALL Your promises are true. I don't understand them all but I trust You to reveal them to me in Your time. I wonder if I would have missed the signs in the days of Jesus. Would I have been taking the "wait and see" attitude or would I have been hanging on His every word? I pray it is the latter. Please give me discernment as to who to listen to about the signs of today. Thank You that I don't have to be anxious about what it happening, but I still need to be alert. Help me know how to respond to what is going on appropriately. Show me which way to turn and which way to go. I trust You to care for me no matter what comes; here on earth or in Heaven with You.