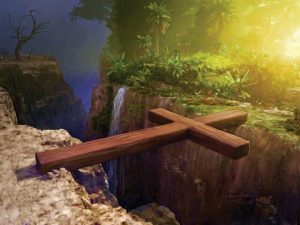 Today we are reading something that is burning within Jesus' heart. He shares something that causes me to stop and think.
So many people today talk about Jesus' love and how He loves everyone, but they don't want to acknowledge the fact that He also divided everyone. In our reading today Jesus promises division, even in the home.
But we don't like conflict! We don't want to offend anyone! Aren't we supposed to love everyone? Isn't that what Jesus called us to do? How do we reconcile what He says today with our image of Him as the all loving and all accepting Savior?
Let's start with clarifying a few things. First, Jesus DOES love everyone and He commands us to love also. He even said we were supposed to love our enemies and pray for those who treat us badly. Take notice here that Jesus acknowledges the fact that we and He have enemies.
This brings us to our second point. Jesus knows we have enemies. Our enemies are spiritual in design but act in the physical world through people. Paul tells us that our war isn't with the flesh and blood enemies but with the spiritual powers and principalities. But even God directed and will direct physical death as a result of spiritual choices. This, however, DOES NOT give us license to go out and kill anyone not agreeing with us or that we count as our enemies.
The third thing I want to address is what makes an enemy. It is not the color of their skin, the origin of their ancestors, or even the way they butter their toast. God actually created the first "enemy" back in the Garden of Eden. He told the serpent/Satan, "And I will put enmity Between you and the woman, And between your seed and her seed; He shall bruise you on the head, And you shall bruise him on the heel" (Gen. 3:15). Dictionary.com defines enmity as: a feeling or condition of hostility; hatred; ill will; animosity; antagonism. An enemy is defined as: a person who feels hatred for, fosters harmful designs against, or engages in antagonistic activities against another; an adversary or opponent. Ouch!
Fourth, Jesus DOES NOT tell us to harbor these feelings towards others. We can certainly, and rightly, harbor these feelings against spiritual forces. Again, Jesus tells us to love our enemies instead. We will have enemies but we are not told to make enemies of others.
So where does the division come in that Jesus is talking about? Why does He say He didn't come to bring peace? And why does He seem so eager for the division to happen?
The dividing line is spiritual life and spiritual death. Up until the point of Jesus' death there was only spiritual death in the world. Yes, God was working through the Jewish people and bringing His laws through them, but the laws didn't create spiritual life. Man's spirit died in the garden by the tree when Adam and Eve first sinned. The law provided temporary protecting from ETERNAL spiritual death. It was a stopgap.
Jesus would provide a new birth for all who believed in Him. He was excited about this offer to mankind! His heart was burning with a passion to deliver His gift to the world. He was like a child waiting for Christmas! He wanted it to hurry up! But he also knew the cost of it for Him personally. I would say more like a woman waiting for her child to be born. You know the joy that waits on the other side of the pain. You are SO anxious for the joy while still dreading the pain that has to come first. This was Jesus' predicament. His pain would be innumerably worse, but so would His joy.
The division Jesus brought has done exactly as He promised. One member choosing to follow Him while another member stands firmly against has divided many a household. It has divided nations too. That doesn't give the one who has decided to follow Him the right to become an enemy to the other, but brings them the directive to pray for the other. That prayer is for God to open their eyes to the reality of Jesus' love for them too.
We know for a fact though that there will be those who refuse to listen. We know Satan will have blinded many people with his lies. We also know that there will be an end to his lies, but it will be at the cost of many lives. Peace with Satan is NOT possible for Jesus and therefore not possible for His children. Satan will do EVERYTHING in his power to hang onto anyone he can. We have to fight just as hard to pry them free. We are not fighting with guns though, but prayer and a life lived as an example of what Jesus has to offer.
I know that I don't know what is in a person's heart and on which side of the line they are truly standing. I can ask them about their relationship and belief in Jesus. Jesus Himself tells us to witness about Him to the ends of the earth and this is a good beginning place. I can also look at a person's behavior and discern weather they are living a life pleasing to God. Even my life doesn't always look like it should. But I can't see inside someone and know where they really are with God. Only He can do that. All I can do is love them as Jesus does, pray for them, and pray they come to my side of the great divide.
Father God, I need Your hand working to bring many members of my own family across the dividing line. I want to add my voice to Aunt Vicky's prayer: "Lord, please build a hedge of protection around them and don't allow the enemy to take them out before they turn to You. Please shorten the season of sin's pleasure. When they do wrong, let them be caught. Let them see that sin has consequences that they aren't willing to pay." Please let this be my prayer for my children too. Please bring them permanently across the great divide.  Cement them into Your hands with Your amazing love.