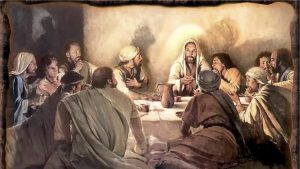 We join Jesus and His disciples in the upper room for the Passover supper. He is about to make it even more meaningful for those in attendance and for us today.
We looked at this event in Matthew in the blog titled "Our First Communion." In this blog I said that Judas had already left the group but Luke tells us that's not so. "But behold, the hand of him who betrays me is with me on the table" (verse 21). Judas partook in the cup and bread right along with the rest of Jesus' disciples.
When Jesus was passing the cup and bread He spoke of the pouring out of His blood. He also spoke of giving His body for those He was serving the bread to. Not even Judas really understood Jesus' remarks. They knew He often spoke in parables and symbolism. They were probably hoping this was one of those times too.
How hard was it to swallow those original "communion elements?" Today when we take communion, we sit and reflect back on Jesus' sacrifice. We are told to examine ourselves and take the elements with a prayerful attitude. But when the disciples drank the wine and ate the bread they didn't have our perspective. They couldn't consider the sacrifice Jesus had made. They didn't understand that His blood would cleans their sins. They didn't know that His body was about to be reduced to an open bloody mess. They didn't believe He really was going to die. They still thought they had something to say about that. But what did they say at this moment?
Earlier in the dinner Jesus washed His disciples' feet. When Peter tried to refuse, Jesus told him that if he didn't let Him do this for him then Peter would have no part in Him. Was this running through the disciples heads as Jesus made His statements about the bread and wine? Were they afraid to question Jesus?
I don't know if I could have swallowed the bread if I had been there that day. "You want me to do what!?" "How? What does this really mean?" Because they didn't really understand, they were able to honor His wish.
Jesus was giving them one final personal gift. He took the time that day, knowing what lay just hours ahead, to give them something special. Something they would treasure for the rest of their lives. Yes, His sacrifice was the greatest gift He EVER bestowed on anyone. But this gift was the one He wanted on their minds when they thought of Him. Not the picture of the Romans beating Him to a pulp. Or the sound of the nails being driven into His hands and feet. Or the crowd's cry for His death. But the FULLY INFORMED WILLING offer of His own body and blood for everyone in that room, and for us today.
When I have taken communion I have always thought of Him on the cross and the price He paid. But because of what He has shown me today, I am going to look instead at the hours before where He shared so lovingly with His disciples His TRUE love; His free choice to walk the road of pain and suffering for ME. "This is my body, which is given for you." "This cup that is poured out for you is the new covenant in my blood."
Thank You Lord Jesus for personally thinking of us on that day. The day that You could easily have said, "No thanks" to. The day when any one of us would have run the other way. But You didn't. Out of love You left took our place. And out of love You left us with a better reminder. Thank You for pointing that out to me today.