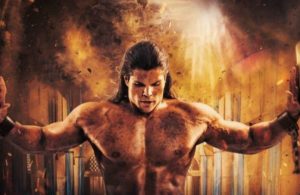 We come to the last act in Samson's life. He will be bringing down the house. His final curtain call on his final performance.
We left Samson after Delilah had found out his innermost secret; the source representing his physical strength. Something just occurred to me when I was looking for the place I wanted to start and writing the previous sentence. Samson's hair wasn't really his source of strength; the Lord was.
Samson knew of the vow to never cut his hair during his whole lifetime. He told Delilah that his strength lay in his Nazirite vow and the conditions imposed by it. But Samson's haircut wasn't under his own hand. It was done to him, not by him. Yet "the Lord had left him" (verse 20b) because he valued Delilah above his vow to the Lord. Samson placed his future in her hands instead of God's. He was subject to her will, not God's. Samson's hair was his outward expression of his strength but his true strength was an inward tie to God.
When Samson jumped up the night after his first haircut he didn't realize that TWO things were missing; his hair and the Lord's Spirit. He was undone in every way he could be. "The Philistines seized him and gouged out his eyes and brought him down to Gaza and bound him with bronze shackles. And he ground at the mill in the prison" (verse 21).
The next verse tells us that Samson's strength was tied up in his hair's length. He saw the return of his hair's as a sign that God would once again honor him with great strength. "But the hair of his head began to grow again after it had been shaved (verse 22). But another verse shows us that it wasn't synonymous with it. Samson's final prayer shows us that his strength really came from the Lord and not his locks. "O Lord God, please remember me and please strengthen me only this once, O God, that I may be avenged on the Philistines for my two eyes" (verse 28b). Samson knew, at least by now, where the TRUE source of his strength lay.
I wonder how long Samson had to consider his plight. How long was he grinding corn in the Philistines' prison? I have a feeling it was long enough for him to reflect on his heart condition that got him there in the first place. Was he angry at Delilah? Was he angry at the Philistines? Was he angry at God? Was he angry at himself? Was it a combination of all of these? Where did he ultimately lay the blame for his situation?
I believe Samson was repentant. Not only because he was caught but because he had time to reflect on the direction his life had taken and what he had lost beyond the physical realm. I hope he began repairing his relationship with God before being brought out to 'entertain the troops.' He needed the strength of the Father to stand before such evil.
This feast was all about Samson. His capture was what prompted it. I wonder what they had in mind and what they made him do under the title of entertaining them. I doubt that they would have been happy to seeing him stand between the two pillars all night. He was being led around by the hand of a young man that night.
God granted Samson his final prayers. His first was for the return of his physical strength and the second was to die that day. Samson still held a grudge against those who wronged by the Philistines but he could also see a way to even the score. God used him one final time. The instrument of God who killed more with his own death than he did his whole life. Samson also showed the people of Israel that they COULD stand up against the Philistines.
It is a tribute of love that his family came and brought his body home for burial. Imagine how long it took to dig through that carnage but they stayed until they found him.
Father God, thank You for NOT giving up on Samson! In his final minutes he gave credit to You and brought a HUGE victory for Israel. I LOVE the "never giving up" part more than the victory itself. Yes, it is awesome to be used by You but the fact that You gave Samson forgiveness means that his eternity is secure with You. THAT means MORE than ANYTHING ELSE!
I look forward to hearing his other stories in Heaven. The ones about his years as a judge for You in Israel. I KNOW his tales fed the hearts of the people for generations to come. Thanks for using even flawed people!