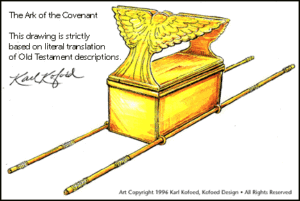 It is time to begin the design process. The first piece to be described to Moses in ALL of God's sanctuary is the ark. The centerpiece of it all.
God is designing His own house. There was nothing like it before and nothing like it since. I know. Solomon built God a home later in which they moved "all His furniture" into. This is His "mobile home" as it would go with the children of Israel. Since it is His house He can make it any way He wants to. Instead of starting with the walls and working His way in, He started with the MOST IMPORTANT PIECE and worked His way out. That piece is what we encounter today. The very place where His presence rested and met with His people. The heart of the house. The Ark.
I am not an artist when it comes to drawing. I can make awesome stick figures though. But Moses had to take what God spoke to him and transform it into something he could show the craftsmen and they could create it. Maybe Joshua had drafting experience. I'm wondering if God also gave Moses a picture of His design in his spirit to go with the verbal directions we are reading.
I have a picture of Moses standing and looking over Joshua's shoulder as Joshua sketches it all out. "A little fuller around the middle." "The wings just a hair shorter." "There, that looks good."
Did you notice that the Mercy Seat isn't given a height here? I did a little searching and couldn't find its height anywhere. The width and length were a perfect fit for the Ark and serve as its lid. So our overall height of Mercy Seat and Ark is an unknown quantity. We know the Ark's height is a cubit and a half but not any mention of the height of the cherubim or the combined height of the two pieces. The "I have to know" portion of me found out how long the measurements would be to us today. I translated them into feet and meters. Here is what I came up with. The width and height are 1.5 cubits = 2.25 feet = 0.6858. The length of the two items is 2.5 cubits = 3.75 = 1.143. Oh how I wish I had drafting or writing talents that could bring this word picture to life for us. I could probably draw a box but I'm sure my dimensions would be off. NO WAY could I do justice to the cherubim!
Something else I noticed in God's design was that the poles that would be used to carry the Ark were never to be removed from their rings. All the other pieces that will be moved about with poles have their poles removed when in use. Not so with the Ark. I wonder if it is to prevent man from touching it with soiled hands. Also, as gold is a soft metal. The Ark could be damaged by repeated insertion attempts without hands to guide the end of the poles into the rings. God would not want His meeting place marred in any way.
This combination piece of furniture was the most important piece in the whole structure. THIS is where God would reside. Physically God took up all the space He wanted to. He covered Mt. Sinai and yet still fit between the two cherubim of the Mercy Seat. His presence knows no bounds!
His Spirit resides in each of us who call Him our Lord. He didn't tear His Spirit apart and give each of us a little piece that may or may not contain every aspect of His person. Instead the FULLNESS of the Spirit of God lives in each of us. That is a Treasure Beyond Measure!
I was wondering about the building materials God chose for these two pieces. The Ark and the poles for carrying it have a base of acacia wood. I did a little research on this kind of tree and found it grows in desert or dry places. Exactly where Israel was wandering about. They are the "umbrella" shaped trees and their wood is "extremely durable wood" and resists water damage and scratching. A good choice for something you want to survive MANY years. The Ark and poles are covered in gold and the Mercy Seat is made of pure gold. "It is a soft, yellow metal with a beautiful lustrous sheen. It is the most malleable and ductile of all the elements and a single gram can be beaten into a one square meter sheet of gold leaf." Gold is also highly valued by most societies. Many economies are, or were, based on a gold standard. It is precious. "Gold is unaffected by air, water, alkalis and all acids except aqua regia (a mixture of hydrochloric acid and nitric acid) which can dissolve gold."
The Mercy Seat is made on ONE piece and it is "hammered" into shape. Imagine the craftsman doing that work! He was truly an artist gifted by God. I wonder how big the original piece of gold was that the craftsman used in his work. I wonder how much the finished pieces weighed when they were done.
Father God, I'm going to confess a bit of a distance emotionally from the schematic pictures You gave to Moses. I wonder if that would change if You told us exactly how it looked. There are so many different variations in pictures that I have a hard time with which accurately represents Your design. I'm looking forward to seeing Your original someday. The one You made. Did You speak it into being or did You have the angels craft it for you?
More than the design and the beauty, I want to experience EVERY DAY the closeness represented by this piece. I want Your presence in my life on a continual basis where NOTHING can destroy it. I want to place in my heart the reminders of Your work in my life, just as You would instruct Moses to do with the reminders for the Israelites. I wonder if the length of Aaron's rod and the size of the tablets You would wright on were the governing factors for the size of the Ark. Just curious. Did You take the ones Israel carried with them home with You? No one seems to know where they went. There was no need for their physical presence after Jesus' work was completed. Another bench question I suppose.