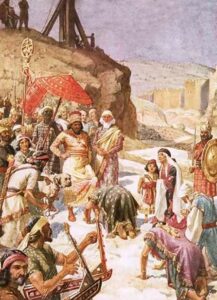 Jehoiachin meets Nebuchadnezzar himself. He decided surrender was his only possibility for survival. He and is whole household cried, I give up!
They probably didn't say it that way but the result was the same. Nebuchadnezzar walked away with around 10,000 captives from Jerusalem that day. So how did Jehoiachin get here in the first place? Let's back up and see.
Jehoiakim, Jehoiachin's father, was appointed by Pharaoh Neco when his brother was taken away to Egypt. Jehoiakim served Pharaoh Neco for a while. Egypt fell to Babylon and Jehoiakim decided to get on the winning side. He served Nebuchadnezzar, king of Babylon for three years. But even that got old so Jehoiakim rebelled against Babylon.
This point is where we come up with a little of the unknown. We don't know exactly how Jehoiakim died. We do know (or will find out later) that he did a grievous sin against God and his death was a punishment for it. He didn't even get buried with the other kings.
The people then make Jehoichin king. This is still during the time when Jerusalem is being attacked by every enemy in sight. Jehoiachin is, in today's standards, barely a man at the age of 18. His entire rule is marred in battle. All three months of it. He took the reins of Judah while under siege by the very king his father rebelled against. Before the city is destroyed Jehoiachin gives up. He sees no future in continued resistance.
Jehoiachin holds out until Nebuchadnezzar himself comes to the battle. To the king alone Jehoiachin surrenders. He takes with him his mother, his wives, his servants, his officials, and his palace officials. This group was willingly given into the hands of Nebuchadnezzar. But more would be taken that day.
Jerusalem was emptied of all but the poorest people. Seven thousand men of valor, one thousand craftsmen and metal workers, and two thousand general members of the community march out under guard that day. They were taken to Babylon where they would serve the people there. Jehoiachin would be put in prison there. He would eventually be brought out and treated with respect though.
So why did Jehoiachin choose surrender over resistance? Did he think this was the best option for his people? Did he think it was their ONLY option besides death? I can understand his desire to protect the people and spare them but what did he condemn them to instead? Did he even consider calling on God for help? Would God have helped them at this point if they turned to Him? HE is the one who was bringing this punishment upon the people for their sins. IF they had turned to Him, would it have been real? Probably not. It would have been a 'hot water turning' instead of a 'heart's yearning.'
That was the difference between Josiah's time with God and all the other on again off again relationships of the other kings. Josiah's heart yearned to be in fellowship with God. He longed to please God and to live by His standards. The others who turned to him wanted help with their current problems. They wanted out where Josiah wanted 'in'; in God's presence, in God's favor, in God's will.
Jehoiachin knew nothing of his grandfather's heart for God. He feared man instead. And he would do whatever he could to keep on the right side of the powers that be. He probably held no illusion that he was walking away into freedom. Perhaps he held onto the fact that his family survived intact. But was that enough?
What are you willing to surrender to? What am I? Times are changing all around the globe. There is coming a time when being a follower of Christ will mark you for death. Will you willingly give up your faith for your life? What is your earthly life worth to you in Kingdom terms?
One thing about Nebuchadnezzar was that he walked away from Jerusalem and left it relatively intact. He didn't tear down the walls. He didn't destroy the Temple. He didn't burn the houses. He didn't slaughter the people. He looted the Temple and the king's treasury but left everything standing. He made it look like things would continue on just as they had before his coming. He even appointed the people a new king. He made the people who remained 'comfortable'. They had no reason for further rebellion. And no means to mount a defense if they did choose to rebel. There was no one left to make weapons for them. No strong troops to fight for them. No leaders to show them the tactics to use. All that was left was a king who agreed to be a puppet. Things looked good on the surface but underneath it wasn't.
This is how it will be in the end times too. Things may look like they are operating normally but look to closely and you will see something is seriously wrong. No freedoms. No rights. No choices. And most important, no God. The people will have chosen the easier route and let go of Him. It will be easier to go along with whatever is being pushed than to stand against the schemes of the enemy. "If you stand for nothing you will fall for anything." Where will you stand and what will it be for?
Father God, I know I live in a country that still has many freedoms. One of my most cherished freedom is that of worshiping You. That is becoming unpopular right not but I will ALWAYS choose You. No Matter The Cost! I pray for my brothers and sisters in Christ who already face the choice of death or separation from You. I pray they have the strength to stand on that precipice and say, "Either God will give me wings or He will carry me to Himself in Heaven." I pray they don't take the 'easy way out' like Jehoiachin did. He eventually found comfort in this life but he paid for it in the next.
Give me the strength to stand. It comes from You. That assurance that You have me no matter what I walk through. Show me the path to walk too Holy Spirit. Don't let me 'jump off a cliff' just to see what happens or one I placed myself on of my own making. I want to stand FOR You and WITH You BECAUSE of the love You showed me. NOT for my own desire to be a spectacle or to gain glory but to give glory to You. Let me show Your love in all I do, no matter where I happen to be.