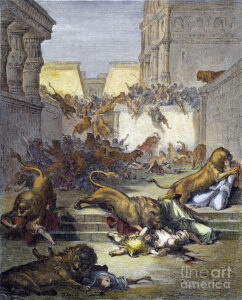 Israel has been removed from the land God gave them. He allowed Assyria to conquer them. The new residents are the Assyrians who take the land, homes, and businesses left behind.
Talk about 'ready-made housing.' The people of Samaria fell after three years of battle to the Assyrians. They are taken in chains from their houses and every hiding place. The town stands empty, but it stands none the less. The wall is in need of repair and there are doors that no longer hang in their frames as they were forced open in search of inhabitants. But the majority of the city is sound and stands ready to receive new residents. Even the shrines and high places await repurposing.
The king of Assyria isn't about to let good resources go to waste. There is overcrowding in several of his cities. He sends a call out for people to come and inhabit the now empty city. His decree is sent to Babylon, Cuthah, Avva, Hamath and Sepharvim. People come in droves and they are given homes of their own and businesses to run. It is as easy as stepping into a pair of shoes someone else has just stepped out of. Maybe not quite so easy but they lacked little to begin a new life in this huge city.
When the people came from the cities where they had been living, they carried with them several important things. The first thing they carried was their family. Entire family groups moved into the waiting city. Men, women and children once again filled the streets of Samaria. Which brings us to the second thing they carried with them; their customs.
The houses taken from the Israelites bore many similarities in form to the houses in the cities of origin for the new residents. But there were differences. One difference was the doorposts. The older homes still carried the writings of the law fastened to a plaque on their doorposts. Some had symbols carved into the very wood surrounding the door. These things meant nothing to the new residents and were thrown away or even covered over with images of other gods.
That brings us to the third and most significant thing they carried with them; their gods. Israel had strayed from God. They still claimed Him when it suited their needs but they had let other gods come into their homes and hearts. They had set up shrines to Baal and Asherim poles all over the place. But there were still signs of their acknowledgment of God within their city. The new residents had no use for these articles. The shrines and high places were transformed into places of worship for the new residents own gods. "The men of Babylon made Succoth-benoth, the men of Cuth made Nergal, the men of Hamath made Ashima, and the Avvites made Nibhaz and Tartak; and the Sepharvites burned their children in the fire to Adrammelech and Anammelech, the gods of Sepharvaim" (verses 30-31).
The people were MORE than happy to move into these ready-made homes and bring their customs and gods with them. But God wasn't done with the land or its people. He still had plans to restore them to this place and He was going to watch over it in their absence. The new residents would be allowed to 'borrow' the homes and places of His people but He wasn't going to let them forget Who REALLY owned it. He would NOT be pushed from or exiled from the land.
God sent lions into the city. The people were frightened and some of them were even killed by the lions. They did all they could to prevent the lions from coming. Traps were laid, the gates were closed at night, hunters even sought out the bravest lions for slaughter. But nothing deterred the lions. God found a way to get them into the city regardless of what the people tried.
The people began to equate the appearance of the lions with the God of the land. They didn't have His covenant or His Laws. But they knew something was at work in this place and it was POWERFUL. They were afraid and called out to the king who placed them here and asked for his help.
Israel's history was not unknown to the king of Assyria. If the God of the people still claimed the land then He would have to be appeased along with all the other gods brought in. The king sent for priests from the captured people to teach them about Israel's God.
This polytheistic behavior wasn't wrong for the new residents because they weren't God's people. But they did have to respect His 'house rules' by acknowledging Him as 'owner of the manor.' This reminds me of 'landlord and tenant' relations. The tenant is free to live in the house as they please as long as they respect who the TRUE owner is and his right to put limits on how his property is used. Payment is made in exchange for use. When the owner demands return of the property it is immediately surrendered. All major repairs or renovations must be approved by the owner. The owner has the right to inspect the property with reasonable notice given. And the tenant has to pay for any damages they cause while in possession of the property.
The foreign nations were within their rights to bring in their own gods as long as they acknowledged Who the true owner of the land was. Israel was NOT free to bring in other gods because they were God's children. God was their father. He gave them life. He protected them from harm. He taught them His statutes. He provided for all their needs. His house, His rules as the Father. And He disciplined them for breaking the rules that they KNEW very well. "Thou shalt have no other gods before Me" and "Thou shalt not make for yourselves any graven images" was NOT a surprise or new rule to the people of Israel.
Our hearts are the 'land' now. God created EVERY ONE OF THEM; even those who refuse to acknowledge that fact. He is the 'landowner' but He asserts little rights over those who choose not to place their lives in His hands, for now. They are free to bring in as many gods and they want and live their lives by their own rules. But there will be a reckoning in the end for ALL. Those who refused to recognize Him as Lord now will see in the end that He IS Lord regardless of their recognition. They will pay the ultimate price for that refusal. They will spend eternity separated from Him; in Hell.
Those of us who have given Him our hearts, we are NOT free to bring in other gods or to live however we choose. Because He is our Lord, our spirits cry out to follow and please Him. We bear fruits of righteousness BECAUSE He has made us righteous. We are His house and we live by His rules.
Those rules are not restrictive or arbitrary. They are for our good and will bring about good in our lives when we keep them. Rule #1: Love the Lord your God with ALL your heart, mind and strength. Rule #2: Love your neighbor as yourself. Those two rules sum everything else up.
Father God, thank You for being my 'landowner.' I give You full reign in my heart, mind, and body. I want to live a life that pleases You. Thank You that You never take Your hands off when I forget to honor You as owner of my life. You bring me right back to where I need to be. Whatever it takes!