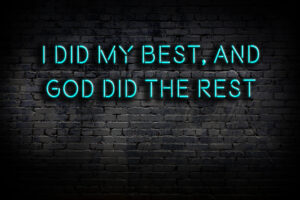 The psalmist sings of God's protection of His people and His rest for the righteous. God's protection surrounds His people as the mountains surround Jerusalem.
When Israel tried to conquer the city of Jerusalem they found it was NOT an easy task. They were not able to do so until David devised a plan to infiltrate it from under the walls; through the waterways. Jerusalem was a fortified city because of her topography. She rests high on a hill between many mountains. This is the place God chose to call His own. IF Israel had been faithful, Jerusalem probably never would have seen conquers.
As I was reading this brief psalm I was struck by the notion of 'rest'. "For the scepter of wickedness shall not rest on the land allotted to the righteous, lest the righteous stretch out their hands to do wrong" (verse 3). When Israel had a godly king they had 'rest' from their enemies. When their king served other gods they had war. Solomon was the first king to experience the 'rest' of the Lord. Although David was the most godly of kings, his hands were covered in the blood of Israel's enemies. God gave him victory in these battles and Israel grew as a result of that favor.
When Solomon took the throne Israel found rest from war. But evil snuck in 'under the wall' and that rest would end. Israel had 'rest' for the entire rule of Solomon but the damage was already done by the time the throne passed to his son. Israel was ripped in two because of Solomon's sin. The Kingdom of Israel would never again know 'rest'. They would be engaged in battle the entire time of their separation. The Kingdom of Judah would have 'rest' whenever they had a godly king. Kings Asa, Jehoshaphat, Uzziah, Hezekiah, and Josiah all had few battles in their reigns; especially when they were following the Lord fully. Most of them though didn't go the full distance of getting rid of ALL the false gods hanging around in Judah.
After the downfall of Israel the land has had little 'rest'. One faction against another has risen up in this area. Today is no different. Israel and Palestine are at each other's throats. I don't believe there will be any 'rest' for this area until Jesus returns to rule it.
Where sin slips in there is no 'rest'. This includes in our hearts. That is where God's Spirit resides now. And He provides the 'rest' we need, when we are following Him. There is no security outside of Him either. I don't care how 'well-fortified' you are, without the Holy Spirit in your life you are one wave away from sinking. Even the best fortresses have weak spots, as David proved when he conquered Jerusalem.
God's security doesn't have weaknesses. Having His security DOES NOT mean that we won't have any problems! What it does mean is that He can provide us with His peace in the middle of those problems AND with eternal security. NOTHING this world has to offer can compare to that. We can have 'rest' right in the middle of the mess when we rely on Him. Let Him fight the battles. He is MORE than capable. He has proven that time and Time and TIME again.
Father God, there are so many 'storms' around me right now concerning my family. You are the ONLY one who can work them all out. For David and Cynthia and their move. For Cassady and Jason and their housing situation. For Bethany and her father's health. For Haley and her recovery from surgery. Those are just the bigger ones Father. Then there are the constant ones that need daily prayer and faith to leave them in Your hands. So many times I want to jump in and 'help' but I can't fix the problems. Only YOU can. Please give me Your peace and 'rest' in these areas. Help me fully hand them over to You. You are my security and Your promises are true. I hold fast to these and accept Your 'rest'. Not freedom from activity but freedom from fear and worry.