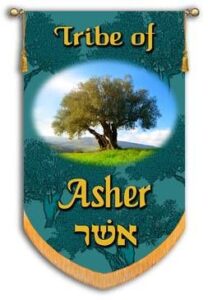 This is the last covered tribal genealogy. The tribe of Asher opens their rolls to us. Theirs is pretty deep.
The first thing I want to know is why the tribe of Dan is not included in all this genealogy. I'm not enjoying this trip through the rolls but everyone else had a turn; why not Dan? I have no answer for that so I'm going to turn instead to what we do have for today; the tribe of Asher.
In the first two verses we have sisters mentioned twice but they are absent from future lists. Was there something special about these two women? I was wondering if they were mentioned elsewhere in the bible in a specific story but found they weren't. I did find some 'tall tales' of Serah having lived from the time Jacob's family entered Egypt to the time of King David. I will give you the link to the site but I put NO stock in the stories told. I have no doubt there were women named Serah of the tribe of Asher throughout the years but there is NO WAY the ones identified were the same woman. Shua doesn't even have any 'tall tales' about her, even though she is honored by being in the written genealogy.
The genealogy of Asher appears rather straight forward for the first five generations. There are certainly names missing from the list but there aren't too many names that have been changed or brought in out of nowhere. At least until we bump into Helem. I don't know if he is a secondary name of one of our other characters. I think some of the names tie back to Japhlet because the two branches after his are qualified with the words "his brother" following them. I thought this might be linking them back to Japhlet. Shemer is probably Shomer. Helem is possibly Hotham, Japhlet's other brother. If so, this gives us six generations with direct ties.
Jether is the next name that pops out of nowhere. Then we add Ulla to these leaps. They are both listed as having sons but I don't have a clue as to who their fathers were. Our original audience likely did.
The only thing besides the names presented in Asher's genealogy is the number who were enrolled for service. The men mentioned were heads of clans, mighty warriors, and "chiefs of the princes" (whatever that means). What I do see from this list is that the number of men enrolled as warriors is far less than the census that came out of Egypt. Twenty thousand less men were available from the tribe of Asher at the time 1 Chronicles was referencing. Was the tribe shrinking or were men only counted who were training to be soldiers?
I can't seem to find what else separated Asher from his brothers. I Wikipedia claimed that the tribe of Asher was famous for its oils but I have no idea if this is true or not. I don't know the lesson we are to take from Asher today either. If it weren't for the omission of the tribe of Dan I would say that none of Israel's sons were left out. Maybe Dan was excluded from this list for a reason. They were the only tribe that was unable to subdue the people in their allotted land and chose to move onto another area instead. They were also not known for their devotion to God. Maybe that is why they didn't make the list.
In the final count there will be those we thought should be included that 'don't make the cut' to enter Heaven. There are people who claim to be followers of Jesus but haven't really given their lives to Him. There are also those who are 'basically good people' who don't have a relationship with Christ. These people, no matter how 'good' they are will NOT be entering Heaven. Their good deeds, their political affiliations, or their genealogy are not enough to secure a place for them with God for eternity. The blood of Jesus is the ONLY way into Heaven. If there were ANY other way, Jesus wouldn't have had to go through the agony of the cross. Don't let Satan fool you! A relationship with Jesus is THE key to eternal life.
Father God, thank You that I don't have to rely on my own works or righteousness to get into Heaven. Jesus paid my price. He included me in His work on the cross. I am NOT left out!
Thank You Jesus! I have NO WAY to repay You for the gift You gave me. All I can do is try my best to make You proud of me by living the life You called me to.
Thank You Holy Spirit for guiding me daily in living that life. I can NOT do it on my own! I need Your help daily. And thank You again for bringing something to me from our time together. I honestly never know where we are going to wind up but I KNOW the trip is ALWAYS worth it.