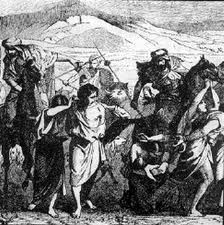 God has been calling Israel back to Himself since they split the nation in two. They have refused to listen and now His patience is at an end.
My bible separates the fall of Israel from the reason for it. I decided they needed to be put back together. Israel didn't fall in a vacuum. She went down by the hand of God as a result of her OWN sins. God was patient, persistent, and merciful in His waiting for them to repent. But even He has an endpoint to these virtues.
God KNEW going into creation that this day would come. He KNEW that His chosen people would reject Him over and Over and OVER again. He KNEW that they would ignore the prophets He sent them to bring them back to Him. He KNEW that they would chase after other gods and assign His works to them. He KNEW that there would be a time He would HAVE to fulfill His promise of punishment for breakings His commandments.
Yet He created man anyway. He called Abraham anyway. He rescued Israel from Egypt anyway. He cleared the land with Joshua anyway. He allowed them a king anyway. He quietly watched as the tear in the very fabric of the kingdom became an irreparable separation. He cried as His people chased after other gods. He pleaded with them to return to Him through His prophets. And He LOVED them in spite of ALL they did.
Because He loved them He HAD to honor His word in ALL aspects of it. He made promises to prosper them WHEN they obeyed His Law and He made promises to curse them WHEN the rejected Him. God HAD to keep His promise to punish bad behavior or His promises to bless them meant NOTHING. He could only delay for so long. And that delay is called mercy.
God had every right to strike His people down where they stood. He had the power to do so at any moment. And He had the legal standing to do so based on the covenant THEY had agreed to. But instead He granted them mercy.
God showed mercy when Jeroboam made the golden calves and called Israel to worship them. He showed mercy when Jeroboam ascribed His works and wonders to the metal images. God showed mercy when altars began to pop up under every tree and on every high hill. God showed mercy when altars to Baal made their way into the homes and lives of HIS people. God showed mercy as Asherim pillars were erected throughout the land. And God showed mercy when HIS people sacrificed their own children to these abominable foreign gods.
Israel was under an explicit covenant with God. They should be VERY grateful that it was a covenant and not a contract. With a contract, when one party breaks their part the other party is released from all obligations towards the breaching party. In a covenant, when one party breaks their part of the agreement, the other party still has the responsibility to uphold their portion. This goes for both good and bad clauses. God bound Himself to Israel until the covenant was completed in full, regardless of their actions. Israel's actions would lead Him to either good or bad clauses within that covenant but He would hold fast to His sided of it.
God completed that covenant with the sacrifice of His Son Jesus. He has written a new covenant in Jesus' blood. That covenant is bathed in grace. Jesus' blood cleanses our sins when we turn to Him and surrender our lives into His hands. This covenant changes the heart of those who enter into it. The last covenant addressed the actions while this one addresses the root of those actions; the spirit of man. God gives life to the dead spirit inside us. That new spirit desires a real relationship with Him.
Yes, there will be times when we need His mercy, forgiveness, and grace. We have only to ask and He will give it to us freely. He already paid the price to seal this covenant so no other payment is needed. He is not bound by the rules of "Do's and Don'ts" that the first covenant had, BUT the spirit within us that He gave life to draws us to do His will. It longs for relationship with Him. When we truly surrender our lives to Him we can't help but want to be like Him and to do His will.
No behavior change indicates no life change. You may have said the words but there was no heart intent behind them. You can't help but begin to change when He makes your dead spirit alive. Trust Him to bring out the good fruit in Your life. Feed your living spirit on His word. Bathe it in prayer. And polish it by offering praise and worship to Him. That's how we grow.
Father God, thank You for Your mercy and grace. I am SO grateful I'm on this side of the promise of Jesus. I don't know how I would have reacted in the footsteps of Israel. I PRAY I would have been walking in Your ways but I can't guarantee that. The new spirit that You gave to me though Jesus LONGS to be with You and grow in relationship with You. THANK YOU for that life! Keep me always seeking closer and closer walk with You.
Lord Jesus, thank You for the forgiveness that You purchased for me through You blood. Thank You that Your purchase is for a LIFETIME. I'm Yours FOREVER!