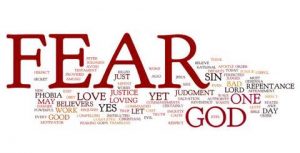 In our story today Jesus actually tells us to fear something. But I thought He said not to fear because He is with us: "Do not fear, for I am with you; Do not anxiously look about you, for I am your God. I will strengthen you, surely I will help you, Surely I will uphold you with My righteous right hand" (Isaiah 41:10). So what is this story Luke is bringing us?
Fear comes in a few varieties. There are good kinds of fear and bad kinds. On the good kind of fear side we find fear motivates us to make positive choices and protects our lives. Healthy fear is where we recognize the danger inherent in something and are motivated to avoid that danger. This kind of fear would keep us from stepping off a cliff into thin air. A milder version of this same kind of fear keeps us from breaking rules and laws. We know the consequences of crossing the line and have enough healthy fear to keep us on the safe side of the lines. This kind of fear is also tied in with respect. We are told to fear God. This is that kind of fear, where we recognize His power, recognize our insignificance in comparison, respect His authority over us and remain in His good graces to the best of our abilities.
On the bad kind of fear side we find that fear can be destructive and debilitating. Irrational fears are when we experience fear when facing something that actually poses no danger to us at all. An example of this is my fear of mice. I literally will run screaming from a little mouse that has NO ability to actually harm me. Another negative fear is peer pressure. The person fears not being accepted or liked if they don't behave in prescribed ways. While this can be helpful when used to motivate us towards positive behavior, when used for the opposite effect can have disastrous results. Prolonged fear is very destructive. The chemicals created by the body in response to fearful stimuli are helpful for immediate responses, but those same chemicals can lead to serious health problems when they continuously are produced over long periods of time.
The most common and unproductive kind of fear is worry. Worrying is when we keep thinking about possible outcomes of future situations that may or may not happen. We spend countless hours trying to reason out how to control something that is usually beyond our control.
So let's look at what Jesus had to say today about fear. Let me state again that I am no expert and am not going to try and convince you that I know EXACTLY what Jesus was trying to say. I'm simply going to share with you what I received while reading our story.
I believe Jesus is talking to His disciples in our story. His first instruction to them is to not fear men and what men can do to them. He says that men can kill them but that is all they have the power to do. He knows, but doesn't tell them in this instance that many of them will be killed. They will be killed because of their decision to follow Him.
Next Jesus tells them who they do need to fear. When I first read this section I thought Jesus was talking about Satan. I was seeing Jesus' caution to fear Satan and what eternity holds for those that are not afraid and choose to follow him. My bible helps clued me in to look at Jesus statement at an admonishment to fear God. They point to the fact that at the judgment throne God has the power to send someone to Hell. Satan doesn't send a person to Hell but "welcomes" them instead. Thinking about this a little more I would say Jesus was saying to consider your eternal destination VERY carefully. Not fearing Satan and what he "has to offer" is extremely dangerous. Fear God and recognize the fact that His rules are hard and fast and if you choose to refuse Him you WILL spend eternity paying for that decision. Let the fear of that future "scare the Hell out of you!"
Jesus then paints a loving picture of God as the alternative to what waits in Hell. God cares for even the sparrows so surely you can trust that He cares for you. He even knows how many hairs are on your head and he doesn't lose track as we lose hairs. He is AMAZING and wants to care for you that deeply every day.
More than anything else, He wants to remove all fear from you. Yes you still need to be afraid to step off a cliff into thin air but you don't need to be afraid of what tomorrow will bring. You will NEVER have to be afraid of Satan or Hell again after giving yourself to Him. He will ensure your eternal safety.
Because of the next section, which we will read tomorrow, I believe we need to add one more fear factor here. When Jesus tells us not to fear men but to fear God He is also saying that if we do just the opposite we will find ourselves on the wrong side in eternity. If you are afraid to stand on the side of God because of what man might do to you, then you put yourself beyond His help in eternity. Deny God before men to save yourself and you receive Hell for eternity. Value God over man or value man over God. Your choice, but KNOW there are consequences to this decision. What price are you willing to pay?
Father God, thank You that I don't have to fear what man can do to me. I know Jesus' disciples didn't have pleasant times after standing for Him but their reward was MORE than worth it! I pray I'm not faced with the same kind of persecution they faced, but if I am I choose YOU. Give me the strength to stand for You no matter what the cost. Forgive me for the times I don't stand out strong enough. The times I'm afraid to speak up. I will NOT deny knowing You.
Please help me put my daily worries in Your hands. I can't control tomorrow any more than I can control the wind. You are holding my tomorrows. I trust You to bring from them what is best for me, whatever that may be.