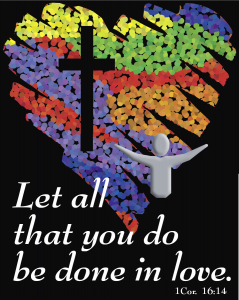 This is Paul's final instructions to the Corinthian church, for now. He also gives special instructions for honoring some of the founding fathers of this group.
"Let all that you do be done in love" (verse 14) encompasses everything that Paul spoke of in this letter. It also stands sentinel to the command he wrote just before it. "Be watchful, stand firm in the faith, act like men, be strong" (verse 13).
Paul wants this group to be watchful to prevent sin from sneaking back into the body. But confront those who have fallen in love.
Stand firm in the teachings that you have received. Keep the foundational truths pure. But bring the new believers along in love. Don't force them to mature to your standards. Let the Holy Spirit take the lead.
Act like men. Take responsibility for your own actions. Be the head of your household and remain under God's leadership. Be willing to listen to correction. Respond with love instead of blame or excuses. Love your family as Jesus loves the church.
Be strong. There is going to be trouble and trials. Stand up for Jesus instead of hiding away. Demonstrate the same kind of love Jesus did for His persecutors. Forgive them and love them by sharing God's word with them. Their soul may be won by your final witness.
Paul calls for honor, which comes directly from love, for the founding fathers of the church in Corinth. They opened their hearts and homes for the work of the gospel.
Lord Jesus, the example of love that You gave is SO far beyond what I could ever attain to. Everything You did began in love. I want to live that way too. I have a LONG way to go to get there. Thank You for bringing me a little further along each day though. Thank You for the renewed love I have for my husband. Even as times have gotten harder, my love has gotten fresher and deeper. Thank You for that gift. Keep growing me in love.