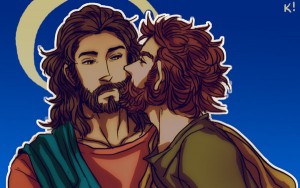 Jesus has just woken Peter, James and John for the last time following His prayer time with God. They are in Jesus' favorite garden spot. One well known to all of His disciples. The one place Judas knew He would visit after the meal. As Jesus is still speaking to His three closest disciples, Judas and his group arrive. This is where we join our story today.
Peter is startled awake at Jesus' voice. Peter didn't intend to fall asleep, again. He just couldn't keep his eyes open. He looks over at James and John to see them emerging from sleep too. At least he wasn't alone in his disgraceful behavior. Jesus had asked them twice to watch and pray while He spent time in prayer alone. Peter was ashamed to be found sleeping by Jesus, again.
The weight in Jesus' words didn't sink in for Peter, James or John right away. "Rise, let's get going, my betrayer is here." Who is Jesus talking about? We told Him we would never betray Him. Does He think it is one of us? As Peter stands to His feet he looks over Jesus' shoulder. Coming up the path is Judas and he is being followed by a large group. Peter remembers that Judas wasn't with them when they left for the Mount of Olives, but Judas knew of Jesus' affinity for this spot so maybe he is just now returning from his errand to join the group of disciples.
John notices what is in the hand of every man in the group following Judas. They are carrying swords and clubs! James and Peter see John stiffen and follow his gaze. They too see the weapons being brought into the garden. Why would they need these? What are they planning to do? Is Judas bringing guards to protect Jesus? Jesus has been talking about someone betraying Him. Maybe this was the errand Judas went off to do.
Judas walks towards Jesus with a "friendly smile" on his face. He shows no signs of deception as he approaches. Judas is secretly laughing in his heart. "This will teach Him to dismiss me. This will shut Him up about a 'betrayer' and dying."
Previously Judas had a long conversation with the group assigned to arrest Jesus. Judas didn't want any of the other disciples to get hurt in this process. This "arrest" was just to teach Jesus a lesson. They weren't going to kill Him but they were going to rough Him up a bit, and then turn Him loose. So to protect the other disciples Judas promised to identify Jesus for them. He said he would kiss Jesus as a signal to grab Him.
Jesus stands ramrod straight as Judas approaches Him. Jesus knows exactly what is going on. Judas greets Jesus "warmly" with a salutation and a kiss. The kiss. The signal to the accompanying mob. The kiss Jesus had been expecting. The kiss signaling the beginning of the end.
Jesus stands perfectly still, looking directly into Judas' eyes he says, "Friend, do what you came to do" (verse 50). Jesus didn't spit venomous words at Him. He didn't try to run away. He simply stood still and waited.
The leaders of the mob step in and grab Jesus by the arms and shoulders. Peter awakes from his confusion at that point and realizes that these men are here to do Jesus bodily harm. Peter wore a sword to dinner tonight, just in case there was trouble. Jesus had been talking about His death for some time now and Peter wanted to be prepared. Jesus had even identified today as the day He would die. Without another thought, Peter grabs his sword from his side and swings it. Peter knows they are outnumbered but if he can create a diversion maybe Jesus can get away.
Peter is not a practiced swordsman. He managed to lop off an ear with his first swing. Peter draws back for a second blow when he hears Jesus tell him to stop. Jesus voice cuts through Peter, stopping him in his tracks. "But… Why…? I'm trying to defend Him."
Looking directly at Peter Jesus says, "Put your sword back into its place. I don't need your help here. My Father could wipe out this whole group if I asked Him to. But then the scriptures wouldn't be fulfilled." Jesus picks up the ear that has landed on the ground. He places it back on the side of the injured man's head. The man is completely healed. Rather than the usual expressions of gratitude shown following a healing, the man glares at Jesus and wonders in his heart about tricks Jesus might be trying to pull with this healing.
Jesus then addresses the crowd. "Why did you come out here after me with clubs and swords? Do you think of me like a common robber? Someone you have to subdue? I was in the synagogue daily and you just stood by. You never tried to arrest me there. Do you realize that everything you are doing is part of scripture and prophecy? Even now you are proving who I am through your actions."
Peter, James and John scatter as the mob takes greater hold of Jesus and begin to move Him out of the garden. Jesus other disciples have also run away. Jesus, Judas and the mob head to the home of Caiaphas.
All the disciples are scared, worried, and confused. What is going on? How could Judas do such a thing? What are they going to do with Jesus? What are we supposed to do? Are they coming after us next? Peter also wonders why Jesus stopped him. "Didn't he know that I would have defended Him to the death? I don't understand! What does He want from me?"
Father God, Jesus' disciples were so confused at that point. Jesus had spoken to them on four separate occasions about what was coming, yet they were still taken by surprise. Looking at the events from this side of the promise, it would be so easy to condemn them for their behavior. But ours is not the vantage point they had. Everything in their world had just been turned upside down. And this was just the beginning. I can understand Peter's behavior a little better when I think about how everything he thought he knew changed in that moment in the garden. The Man he expected to take the throne, willingly allowed Himself to be taken. The Man who predicted His own death, willingly marched towards it. The Man who Peter swore to protect to his dying breath said He didn't need him. The Man who removed every trace of Peter's brave stand against the enemy. This Man Peter didn't know. The Man Peter thought he knew didn't exist. He was a figment of Peter's imagination and ego. Peter had a LOT of reevaluating of Jesus teachings ahead. He would have to look at everything he thought he knew about Jesus in terms of the newly revealed Jesus.
The problem is that Jesus wasn't putting on a different face for Peter. Peter was seeing Jesus through his own expectations, not as He truly was. All the disciples and the rest of the world were too. That too was part of God's plan. If the world knew God's plan, Satan would have changed his tactic.
I am guilty too of trying to make Jesus fit my mold. Wanting Him to act the way I think He should. I face the same realization that Peter did that night in the garden. That Jesus had His plan all along and nothing I did or do will change that. Father God, You and Jesus both share the truth with me, even when I'm not ready to listen or understand. When my preconceived mold breaks because the real Jesus doesn't fit in it, I have no one to blame but myself. I don't want to be chasing after my contrived models any longer. Show me the REAL You. ALL of You. Break my molds.
This wasn't the end of Peter's breaking. There was a complete collapse on his horizon. But You wouldn't leave him in that broken place. You rebuild him. This time his eyes would be opened and his molds would be left behind. The new Peter was a man usable and used by You. Me too please God.
I have a question I forgot to ask and I don't know where it goes right now, so I'm just going to throw it out there for you to consider too. How did the disciples usually greet Jesus? Did they routinely greet Jesus as Judas did that night; with a kiss? Those following Judas didn't think it too far out of the ordinary or that it would tip Jesus off. This greeting too seemed to be common, acceptable and maybe even expected. Paul even writes for the brothers and sisters in Christ to greet one another with a holy kiss (Romans 16:16, 2 Corinthians 16:12). Peter also says to greet one another with the kiss of love (1 Peter 5:14). Judas, and Satan, perverted another one of God's displays of love; at least for the night.