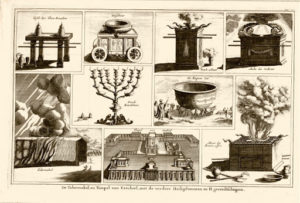 God's new house is finished; the Temple. Instead of using the furniture that was made for the Tabernacle, Solomon commissioned a whole new set.
Again, I'm longing for an accurate picture of what was created. Artist's renditions are just that, their interpretation of what is written. I want to see what it REALLY looked like.
A new house deserves new furniture. Solomon thought so at least. I was surprised by this the first time I read this passage. The items from the Tabernacle were commissioned and inspired by God. The Holy Spirit guided the craftsman's hands. They were exactly as He wanted them to be. So why replace them? Thinking about this question today I have a different view of it.
When God commissioned His first house, the number of Israel was about a million. At the point in history when Solomon commissions God's second house the population has grown significantly! We are not given an actual number. In fact, the last time the people were numbered God sent a plague upon them and decreased their numbers. He did so because of David's sin AND the people's sins that got them to that place to start with. My point is, what effectively served a million people was not sufficient to serve the new populace.
The pillars were for decoration. I don't believe they supported anything. They HAD to be hollow to be transported. Can you imagine the weight of them! Hollow or not, it must have taken enormous amounts of men and animals to raise them into place and place the capitols on them. Were the capitols connected to them before being raised or were they hoisted up after being put in place?
The metal sea, where washing took place, dwarfed the original bronze basin. It was a single basin on a single stand. This one is large enough to sit upon the backs of twelve oxen and hold 2,000 baths (12,000 gallons/44,000 liters). Can you imagine being the one who had to empty that out and refill it? This is MORE water than an 18 ft x 52 inch above ground swimming pool would hold. It was round and its measurements were 15 feet across, 7.5 feet deep. Big enough to swim in! Did you notice that the oxen were placed like the tribes camped? Three on each side of the Tabernacle. And their rears all faced inward so the power flowed forward while offering protection for one another.
The Bronze Sea was not the only washing basin made. Hiram (NOT king Hiram) made ten movable basins. Each was placed upon an elaborately and identically created stand. These stands had wheels like a cart that allowed them to be moved about. They each held 40 baths of water (240 gallons/ 880 liters). They may have been closer in size to the original Bronze Basin. I was wondering what the carts were for while reading their description for there was nothing like them in the original furnishings.
The lamp stands were most likely made off the pattern of the original but there needed to be many more. Instead of one lamp stand there were ten. That would have put them about four cubits (6.5 feet) apart on either side of the inner court.
I find it interesting that the lamp stands and mobile basins were made in groups of ten instead of twelve. Why was this? Was it because the dimensions were dividable by 10 but not equally by 12? I seriously doubt God, or even Solomon, intentionally left out two tribes. This will be another answer I have to wait for.
Moving to the inside furnishings, I notice we are not given dimensions for those pieces. Were they of the same dimensions and construction as the originals? Did they get the same pomegranate, palm tree, and lion embellishments as the rest of the furnishings did?
There is one piece that is conspicuously absent from this list, and I don't mean the Ark. The Bronze Altar is not listed among any of the created furnishings. Did they use the original one instead? They used the original Ark, which we will see next time. Was the Bronze Altar too special to replicate? It carried the blood of generations of sacrifices, at least on the microscopic and emotional level. But it was much too small compared to the Bronze Sea to be functional.
I was curious about this so I went searching. I was pretty sure Solomon did indeed build another Bronze Altar but I had to find out for certain. We see it and its dimensions in 2 Chronicles 4. The new one is FOUR TIMES the size of the original, except the depth. The original was a 5 x 5 cubit square that was three cubits deep. The new one is a 20 x 20 cubit square that is 10 cubits deep. I just realized that, other than depth, it is the same size as the Most Holy Place.
In Exodus God tells Moses not to put steps up to the altar "that your nakedness be not exposed on it" (Exodus 20:26b). But there is no way the priest could reach the top of the altar without rising up first. I tried to see if there were stairs or a ramp mentioned anywhere but I can find neither. Artist's renditions show it placed on top of a large stone with stairs or ramps leading up to it. This makes it even higher than it already was. Also, chiseled stones couldn't be used on it as it would defile it; also stated in Exodus 20.
One last thing of note; the veil is not mentioned. What we do see are doors. They have gold hinges and are covered with gold. There are two sets of doors in the Temple. The first time I came across them I wondered about them but finally assumed they were an outer door, before a separate 'nave' and then an inner door, at the mouth of the inner court where the furnishings sat. I see today that the inner doors were "for the doors of the innermost part of the house, the Most Holy Place" (verse 50b). The "nave" is apparently where the furnishings are. Why doors instead of the veil? Is the veil hung also? This makes an even greater separation between God and man. Did God call for this? We will see later that God inhabited the Temple with His presence so He must have been alright with the doors, at least for a while. Maybe sacking of Solomon's Temple later on is how He got His veil back.
I'm trusting that God imparted to Solomon His wisdom in the construction of the Temple as fully as He did with leading the nation. So what Solomon built pleased God. I don't have answers for the differences but I trust God would have said something if Solomon went off script. I know He does with me and I have NOWHERE near the wisdom Solomon did. I will still ask my questions when I see Him face to face, but for now, I'll simply trust.
Father God, I'm REALLY looking forward to seeing Your 'scrap book' in Heaven. I want to see what these wonderful designs You inspired actually look like. I'm sure they don't even hold a candle to what is in Your heavenly Temple. The most important fact was that this was a labor of love. Solomon's heart was filled to the brim with desire to create something wonderful for You. David instilled and nurtured that desire in him all his life. And he finally got to see it in 'living color.'
My desire is to honor You in all I do and create. I fall WAY short of portraying ALL Your splendor or the depths contained in Your word. I pray what I do bring speaks of my love for You. Bless this mess that is me and let it speak of You.