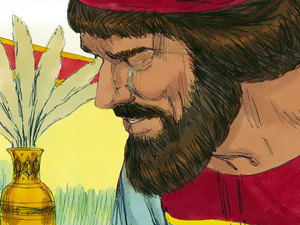 Nehemiah heard the news of the state of Jerusalem. His people are free but they are not safe. His heart breaks and he spends days crying out to God over their state.
Can I say first that I like the shorter names in the books of the Bible? They give me more room to choose a title as I only am allowed 60 characters. I wanted to say that a LOT with Chronicles!
Nehemiah prays for the people today. And in the end of his prayer he prays for himself, for what he is about to do. I want to back up a bit and climb into his story. I want to meet him like we did Ezra and so many others. This book is after all written in first person. He is inviting us in already.
♥ ♦ ♥
"Nehemiah" calls his mother. "It's time to get ready."
Seven year old Nehemiah drops his toys and turns to leave.
"Put them away" calls his mother from the across the room with her back to him.
"Yes Ama" replies Nehemiah. "How does he do that" he thinks as he picks his toys up and puts them on the shelf. Once all his toys are in their places he grabs the water jars from outside the door and heads to the well. Here he draws enough water to fill both jugs.
Nehemiah has been performing this task for his mother for almost a year now. He is and extremely strong seven year old. He is also very responsible (most of the time), tall and handsome. He is at the well at an unusual hour today because he needs extra water. Today he will take a special bath. He is to stand before the king's servants. They are looking for young boys to be trained in the palace to fill various roles. If he is chosen his family will receive extra rations.
Nehemiah was born into slavery. His people were captured long before he was born and brought to this place. His parents have taught him the history of his people. A proud people with a God who loves them enough discipline them when they are require it. He knows all about disciplining in love as his father speaks of this every time Nehemiah needs correction. He doesn't like discipline but he knows his father's love through it. He is not like other boys who run wild in the streets. He sometimes envies their freedom but never their lives. He knows their lives are without love as no one cares enough to rein them in when their behavior is beyond what even Nehemiah knows is unacceptable. Nehemiah knows this captivity is part of his people' discipline from God.
Bathed and dressed in his best tunic, Nehemiah carefully makes his way to the appointed meeting place. He is careful of his step as there is animal dung scattered about most roads. He moves slow enough so as not to stir up dust that would cling to his feet and clothes. He wants to appear perfect before the king's men. He needs to be selected. His family is depending on him.
Nehemiah's father fell from scaffolding several months ago. He survived the fall but has been unable to lift his arms since. His mother has been sewing tunics for some of the wealthier people in his district to support their family. This is Nehemiah's opportunity to help.
All the boys are assembled. Nehemiah stands a good head taller than the rest of them. Muscles are also evident on his arms where his counterparts have little definition. There are several groups, all assembled by age. Nehemiah could easily pass for one of the older children, possibly increasing his chances of being chosen, but he is honest and goes where he is supposed to.
The king's servants pass before the rows of assembled children. As they indicate a child, the guards ensure that the child moves from the ranks and joins the others who were selected. From three rows away Nehemiah can see that the eyes of the king's servants have spotted him. His heart beats a little faster with each glance in his direction. "Surely they will pick me" he thinks. He waits, frozen in place until he is directly addressed.
"You boy, how old are you?"
"This is my seventh year my lord" Nehemiah answers. He remembers to also avert his eyes to show he knows his place.
The servant steps closer and begins a thorough examination of Nehemiah. He grasps his chin and lifts it so he can see into the child's eyes. He sees intelligence there.
"Open your mouth" he barks.
Nehemiah complies and the servant examines Nehemiah's teeth. He finds the healthy teeth of a child. He then squeezes Nehemiah's upper and lower arms, feeling the strong muscles beneath his skin. Grasping his shoulders he spins Nehemiah around so he can easily see the form of Nehemiah's lower body. Protruding from beneath Nehemiah's robe are two very well-toned legs. His calve muscles would make a man proud.
"Are you sure you are only seven" asks the servant.
"Yes my lord."
"What is it you do that has made you so strong?"
"I help my mother and father in anything they require. I carry the water. I run dresses my mother has made to her customers. I care for the neighbor's animals. I carry parcels for those in the market."
The servant nods his head. "Work for an older boy. Why is one so young doing such tasks?"
"My father was injured and my family needs my help."
The servant signals the guard. "They will have to do without you as the king has need of you more."
Nehemiah is roughly moved to the place where the others who were selected stand. He never thought of all the things he did for his family and neighbors. He hopes that the extra rations promised will be enough.
Nehemiah spends many years in the king's service learning one job or another. He is always willing to do whatever task is set before him, be it cleaning the stables to setting out dishes on the king's table. He sees little of his family over the years but he receives reports from his brother as often as possible. He knows they are safe and that his allotment has eased their lives.
Two years ago the king personally noticed Nehemiah. Nehemiah was setting the table for an important banquet. Nehemiah took great pains in arranging the room and ensuring that EVERYTHING was in place. The king happened to be passing by when he heard singing coming from within the banquet room. He stopped at the door to locate its source. Nehemiah, unaware he had an audience continued about his duties with a light song falling softly from his lips. It was a song of praise to his God.
Artaxerxes listened to the words with wonder. He recalled another who had sang words similar to these. His name was Ezra. He was the king's best scribe. He had been so impressed with Ezra that he had granted his request to return to the land of his ancestors to teach them of his God. Artaxerxes missed Ezra's company, and his songs. He also missed his talks with Ezra about his God. "Maybe this young man can fill the longing left behind by Ezra" thinks the king.
Nehemiah had been assigned to serve during the banquet. The king was most grateful for this happenstance as it gave him more time to observe Nehemiah. This young man exceeded his every expectation. He knew his place well and his duties. He anticipated the needs of the guests and arrived at their arm before he was even called. Nothing was beyond the young man's notice.
As the last guests were leaving, the king summoned his personal servant. "I would know the name and history of the young man who served me this evening."
"He is one of the Jews my king. He came to us as a young boy and has spent many years learning the ways of service within the walls of the palace. His is called Nehemiah."
"What is his training?"
"He was initially trained in the stables but his poise caught the attention of one of the event staff. Since then he has mastered all the tasks of the kitchen and serving staff. He is highly favored among those chosen to serve at the king's table."
"He is highly favored indeed. He has caught my eye as well. I would like him to be trained as my cup bearer."
"I am certain he will not disappoint you my king as I shall personally train him for this honored task."
Nehemiah's training began the next morning. It would be a few months before he actually stood before the king offering him his cup as there was much protocol to learn. Nehemiah was eager to learn and carefully committed all instructions to memory. He also completed the few beautification processes required of the king's personal servants. Taming his hair was the most difficult one but he soon learned how to oil it and tie it into a pleasing knot so it would have no chance of spoiling the king's drink.
The morning arrived when Nehemiah finally stood at the king's side, balancing his cup upon a tray. The king was very pleased with the poise and look of the young man. His was in order from the top of his head to the soles of his feet.
"Welcome Nehemiah" said the king.
Nehemiah was surprised that the king knew his name, let alone acknowledged him. "It is my pleasure to serve my king" he quickly replied.
Nehemiah was always diligent in his service to the king. He often appeared to have read the king's mind as he presented the very drink the king had been longing for without the need of asking. Nehemiah never lost his reverent attitude with the king but he became more comfortable in the king's presence as the years went by. The king himself was the reason for this.
During Nehemiah's first week as the king's cup bearer the king told him of the first time he had noticed Nehemiah.
"Did you know I saw you as you were preparing the banquet room two moons ago?"
"No my king, I did not. I pray I met your approval with the preparations."
"You did indeed. But what drew my interest was the song you were singing as you worked."
Nehemiah's cheeks began to redden. He had no idea that the king had overheard him singing. By his standing before him now, he easily guessed that the king was not offended by the song Nehemiah hadn't even been aware he was singing. It was a natural thing for Nehemiah to sing while his hands were busy.
"Your song reminded me of another young man who once served me. He brought great joy to my life as he shared stories of his God with me, apparently the same God you serve as you share his songs."
"May I be so bold as to ask what became of this man?"
"I sent him home to his people to teach them of their God. That was 10 years ago."
"Was this servant perhaps called Ezra?"
The king smiled at Nehemiah's answer. "Indeed he was." The king hesitated for a few moments before continuing. "And I miss our discussions."
Nehemiah nodded his understanding but remained silent. Inwardly he was praying to his God as to how to respond to the king.
"I wonder if you have stories of your God you would be willing to share with me."
"I have stories of my youth that my parents taught me. I am nowhere near the scholar master Ezra was but I would be honored to share what I have received with you."
The king smiled. "That is all I ask."
Over the next few years the king and Nehemiah shared many stories of Nehemiah's God. The king even provided insight to some of the teachings of the Lord that Ezra had shared with him. One of the greatest things the king did was to allow Nehemiah to learn to read and provided him the opportunity to study the scrolls of his people. This way he could read the teachings of his God for himself. The king's greatest joy though was when he would catch Nehemiah quietly humming songs of praise to his God. The never failed to soothe the king's spirit.
One morning as Nehemiah was readying the king's cup to bring to his throne room his brother approached him. With him were three other men. From their state Nehemiah guessed them to be travelers and their faces identified them as men of his people. Something in his heart KNEW from whence these men had come before even being introduced.
Nehemiah hugs his brother and then quickly addresses the men. "How are the Jews doing who escaped with Zedekiah and Ezra?"
By the look on the men's faces Nehemiah knew he was not going to like their answer. They looked at one another before speaking.
"The remnant there in the province who had survived the exile is in great trouble and shame. The wall of Jerusalem is broken down, and its gates are destroyed by fire" (verse 3).
Nehemiah's heart broke. He sat down on a nearby stool, dropped his head, and wept. He was inconsolable and after several minutes his brother and his friends quietly left the palace. They didn't want to draw attention to themselves. Nehemiah knew he could not abandon his duties to the king so he quickly dried his face, straightened his back and carried the king's cup into the throne room. He schooled his fast as best he could so as to not burden the king with his troubles. His heart, however, was still broken within him. He moved about his duties on as if sleep walking. Nehemiah also fasted from the moment his ears received this distressing news. When his duties were done every evening he went to his room where he prayed.
After four months of praying and hiding his pain he has made up his mind that he has to do something about the state of affairs. He knows he will not be content until his people feel safe in their homes. He prayed fervently to the Lord God of the entire universe. On his knees in his room, facing towards Jerusalem he pours out his heart and askes for protection for what he is about to do.
"O Lord God of Heaven, the great and awesome God who keeps covenant and steadfast love with those who love him and keep his commandments, let Your ear be attentive and Your eyes open to hear the prayer of your servant that I now pray before You day and night for the people of Israel Your servants, confessing the sins of the people of Israel, which we have sinned against You. Even I and my father's house have sinned. We have acted very corruptly against You and have not kept the commandments, the statutes, and the rules that you commanded Your servant Moses. Remember the word that You commanded Your servant Moses, saying, 'If you are unfaithful, I will scatter you among the peoples, but if you return to Me and keep My commandments and do them, though your outcasts are in the uttermost parts of heaven, from there I will gather them and bring them to the place that I have chosen, to make My name dwell there.' They are Your servants and Your people, whom You have redeemed by Your great power and by Your strong hand. O Lord, let Your ear be attentive to the prayer of Your servant, and to the prayer of Your servants who delight to fear Your name, and give success to Your servant today, and grant him mercy in the sight of this man" (verses 5b-11a).
When Nehemiah finished praying he put on his best robe and readies himself to serve the king. This day will be a very important day.
(to be continued)
♥ ♦ ♥
Nehemiah had built a relationship with the king over the years. This is apparent by the fact that he would feel safe enough to bring him a request. Nehemiah also had a relationship with God. He didn't just know about God but knew He worked in the lives of His people. He counted himself among God's people, even though he had never set foot outside the role of slave.
Father God, You gave Nehemiah amazing courage. He rightly recognized that You were in control of his situation. I have no doubt You placed him here for just such a time and purpose. I LOVE how You put things in motion LONG before we even know there is a need. It would have been impossible for Nehemiah to come to the king and present his request without first having an established relationship.
Thank You for all the places You have prepared for me to walk in. My time in school has given me insight that I use now to care for my husband. Without the first I wouldn't be able to do the second. Your fingerprints in action again!