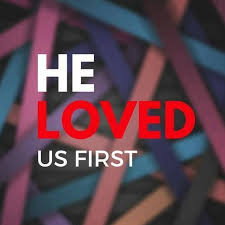 John wants to establish an IMPORTANT fact with his readers. A new but yet old commandment. Love one another!
I wonder if John is writing this letter to address a problem that has arisen in the church. He is focusing quite a bit on Jesus' commandment of love.
We looked at this commandment the last time we were together. Jesus commanded us to love one another just as He loved us. He also said that this was the culmination, along with the commandment to love God with our whole self, of all the Law. This was Jesus' central purpose; to bring God's love to us and to teach us to love like He did in response.
If you hate your brother how can you claim to love Christ? Christ loves even your brother whom you hate. I will confess to personally hating my brother when I was growing up. He was determined to make life difficult for each of his brothers and sisters and was very adept at finding our "weak spots" and exploiting them. I had a LOT of work to do on learning how to love him. I love him now but I DON'T love how he leads his life. I pray for him to wake up to the truth. I believe that John would say that was an acceptable relationship with a brother whose conduct is not in line with the word.
John focuses his attention on the individual instead of the "brother." And he tells us the reason why we can love our brother. Because our sins are forgiven, because we know God, and because we have overcome the evil one. ALL these reasons are what empowers us to love our brother, lovable or not.
John gives these same reasons twice in this short section. That alone tells us how important these reasons are. "I am writing to you, little children, because your sins are forgiven for His name's sake" and "I write to you, children, because you know the Father." "I am writing to you, fathers, because you know Him who is from the beginning" and "I write to you, fathers, because you know Him who is from the beginning." And finally, "I am writing to you, young men, because you have overcome the evil one" and "I write to you, young men, because you are strong and the word of God abides in you, and you have overcome the evil one." (A combination/reordering of verses 12-14.)
These empowerments were given mainly to the men as they were the heads of the families. But we women were included in the "little children" references for certain. We can love because He first loved us! And we are called to love because of the love He gives us.
This reminds me of Jesus' parable about the wicked servant who was forgiven a great debt by the king but wouldn't forgive his fellow servant a small debt. If we don't love we cut off the love of the Father from us. "Whoever hates his brother is in the darkness and walks in the darkness" (verse 11). That darkness is sin and it separates us from God. Whether that is a permanent separation or a temporary one depends on you. Each one of us has to make a choice. Do I hold the hate and refuse God's love or do I release the hate and accept His love? It is your (and my) choice to make. He won't force us to choose one way or the other, but choose we do even if we don't recognize it as a conscious choice.
Father God, Thank You for Your love. Thank You that that love helps me choose to love in return. It is NOT always easy but it is necessary. I don't want ANYTHING blocking our relationship! Thank You for helping me to love my brother. Please bless him Lord and change his heart. He is NOT beyond Your reach, no matter what his actions.
I KNOW my actions are not always lovable too. Forgive me for those times Lord. Help me show Your love in all I do. I want to love like You do; unconditionally and in a way that creates and brings out the best in the one You love.