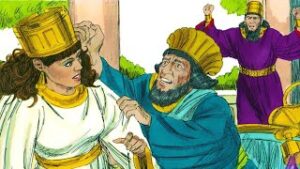 Ester has just revealed the troubler of her people. Haman makes a BIG mistake in how he next responds and is hoisted high on his own gallows.
As I was reading this portion of our story I was surprised by how quickly word gets around. The gallows Haman had built are not even 24 hours old, yet the king's eunuch knows of them. He not only knows that Haman had a VERY tall gallows built but of who Haman intended to use them for. Is nothing secret? I wonder how he found out. Maybe the 'help underground grapevine' passed word through. Mordecai was after all known well by the king's servants. Let's rejoin our story as it unfolds today with Haman using his own gallows.
♥ ♦ ♥
Ester's hands no longer tremble as she points directly at her oppressor. Haman's mouth open to speak but no words come out. Ahasuerus slams his closed fists on the table and pushes himself to stand. His face is near purple. He knows he needs to leave before he physically injures someone because his anger is so great. He storms from the room. His personal eunuch follows him discreetly from a distance to ensure he is safe.
Haman watches the retreating back of the king. He knows his life is forfeit and hangs by a thread. Ester watches Haman. She is pleased with his distress. She knows the king will return and when he does he will solve the problem of her people. She isn't sure how he will do it but she trusts him and she trusts in her God.
"For such a time as this" she reminds herself of her cousin's words. She waits patiently.
The king's footsteps echo through the palace as he stomps his way to his favorite spot; his garden. Here he will quiet his spirit. This place brings his calm and focus like no other. He walks its length several times, each time with a little less intensity. Finally, he has calmed enough to sit. He sits on the stone bench near the reflecting pool. He lets the serenity of it wash over his spirit. He knows he needs to return to Ester and address her very real concerns, but for now, he needs a moment to gather his thoughts.
"How could this have happened? What did I not see? How will I fix this?"
Back in the banquet room Ester sits down and waits. After watching the king retreat from the room, Haman begins pacing the floor. He knows he is in serious danger. He begins mumbling to himself. "What can I do? Mordecai is of the Jewish people. The queen is Jewish. How did I not see this? The king will surely kill me, unless I can get the queen to intercede on my behalf!"
With that last thought propelling him forward Haman hurries over to where Ester sits. Ester's eyes have not left Haman from the moment she revealed his plot. Her eyes widen in surprise as he rushes towards her. She looks around quickly and sees that there is no one there to help her. The king's eunuch left with him. Fear rises in her throat at Haman's advance but she refuses to cower before this man.
Haman stops just inches from Ester's position. Then he falls to his knees. Beseechingly he falls forward into Ester's lap and begins to plead with her. "Please my queen! The king will listen to you. If you will spare my life I will do everything in my power to protect you. I will stand between you and anyone who would do you harm. You have my word on this…."
Ester is leaning back as far as she can trying to escape Haman's desperate grasp. She would flea if she could but he has her pinned in place. As he pleads with her for his life, her initial fear turns to disgust. She finally gathers enough courage to try and free herself from Haman's presence.
At that very moment Ahasuerus walks back into the room. He sees Haman all but climbing onto Ester, HIS queen. Haman is grabbing at her arms as she tries to push him from her lap. The calm that the king mastered in his garden in gone in an instant. His voice rings out in furry, "Will he even assault the queen in my presence, in my own house?" (verse 8b).
Two of the king's eunuchs rush past the king and grab Haman. They drag him from the queen and cover his face. They hold him in place, waiting for instructions from the king. The king is fuming. You can almost see steam rising from his beet red face.
Harbona, one of the king's eunuchs offers a suggestion. "Moreover, the gallows that Haman has prepared for Mordecai, whose word saved the king, is standing at Haman's house, fifty cubits high" (verse 9b).
The king's eyes light up. This is a PERFECT end for Haman. He couldn't have asked for a more fitting resolution. "Hang him on that" (verse 9c) commands Ahasuerus. He watches as Haman is dragged from the room. The king reaches out and grabs Haman's hand as he is dragged past him and strips the signet ring from Haman's finger that he had given him.
Haman's sobbing fills the air but it touches none of the hearts of those who hear it. Ester rises from her couch and comes to stand by her king. She remains silent. She has more to tell of her story but now is not the time for it. The two of them follow the processional of Haman as he is dragged from the palace. They wait on the steps as Haman is dragged through the streets to his home, even as they lose sight of him. They know where he is going and they can see the gallows from where they stand.
Haman's fate is sealed and he knows it. He has one hope left. He prays that as they approach his home his friends and family might intervene and he can escape into the countryside.
Hearing the commotion, Haman's friends and family emerge from his home. They are struck dumb as they watch him being dragged towards the gallows.
"Help me! Someone, help me" cries Haman.
Haman's wife started to go to him but one of his friends grabs her arm and holds her in place. "This is by order of the king. You would lose your life too and your children would be bereft of both parents" he hisses into her ear. She stands and simply watches now.
Haman is propelled up the steps of the gallows he had so carefully constructed the night before. Bitterness fills his mouth. "How did it all go wrong" he wonders. "This is Mordecai's fault." As he stands and the rope is placed around his neck he curses the man that caused him so much pain. "If I had only killed him the first time he crossed me none of this would have happened" he thinks to himself. These were his last thoughts as the trap door was released and he plunged to his death.
Once it was apparent that Haman was dead, Ester and Ahasuerus turned and walked back into the palace. There was much to discuss.
(to be continued)
♥ ♦ ♥
Haman created his own demise through hatred. Righting a perceived wrong is one thing but Haman sought vengeance instead of justice. He was blinded by bitterness that he applied globally instead of dealing with the problem. He let his problem take on a life of its own. If he would have confronted Mordecai or tried to understand his motives, who knows what would have happened.
Father God, forgive me for the times I've let my anger grow. For the times I let it flow over onto others who weren't a part of it. Vengeance belongs to You. I don't need to try and fix everything. I need to put it into Your hands. You know how hard this is for me, especially when I believe I know what needs to be done. I don't want to end up like Haman because of trying to do things my way. Then Haman was fighting against YOUR children. That alone guaranteed his failure. His wife certainly spoke the truth!