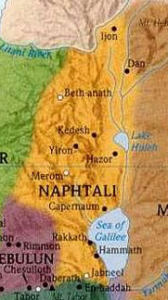 We are looking at the sixth lot today. It's owner is Naphtali. What territory will they receive from Joshua?
The lot for Naphtali is between his brother Asher and the Jordan. He is bounded on the bottom by his brothers Zebulun and Issachar. Issachar isn't listed in our text but being he is right next to Zebulun and between Zebulun and the Jordan, Issachar must also be in the southern border of Naphtali.
Naphtali is open to other countries on the north. Some maps show his territory extending northward beyond the boundaries of the half tribe of Manasseh on the eastern side of the Jordan. Others show them extending to the same height.
Our bible states that he has "Judah on the east at the Jordan" (verse 35b) as one of his neighbors. I don't know what to make of this. Judah is most definitely south of Naphtali. I did a little looking on google, of course, and came up with a website that attempts to answer this question. Of all their answers I like the last half of the second one best. It states that because of the female inheritance rules, a member of the tribe of Judah could have married a woman who had received land and then that land would become part of Judah's territory.
This doesn't take into account though that God told them not to do this. The women who had been given territory were to marry within their own tribe to prevent this from occurring. And we KNOW how well they listened to God's commands (said with great sarcasm.)
Naphtali is another tribe that we don't get a lot of information about. While researching this tribe I went to the same place in 1 Chronicles where men from each of the tribes gathered to help transition the kingdom into David's hands after Saul's death. Naphtali sent "1,000 commanders with whom were 37,000 men armed with shield and spear" (1 Chronicles 12:34). Naphtali is also in the region of Galilee, where Jesus grew up. We looked at that prophecy when we looked at the territory of Zebulun. The final reference I find to Naphtali relates to the conquering of this territory during the time Israel was split into two kingdoms. During the reign of Pekah in the northern kingdom, Tiglath-Pileser king of Assyria conquered the whole of the region of Galilee. This is recorded in 2 Kings 15:29.
Another sight, Jewish Virtual Library, tells me that Naphtali's allotment was the richest farmland in all of Israel. We also learn that they didn't drive the inhabitants from their land but lived among them. This spells disaster for the people, as God rightly predicted.
I would like to know more about these people. What was their story? Naphtali himself was born by Rachel's servant, Bilhah, in order to give her children to claim as her own. He was the second son born by Bilhah for Rachel. Did this make his place in the family of lesser importance? If so, would that 'status' carry on to his descendants? What kind of trades did this tribe contribute to the whole community? I would assume that farming would figure in prominently, at least after they received this rich territory. But what did they do beforehand?
Whatever their role or status, God remembered them with an inheritance. They were not left to fend for themselves. God looked after them and gave them a good future that THEY needed to take hold of.
Father God, thank You that you care for all of Your children and You give good gifts to each of us. I pray I use the resources You give me to its fullest. I also pray that I don't mistake Satan's tricks as Your gifts. Protect me Father from my own blindness in these areas.
Keep me ever searching Your word. I'm looking forward to meeting many of the people whose stories are contained here. Thank You for the stories and for the promises that come with it.