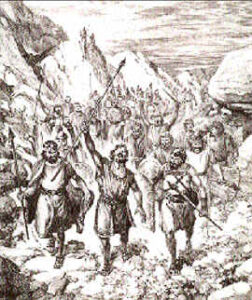 David is still organizing Israel for his son to take his place. He turns to the military forces today and leaves the Temple behind.
The kingdom needs defending. Instead of having a full time force David, and Joab, used monthly rotated troops. Twenty four thousand men were rotated into position every month. This made their service only one month out of every year.
When first reading that these men were rotated out month by month, I assumed that each tribe had to contribute one contingent of soldiers for the rotation. I changed my mind when two of the men listed were listed as being of the tribe of Ephraim. Helez and the second Beniah were both listed as from the tribe of Ephraim. So I went looking to find out where the rest of these men fit in the fabric of the tribes of Judah.
Jashobeam was first and we can easily discern his tribe as being Judah. He is a descendant of Perez, one of the twin sons born to Judah by Tamar, his daughter in law.
Dodai was a bit harder to figure out but Google helped me find the Ahohites in the tribe of Issachar.
The first Beniah is from the tribe of Levi as Jehoiada was the chief priest. This Beniah was also one of David's famous "might men of valor" and a commander of the thirty himself.
Asahel, as Joab's brother, was a cousin of king David. This puts him firmly in the tribe of Judah.
Shamhuth was next in the fifth month. His clan of Izrahites was another division of the tribe of Judah.
Ira was of the clan of Tekoite. His tribe was a little harder to establish. One Google site said he could have been from the tribe of Simeon or Judah. Others put the Tekoites in the tribe of Judah so that is where I left him.
Helez was one that was specifically named as being of the tribe of Ephraim.
Sibbecai brings us the first mention of the larger clan of Zerahites. He was from a sub clan of Hushathites to the larger clan of Zerahites. This puts him as a descendant of the tribe of Judah.
Abiezer is another easy one. We are told right away that he was from the tribe of Benjamin.
Maharai brought a surprise to me as he is also from the larger clan of the Zerahites. He is from a different sub clan though; of Netopah. I'm not certain if this is a sub clan or his father. The reason for the uncertainty is because there is no 'ites' ending on the name, leading me to believe it MAY BE a single person. I'm leaving the name as a sub clan though, just in case. It could be a town name too. That sounds more appropriate.
The eleventh leader of 24,000 men is another Benaiah. We are told specifically that he is from the tribe of Ephraim.
Heldai concludes our list. I traced his tribal affiliation to Judah also.
I was thinking that Judah was bearing the majority of the military burden for Israel but then another though occurred to me. Are the men under these leaders from their same town/clan/tribe or are we just identifying the origin of the man in charge? If it is just the man, then Judah seems to breed very talented warriors. If it is the origin of the 24,000 then Judah supplied over half of the troops for Israel. They boast of 7 out of the 12 identified groups. Ephraim is home to two, with Issachar, Levi, and Benjamin each providing the remaining forces for the year.
I have another question to pose. Who supplied the forces for the 13th month in years when this month was added? Did they just keep rotating as listed, regardless of how many months the year contained? Over time one division would serve twice in a year. Fortunately, it wouldn't be the same division every time.
So what can we learn from this? The first thing that popped into my mind with this question is the need to share the burden. It should not fall to one person to always be the one called on for service. We ALL need to take breaks. There were 24,000 x 12 men charged with the same task. They each only served for a short time, and then handed the mantle off to the next group. I'm sure there were times when EVERYONE was called to battle but for the day to day routine, these men were only responsible for a portion of the work. Reminds me of 'worship teams' and 'nursery teams' sharing the burden of care in the church.
The second thought was that there are different 'giftings' among the body of Christ. Judah seemed to have the gift of protection. This doesn't mean that every man in Judah was a skilled warrior but their tribe seemed to be overflowing with them. Lean into the gifts that God has given you. Use them to the best of your abilities, whatever that gift is. Don't be surprised if God gives you more than one gift and allows you to use all of them. I have been fortunate enough to serve on worship teams, nursery teams, and MANY different parts of children's ministry teams. I'm also serving now in bible study with you. Thank you for allowing me to serve in this way.
Father God, thank You for giving each person talents and gifts. Thank You for allowing me so many different opportunities to serve You through serving others. Music has always been high among my favorites. I think serving the kids in music was my MOST favorite time. Thank You for allowing me to continue serving You, even when I can't physically be a part of a local church. Thank You for 'feeding' me through Your word. Keep me searching Your word. Provide for me those who would speak back to me to teach me too. I KNOW there is MUCH MORE in Your word than what the Spirit has shown me during our times together. I could read for eternity and never exhaust all that is hidden in Your word!