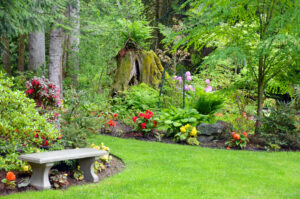 The two lovers are face to face and drinking in the love of one another. She invites him to indulge in all the things she has to offer, at the moment.
Our groom just finished describing his bride. In the end of his description, he likens her to a lush garden. But her garden is locked and the fountain sealed. It's locked for a reason. She is a virgin and is waiting for the one man who will be her husband. She will fling open the gates only to him, and only at the right time.
It's time! Kind of. She invites her husband to be to "come to his garden and eat its choicest fruits" (4:16b). Right now, those fruits are her nearness to him and her love. She is surrendering her life fully to him, but not her physical body at this time.
He responds by saying that he is going in and partaking in her offerings. And he is enjoying all that she is providing. He is not demanding more or trying to get her to offer more than she is willing. He is satisfied and content with what he has for now. And he knows that there is coming a time when he will be fully welcomed into her 'garden'.
Their friends are encouraging them to share in one another's love. They are also acting as chaperone, for nothing untoward can happen in the presence of friends.
We are living close to this moment in our relationship with Jesus. He is to be the Husband to the body of the Church. He has not yet come for His bride, but we are drinking in the love that He has given us. We are holding onto the promise made at the time of our 'betrothal'; our moment of salvation. We are learning more of Him every day. We are also occasionally having the night mares like our bride. But most of all, we are basking in His love. He isn't hiding it from us but inviting us to come, taste and see that He is good.
Don't be afraid to give Him your whole heart! Just like with our bride, He will not push his way in or trick you into opening your heart wider than you want to. He is patient and will work with you to conquer those areas you fear to turn loose of. He will prove His love to you and demonstrate His gentleness. Until the day comes when you are ready to give Him access to even the ugliest parts of your heart.
And THEN you will begin to transform into the wonder He created you to be! He will NEVER abandon you because things aren't moving faster. He will NEVER repent of calling you to be his own. He will NEVER force you to become more than you can handle. He WILL continue calling to you until you 'unlock your garden' to welcome Him in.
There WILL be hard times and even hard lessons along the way. They help us in becoming the wonder He created us to be. Many of them are of our own doing, but NOT all of them. They give us a chance to learn to trust Him and to lean into Him. These times are where we recognize His faithfulness most fully.
And there WILL be wonderful times too! These times make the journey exciting and rewarding. They motivate us by their memories when the hard times come. They fill our hearts with faith and confidence. They are the roots in our garden as well as the flowers that spring forth.
Father God, till the soil in my garden to where it produces the BEST fruits. Thank You for not giving up on me and letting me keep secret places from You. And if there are any that remain today, help me turn those loose too! I want to drink in Your love! To be so full of Your love that nothing can drag me away from You. You hold the key to my 'garden'.