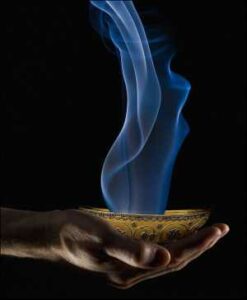 It is time. Jesus opens the seventh seal on the scroll. This moment is so momentous all of Heaven stands still.
I wonder if this is the first time all of Heaven stood silent. Was Heaven standing still while Jesus was on the cross or was there weeping? Both of these moments of silence were heavy with sorrow but pregnant with anticipation of victory. But it has to hurt before it heals.
God has NOT forgotten about those who turn to Him even in the midst of all this upheaval. The seven angels who had been in attendance with the bowls of prayers from the saints were still there holding them before God. Those prayers had not been left in the "back room" to wait for God to have time to attend to them. They were right before Him.
Now they would be mixed with "much incense" and be offered on the altar before God. He took a DEEP breath and inhaled ALL of them and took a moment to savor them before the major battle begins. I believe they offered Him comfort as much as they brought comfort to those who were in the midst of the great tribulation.
The seven angels are now given the seven trumpets. These trumpets herald God's righteous judgements. And they will be played one at a time, just like the seals were open one at a time. Even in judgement God shows us mercy. He could have poured it out all at once but instead He measures out just enough to get the attention of man and encourage him to turn to Jesus. Each pause is another chance.
The last thing that happens before the trumpet blows is the angel with the censer takes fire from the altar of God and throws it on the earth. God's holy fire didn't consume the earth but it did shake it. As the earth was given over to Satan in the fall of man, this fire rattles his doorposts! "Ready or not, here I come! And there's NOTHING you can do to stop me!"
Father God, thank You for listening to my prayers. I pray that my praise "nourishes" Your Spirit. Your answers certainly nourish mine. I want to be more than just a "gimme" prayer. I want to always surrender to You the praise that You are due. I don't want all my prayers to be about what I want You to do for me but want to remember to thank You for EVERYTHING that You have already done.
I would LOVE to see Satan's face when You rattle his "gates." The earthquake that day will blow the Richter scale away. I would expect him to tremble in fear but I have a feeling that it will just make him angrier and try and fight harder. He will never learn.
Thank You God for also pouring out Your judgement in stages and giving each person time to grasp the truth. Thank You too that there WILL be those during that time who will turn to You. I wonder what it is going to take for my family to make that decision. I LEAVE them in Your capable hands. Whatever it takes God.