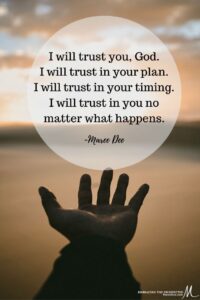 David is under duress again but he is NOT dismayed. "It matters not what man does to me because God is for me! In God I trust."
One of my favorite verses is contained in this psalm. It is verse 8: "You have kept count of my tossings; put my ears in Your bottle. Are they not in Your book?" This verse inspired the poem You Hold My Tears. God is ALWAYS there in the middle of my mess. David shares with us how He was in the middle of his messes too; or maybe I should say first.
David faces a LOT of opposition and problems during his life. Some he knew was coming and expected it. That of the battle field was easy to understand. Standing against the elements to protect his father's sheep was also expected. But when David's own comrades became his enemies it was hard to take. The king who he spent his life honoring was against him. Even some of his children stepped out and became his adversaries.
In ALL these interactions and encounters David had ONE theme directing his life. His desire was to honor God in all he did. His life was nothing without that driving force and sure foundation. David didn't worry about his life. He didn't tremble in fear or hide from battle.
David did run and hide from Saul and his armies, not because he was afraid of them, but because he did NOT want to fight against his 'brothers'. I have no doubt that David and his mighty men could have won in battle against Saul but David would NOT stand against God's anointed. Until GOD took Saul out, David would honor him as king of Israel.
There were times when David put his own life in danger, like the first time he went to Gath. Even though the mess was of his own making, God looked out for him and brought him through safely. I have no doubt that the Holy Spirit interceded in that situation either by giving David the idea or by directing the king's heart to send him away.
Whatever happened in David's life, he held fast to the Lord. Not always perfectly but always with a tender heart. He trusted God to ALWAYS have him. "This I know, that God is for me. In God, whose word I praise, in the Lord, whose word I praise, in God I trust; I shall not be afraid. What can man do to me?" (verses 9b-11).
This is the same steadfast trust that would see Shadrach, Meshach, and Abednego through the fiery furnace. They KNEW that man had NO hold over them when it came to eternity. God held their future; either here on earth or with Him. "Whether our God saves us from the fire or not, we WON'T bow down to your gods." They were willing right then to surrender their lives. They didn't promise Nebuchadnezzar the God would save them. They didn't try and tell God that He had to save them either. What they did was stand fast in their conviction without worrying about the outcome. Nebuchadnezzar could have taken their bodies but NO ONE could touch their soul. None could pry them from God's hands.
There will come a day when this is a question we face. It doesn't even have to be a physical life and death situation. A choice will be presented and God will be watching which way we turn. Will we hold fast to His hand or will we turn to other gods? For those who do turn away, God is still watching and calling us back to himself. He stands ready and able to restore our relationship WHEN (not IF) we fall.
Father God, thank You that You ALWAYS are there for me. Thank You that NO MATTER WHAT COMES, I am SAFE in Your hands. I can certainly use a reminder of this. Thank You for providing it once again for me.