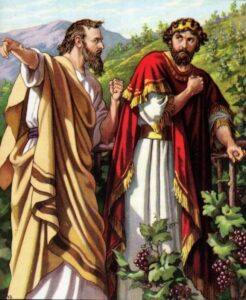 Before Ahab even has a chance to lay claim to Naboth's vineyard God sends Elijah. Ahab is caught short again in sin and his punishment is severe.
Before I started reading this section I was wondering how long it was between Naboth's murder and Ahab being called out for his sin. After reading I see that God is right on this issue. Ahab doesn't even get to take possession of 'his vineyard' before God sends Elijah to him. But just now this raises another question in my mind. Where was Elijah coming from? Was he living again in Jezreel? Was he in a nearby town? Did it take time for him to make it to Ahab? Is it possible that God spirited him to Ahab for this assignment? It wouldn't surprise me in the least. Although verse 18 tells us that Elijah had to do the work of getting there. "Arise, go down to meet Ahab king of Israel…" So I guess I'm back to my original question.
Let's join in this story again and see where the Spirit takes us.
♥ ♦ ♥
"Arise, take possession of the vineyard of Naboth the Jezreelite, which he refused to give you for money, for Naboth is not alive, but dead" (verse 15b) says Jezebel to Ahab.
Ahab is as excited as a child who has just received and amazing present. Naboth is dead and the vineyard is his! He jumps up from the chair where he had been sulking for the past several hours. Jezebel had told him to get up from his bed but she wasn't able to order him to be happy. Her words though broke through ALL his gloom.
Ahab rushes from the palace and heads straight to HIS vineyard. He takes hold of the ripening fruit and brings it to his nose. The smell is intoxicating to him. He bends down and sifts a few handfuls of the soil through his fingers. How he longed to do this before but couldn't.
While Ahab enjoys the sights, smells, and textures of his latest acquisition God is calling on His most faithful servant, Elijah. Elijah and Elisha have been moving throughout the nation of Israel. They don't stay anywhere very long because word might get back to Jezebel and she would send troops out to take them. It isn't that they fear her or her troops but that they don't want to endanger the people who might come between the two factions, God and Jezebel.
Elijah is sitting on the edge of a stream when he hears the voice of the Lord call to him.
"Arise, go down to meet Ahab king of Israel, who is in Samaria; behold, he is in the vineyard of Naboth, where he has gone to take possession" (verse 18).
Elijah has little time to wonder at that statement before the Lord explains what has transpired by sharing the words Elijah is to deliver directly to Ahab.
"And you shall say to him, 'Thus says the Lord, "Have you killed and also taken possession?'" And you shall say to him, 'Thus says the Lord: "In the place where dogs licked up the blood of Naboth shall dogs lick your own blood"'" (verse 19).
Elijah shakes his head in disgust. Nothing Ahab does any more surprises him. "Why Naboth and why his vineyard" wonders Elijah. "Ahab has his own vineyards. What does he want with Naboth's?" There is no accounting for the actions of Ahab. Elijah simply rises to his feet and begins his journey.
Elisha watches his master rise and rises with him. He hadn't heard the words the Lord spoke to Elijah but wherever Elijah goes, Elisha follows.
As the two men begin their journey Elijah tells Elisha of their destination and purpose. "The Lord is sending me to confront Ahab again. He has killed Naboth to take possession of his vineyard. I will bring the Lord's judgment to him but I would have you wait a distance away so neither Ahab nor Jezebel learns of your bond with me yet. It is not yet time for you to step into the role the Lord is preparing for you."
"I will do as you command my master" replies Elisha.
Elisha and Elijah begin their journey near Damascus. It will be a long journey as there is a great distance to travel before reaching Samaria. An hour into their journey though the two men see before them the gates of Jezreel. Elisha is shocked by the sudden shift in location but Elijah seems to take it all in stride.
"Father, are those the gates of Jezreel?"
"Yes my son, they are."
"How did we get here so quickly?"
"Maybe you fell asleep on the journey" Elijah chides. Elisha looks at Elijah with sheer puzzlement on his face. Elijah relents and tells him the truth. "The Lord has hastened many of my journeys over the years my son. This appears to be another of those."
Elisha nods in acceptance if not understanding. As the two men approach the city they can see the palace a short distance away.
"You will wait here for me. I will return for you this day."
Elisha nods and watches as Elijah turns and begins the climb to the palace which sits atop a nearby hill.
Ahab is still out enjoying the newness of his 'gift'. He has only just begun to explore the richness that lies at his fingertips when he catches movement out of the corner of his eye. Ahab turns his head in the direction of the movement and a groan escapes his lips.
"Have you found me, O my enemy?" (verse 20b) asks Ahab.
Without a trace of a smile Elijah answers him. "I have found you, because you have sold yourself to do what is evil in the sight of the Lord" (verse 20b).
Ahab thinks silently to himself, "Great. Here it comes. Another list of my 'sins'."
Elijah continues on with the judgment of the Lord. It is not exactly the same words that the Lord had given him during His exposure of Ahab's sins. Instead it is the judgment the Lord communicated to him on their journey. "Behold, I will bring disaster upon you. I will utterly burn you up, and will cut off from Ahab every male, bond or free, in Israel. And I will make your house like the house of Jeroboam the son of Nebat, and like the house of Baasha the son of Ahijah, for the anger to which you have provoked me, and because you have made Israel to sin. And of Jezebel the Lord also said, 'The dogs shall eat Jezebel within the walls of Jezreel.' Anyone belonging to Ahab who dies in the city the dogs shall eat, and anyone of his who dies in the open country the birds of the heavens shall eat" (verses 21-24).
Ahab staggers and falls to his knees as Elijah finishes. Elijah doesn't even spare him a last look but turns and walks away. An anguished cry rents the air in the wake of Elijah's retreating back. Elijah doesn't even pause in his steps at the sound.
(to be continued)
♥ ♦ ♥
I was a bit confused in the end of our story as I wanted Elijah to be speaking only the words of the Lord but it appears that he is paraphrasing. I'm not sure if the "me" Elijah refers to as being provoked is him or God. The fact that he quotes the Lord shortly after regarding Jezebel's fate makes me think he is speaking of himself. He was certainly angry for the Lord over Ahab's behavior. I have a feeling the "me" referred to both Elijah and the Lord.
Ahab deserved the same fate or worse than those who proceeded him. The first verse in our next reading states that clearly. "There was none who sold himself to do what was evil in the sight of the Lord like Ahab" (verse 25a). NOT something I would EVER want written about me!
Today's story, if nothing else, proves out another verse in our bible. It is in Numbers 32 when Moses is talking to the tribes who asked for their inheritance on the eastern side of the Jordan. He is telling them that they have to assist their brothers in ridding the land of the nations God want removed. "But if you will not do so, behold, you have sinned against the Lord: and be sure your sin will find you out" (Numbers 32:23). Ahab's sins definitely "found him out."
We carry that same 'promise' today. If we don't deal with our sins, God will. This goes for EVERY person who ever lived. We deal with them now or at the judgment seat. I personally prefer to bring them to Him now and deal with whatever may come. Often times, because of His mercy, there is little consequences when I do. But I have found that 'hiding' them carries more weight, even if they are 'small sins.'
Father God, I don't want to try and hide things from You. It doesn't work anyway so why try? You know me better than I know myself. And You know what is best for me. Help me walk in Your ways, even when they are hard.
Thank You for sharing Your stories with me. I LOVE seeing them come alive in my mind as we walk through them. I also like the fact that I don't know how it all is going to play out before You take me on that journey through it. I like the little surprises along the way.