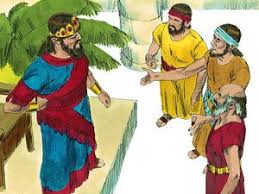 David is being chased by Saul. He cries out to God for help yet again. And God answers him again. The faithfulness of God is seen again.
How many times did David pray this psalm/prayer? SO many men rose up against him. More of them were familiar to him instead of being unknown. We are told that this psalm had a specific group of betrayers in mind. First Samuel 23 tells us the story of it. This story is just one of the many examples of political positioning, betrayal and God's hand working in unexpected ways.
The story and this psalm also highlights David's reliance and trust in God. David didn't go after his betrayer. He let God take care of it. And God DOES. We don't hear how God 'repaid' the betrayers but we see how God saved David from their trap. God sent Saul an even more urgent enemy to divert his attention.
They did this not once but twice! These men were also of the tribe of Judah; David's own tribe. David was probably even protecting their herds while in their territory. For some reason though they were threatened by him. Maybe there was a reward out for his capture and they wanted it. Maybe it was for political favor. Whatever their reason, they failed BOTH times to get their desired result. And I have NO doubt that God did repay the Ziphites for their actions against David. God saw to their ultimate 'reward'.
As for David, "Behold, God is my helper; the Lord is the upholder of my life" (verse 4). This was David's 'go to' position in ALL things. It is the same 'go to' position that we have. No. Not everything will go perfect in our lives. David is a CLEAR example of that. But we can have complete confidence in God and His plans for our lives. He sees who is for us and who is against us. He repays evil done against His children. He watches over ALL His children and sees to their needs. Bring those needs to Him. Don't be afraid to ask. We may not always get exactly what we wanted but we ALWAYS get what we need.
David ends his psalm by giving praise to God for His faithfulness. He KEEPS on singing! David celebrated the victories of the Lord even when he knew that tomorrow would hold another battle for him.
Father God, thank You for the songs You have put in my heart. Keep me always praising. Remind me in song and in prayer of ALL You have done and how I can TRULY trust You. Help me to leave all 'just deserts' in Your hands too.