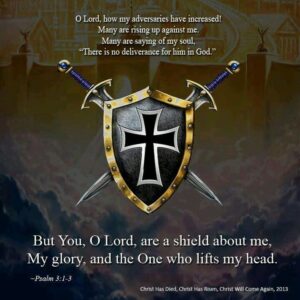 This psalm was written when David was running from Absalom; his son. Rather than fight his own son, David looked to the Lord for protection; his Shield
David spent years running from Saul. He refused to raise his hand against "the Lord's anointed." He fought all the enemies of Israel though and was victorious in all his encounters, in one way or another. Now he is running again but this time it is from his son who is trying to take his throne.
The only time David "fought" for the throne was after Saul's death when Ishbosheth, Saul's son, took it. Abner was the one who placed Ishbosheth there knowing full well the prophecy of the Lord concerning David. David held on to the promise of the Lord in that instance. Abner's last act was to choose David and promise to help him take the throne after Ishbosheth made some serious accusations against Abner. Joab's murder of Abner left David fighting for a little longer against what resistance still stood.
David never once grabbed power. It was always the people's wishes that placed him on the throne. Of course it was also God's plan and promise that preceded the placement. This time though, David stepped down from the throne so that he wouldn't have to go to war against his own son.
Absalom had won over the people's hearts through deceit and subterfuge. David was apparently not paying attention or was being the extremely permissive parent he was known to be. And this wasn't the first time that Absalom had tried to take the throne. But this was the first time Absalom was going to take it by force.
Instead of fighting, David ran. He went to a place of safety beyond the Jordan. And he left matters in the Lord's hands. He trusted in God to sustain him. He would step aside and watch the Lord work.
"But You, O Lord, are a shield about me, my glory, and the lifter of my head. I cried aloud to the Lord, AND HE ANSWERED ME from His holy hill. Selah
I lay down and slept; I woke again, for the Lord sustained me. I WILL NOT be afraid of many thousands of people who have set themselves against me all around" (verses 3-6; emphasis added by me).
I wonder what would have happened if Absalom hadn't pursued David after he left. Would he have remained on the throne and David stayed in exile? Was this part of God's plan to clear the way for His chosen successor; Solomon? If not for Absalom's death, would he have been the one David left to sit on his throne?
This event happened after God told David that Solomon would be his successor. That is probably why Absalom made this move to begin with. He knew he was going to be passed over and he wouldn't stand by and watch it happen. David, however, trusted in the Lord to keep His word, no matter what happened in between. And that's why he could lay down and sleep without fear.
When thinking about David and his rise to power I was reminded of One who was in stark contrast to this. David served and waited to be asked to step up further. When asked, he didn't resist. Jesus, on the other hand, stepped down from power and served. Whenever the people tried to raise Him up He withdrew. Not because He didn't think Himself "king material" but because He had another kind of Kingdom to rule instead. It was not yet time for Jesus to rule on earth. He WILL someday but it won't be at the behest of the people. It will be under the direction of God. As God's appointed King, He will not be expected to bend to the will of the people. He will rule with an iron rod and stand FIRM in the principles of God.
Absalom used the people to lift him up and fought for David's throne. David waited for the right time to be lifted up by the people to the place promised to him by God. Jesus waits only on the word from His Father. And then He will take His rightful place by force! Jesus will sit on the throne created for Him at the beginning of the universe.
God has little 'thrones' that we will take over our lifetime. They are not the thrones of a world renowned ruler, or at least most of us won't, but they are places where we will lead from. Our places of leadership need to be modeled after Jesus. He took His instructions from God but He cares about the people He governs. His is a servant-leader. He leads by example in caring for those under Him. NONE are beneath His notice or love. But they don't alter the direction He is taking us.
Lord Jesus, I will follow wherever You lead! As I say this, fear tries to creep in and 'warn me' as to the openness of that statement. But I TRUST You and KNOW that wherever You lead me, it is GOOD. In the places where YOU raise me up, help me to be the same kind of leader that You are. Help me hold fast to Your direction while caring for those You have given me. I PRAY this is the kind of parent I was, and still am, for my children. Continue to develop in me a right heart that will ALWAYS follow You. Be my Shield too as You move me through life into the different roles You have for me.