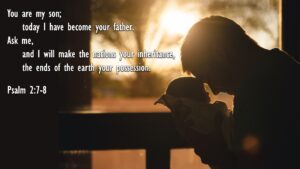 David sings of the fact that the nations can do NOTHING to stop the triumph of God's Anointed. He is not explicitly named in this chapter, but we can infer that this is Jesus!
This psalm is a prophetic one. David is not singing of himself but is looking to the future that God promised for his heirs. I wonder if David realized that the Messiah would come through his line. That there would indeed be a special Son that would sit on his throne.
I have absolutely NO doubt that the Holy Spirit spoke through David as he wrote his psalms to God. I wonder what he thought when he went back and read the words that were given to him. Did he puzzle over the line where God said "You are my Son; today I have begotten you" (verse 7b)?
When I look in my bible helps it says that; "The king recalls what God had said at his coronation" (ESV Note on Psalm 2:7-9). I did a Google search for this phrase and found it given in three places in the Bible; Hebrews 5:5, Acts 13:33 and here in Psalm 2:7. It is NOT in 2 Samuel 5 where David is anointed king over Israel. In fact that even gets very little ink. One of God's promises to David is mentioned during the coronation account but it is not this one. So who did David think God was referencing when He gave David these words in his psalm? Did God give David a peak into the future? Did he know he was referencing the Messiah?
The first time a Savior was mentioned was in the Garden of Eden. God told Adam and Eve that one would come from them who would restore the relationship between Himself and man. Through ALL the years and the MANY generations afterwards, man was still holding fast to that promise. Abraham prophesied that this promise would come from the loins of his son Judah. And now, through song, David speaks His words identifying even further the earthly heritage of the Messiah; the Son of God.
Imagine the thrill that went through David's heart when his spirit received this revelation directly from God's Spirit! My spirit rejoices each time He shows me something new and special in His word as we spend time together. Sometimes they have flown out of my pen onto the page as if the pen had a mind of its own. When I grasp what I have just written, my heart LEAPS! Often these revelations leave me in tears. ALWAYS they leave me with a deeper appreciation for the Holy Spirit and His work in my heart.
David's psalm wasn't only for the future but a promise to him for that day. His promise was that his enemies would NOT be able to defeat him. He KNEW he was the Lord's anointed (little a here for David) and that the schemes of the rulers around him would be put to shame by God. God laughs at man's evil plans. And He REALLY laughed at Satan's plans for His Anointed (big A here for Jesus).
While David lived, God increased the Kingdom of Israel through His favor on David. God also gave David a promise that his son would build a house for Him. This too thrilled David's heart! I don't know if this psalm was written before or after he received that promise but it was certainly after God promised him that he would rule over Israel.
This psalm is important to us today too. It is our promise of Jesus' future reign here on earth. ALL the nations will be subject to Him. Those who are resisting Him now as their Lord and Savior will find His wrath in the end. They WILL "perish in the way" (verse 12b). And to us today He says, "Blessed are all who take refuge in Him" (verse 12c). Take "refuge" in Him. Cling to Him now, no matter what comes. For His is the ONLY sure hope.
Father God, THANK YOU for speaking to me during our time together! Thank You for each and every 'ah-ha' moment in our time together. My heart soars each time You touch it! "Again Daddy, Again!" cries this child's heart.
I cling to the promises You still have in store for me and for the rest of the world. We are NOT out of Your hands or out of Your control. Your Anointed is on the way!