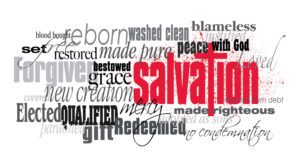 Isaiah is looking at the day of salvation and the joy that will be on that day. "Shout, and sing for joy, O inhabitants of Zion, for great in your midst is the Holy One of Israel."
There are SO MANY days that deserve praise to the Lord! The day Isaiah is speaking of is actually more than one day. I can think of two specific days that this applies to. Both have tears on one side and rejoicing on the other. But both are days of GREAT victories for God.
The first day has already come. That was the day of Jesus' sacrifice for us; the day of His crucifixion. This day was an "if they only knew" day. If they only knew, the tears and rejoicing would have been reversed. If they only knew some would have avoided this event all together. It was the beginning day when the "wells of salvation" were first uncapped. It was the day when the first offer of salvation was extended. Not just covering of sins but salvation itself was offered. And to an unlikely recipient; the thief hanging alongside Jesus that day.
Yes, there was still work to be done after that day. The three days and nights Jesus was in the grave, He worked while His disciples cowered and wept. But the price was paid and salvation was purchased. And NOTHING could undo that act. PRAISE GOD, IT IS FINISHED!!!
There are mini and MANY celebrations commemorating this day that happen all over the globe, every day of the year. These celebrations are marked in Heaven with shouts of praise to God from the angels too. They are the moments another person decides to drink of the Well of Salvation that Jesus opened through His blood. This Well NEVER runs dry, no matter how many people draw from it! PRAISE GOD, IT IS FOR ALL!!!
The next GLORIOUS day of salvation is still to come. It is the day when Jesus steps down upon the earth again and frees ALL men from the influence of Satan. It is the day he is defeated and thrown into the bottomless pit for a thousand years. There will be unfettered access to the Well of Salvation for all who remain.
I'm actually uncertain if this will be the last day of this GLORIOUS day of salvation. There may be one more still to come. That day will be the day following the FINAL battle with Satan and the Day of Judgment of God. On THAT day, ALL who have rejected Him will be removed from those He calls His own forever. Never again will there be pain, death, or suffering OUTSIDE OF HELL. IN Hell pain and anguish will be a continual thing with NO release. Not even death will end the suffering of those who CHOOSE this future for themselves. And not even an "But I didn't realize" will make a difference. I wonder if part of their torment will be being able to see what they missed. I'm CERTAIN we won't be looking in on them. That would bring pain to those who are with God and He WON'T let that happen!
This may also be the day when God makes a new heaven and a new earth. The day His holy city descends from Heaven. PRAISE GOD FOREVER AND EVER MORE!!!
Father God, THANK YOU for Your gift of salvation! There is NO WAY I have earned this. It is only by Your grace that I have received this AMAZING gift. You are God and I WILL PRAISE YOU!!! For You are my salvation!
I cannot begin to give You the equivalent amount of praise for all You have done for me. If I were to praise You to the end of eternity it would not be enough! Please Father God, accept all that I offer You and inspire even more each day, as You are TRULY worthy of ALL praise!
Lord Jesus, I fall on my face is praise to You for ALL You have done for me! I am NOT worthy of the pain You endured but I am grateful. Help me each day to honor Your sacrifice and to NEVER take it for granted.
Holy Spirit, help me turn my ears to Your voice EVERY TIME You speak. Fill my heart and mind to overflowing. Let me speak boldly of You and Your role in salvation too. My Comforter, my ever present Companion, the very Voice of God in my ear.