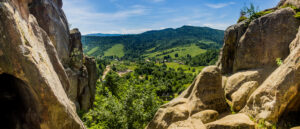 David praises God for Who He is and for what He has done (and will do) for His people. From "He is my Rock", to roll over my enemies, and bless Your people.
This psalm does a very fast shift that threw me for a bit. David moves from thanking God for being his protection to asking Him for victory over his enemies. I almost thought I missed a verse or something because the shift happened so quickly. But if you think of God as being your Rock it kind of makes sense as a play on words. David doesn't make the play but I will.
The Rock is used in three different settings in this psalm. The first is as a fortress where one can take refuge and be safe. The second is to flatten the enemy. And the third is a foundation upon which to build for the future. Let's look at each of them.
When I think about the fortress I don't see a castle but a craggy mountain pass. In this pass are caves, bluffs, and cliffs where a person can find safety. From the caves there is shelter. The bluffs and cliffs provide vantage points with which to shoot from or shelter from incoming artillery. The stronghold is high above the valley floor and protected on the back side by a straight cliff that prevents anyone from sneaking up behind you. In this pass is complete safety. To be a true stronghold you would also have to have access to food and water within its boundaries.
God is my stronghold. He provides places of rest and safety for me. He nourishes me with His word within the 'walls' of His will. He teaches me to fight and how to protect myself. He gives me principles to stand upon and fire back at the enemy. He surrounds me with His love and I am safe within the boundaries He established for me.
The enemies David is asking for help with can easily be flattened by the Rock that rolls over them. The rock I'm envisioning is one that fills the valley floor. A bit like the one in the Indiana Jones movie that rolls right down the middle of the only path there is. Of course Indiana Jones escapes but God's enemies wouldn't. They would be flattened like pancakes.
There is no escaping the truth of God's word and character. Those who refuse to accept Him and grab His hand to get out of the path of destruction WILL find themselves flattened. I am reminded of the song When The Great Trumpet Sounds where the singer is asking if they will be so distraught at Jesus return that the ask the mountains to fall on them. The emptiness without Him will be excruciating and the only hope man will see is death. Only problem is that even death won't end that hollowness and pain. It will go on for all eternity.
The third Rock is the one Jesus talked about. The Firm Foundation. The gospel of Jesus Christ on which we are to build our lives. David talks about the young people being part of that construction of what is built upon the Lord. The building stands strong because the foundation is firm. There is NO shifting and NOTHING can crack it.
What is built on the Foundation of God will stand for eternity. The specific people may have times of stress. They may even have times when they fail. But the foundation they are standing on will NEVER fail. So long as we don't try and 'mix in a bit of this and that' or 'take out the parts that are too hard' that foundation can bear anything. It will even still be there to reset those who have toppled for a time. Our Rock is never harmed when we 'nail' ourselves to Him. He can take ALL the weight we bring with us. He can also help us realize that standing upright often means dropping some of what we are trying to hold onto off to the side. You can't balance when the load isn't even on both sides. Something else that just popped into my head; try being a building all by yourself and see how that works. One two by four standing alone won't stand very long but join them together to make a framework and ALL can stand strong together. There is one caution in that though. Make sure you are building with 'like materials' as having bowed, overly long, or too short pieces does not make a strong structure. Hopefully all those choosing to build on this Rock are of at least very similar materials.
Father God, thank You for opening my eyes to a different way to view this psalm. I want You to be my Rock in ALL forms. Keep me secure and growing within Your shelter. Protect me from my enemies and fight for me the battles that should be waged. And help me build my life on Your pure foundation. Don't let me add or subtract ANYTHING from the building materials of Your word. Help me be a constructive part of the building You are making of Your people. Let me be one of the blessed people whose God is the Lord!