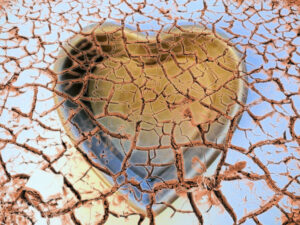 David recognizes that he has failed God. He longs to return to where he was before. He is thirsty for the Spirit of God and he cries out for restoration.
When reading this psalm of David I can see him sitting in sack cloth and ashes as he repents for his sins. This could be from anytime during his life but it feels like it comes on the heels of a bigger issue. Three specific times come to mind for me. The first is after being confronted about Bathsheba. The second is when he first tried to bring the Ark of the Lord into Jerusalem. The third is after being confronted about the census he took.
Each of these times was a blow to David as there was great sin involved. Even bringing the Ark to Jerusalem involved sin because David was doing it his way instead of God's way. There was no stumbling or death when done God's way. All three involved David giving in to temptation and letting the 'enemy' drag him to the ground. "For the enemy has pursued my soul; he has crushed my life to the ground; he has made me sit in darkness like those long dead" (verse 3).
The amazing part though is that, even with the enemy crushing him, David's sin resulted in a deeper yearning for the Lord. "Therefore my spirit faints within me; my heart with me is appalled. I remember the days of old; I meditate on all that You have done; I ponder the works of Your hands. I stretch out my hands to You; my soul thirsts for You like a parched land" (verses 4-6). David remembered his history with God and longed to restore what he had lost.
Instead of wallowing in self-pity or giving up and giving in completely, David turned to the only One who could restore his soul. He repented and asked to start anew. He didn't do it claiming that he had a right to a second chance. He didn't try and convince God that He needed him. He simply threw himself at God's feet and asked for forgiveness so GOD'S name would be glorified with his own restoration.
AFTER David repented, he asked God for help with his enemies. These could have been any number of entities. Some of David's 'enemies' may have been his own people watching and waiting for him to stumble again. In his plea for safety from his enemies was included a plea for help walking in the paths God planned for him. "Deliver me from my enemies, O Lord! I have fled to You for refuge. Teach me to do Your will, for You are my God! Let Your good Spirit lead me on level ground!" (verses 8-10).
This is where we need to go every time we fall; not just the big sins but ALL of them. We need to ask for forgiveness, remember the relationship we once had, ask for a restoration of that relationship, and pray for the Holy Spirit to lead our steps again. This includes praying for protection from the enemy of our soul that brought us to this point in the first place. The 'Devil didn't make me do it' but he sure made the path look pleasing. I chose it. And I need to 'un-choose' it.
Father God, THANK YOU for Your unfailing love! I have failed SO MANY TIMES that it's a wonder You don't give up on me. But You haven't and You won't. I KNOW this because You have said so in Your word. This does NOT give me license to do whatever I want and expect You to 'make it all better'. It simply gives me security in knowing that I can come to You no matter what I've done.
Because of Your love for me, I have come to love You more than life itself. I want to please You with ALL that I do and ALL that is within me. I am thirsty for You; like David was. Lead me by Your Holy Spirit EVERY moment of every day. Illuminate the paths that Satan tries to convince me are so 'wonderful' so I can see what really lies down them. Not for my name's sake but for Yours. So I can truly reflect You in ALL I do.