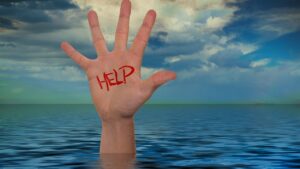 David is in a HARD place. He is hiding in a cave from Saul. His soul cries out for help from the Lord even when his lips must remain silent. "HELP me O Lord!"
When I was reading this psalm of David it reminded me of the life of Joseph. First Joseph was in a pit, listening as his brothers plotted his death. Next he was on the auction block as prospective buyers were poking and examining him to see if he would fit their needs. Then Joseph was in prison, falsely accused of rape. Next he stood before Pharaoh who was demanding answers. Finally he stood before his family exacting a promise from them.
Each of these times Joseph had only one thing to lean on with certainty and that was God. Even when he was ruler of all Egypt, second only to Pharaoh, he could only trust that God would remind his family to take his bones with them when they left Egypt. They could have forgotten or thought it wasn't worth their time in the end so Joseph only had God to hold this promise with.
David is whispering a fervent cry for help because he is in eminent danger. Saul is coming into the cave where he is hiding. At any moment he and his men could be discovered and killed. David's ONLY hope is to put his life in God's hands. And God hears him, just as He did each time Joseph made that same plea.
I have been in tough places before but none as urgent as David and Joseph's. I have been in life and death situations but I was not aware of the dangers until after they had passed. Most of mine were extremely short lived. The one that wasn't, I wasn't even mentally with it enough to pray at the time. Maybe my mom was praying instead.
Like David and Joseph, God supplied safety for me too, even when I didn't have time to ask for it. God didn't withhold His protection but neither did He remove them completely from their circumstances. David still had to remain quiet and hidden while Saul went about his business. David used every ounce of his stealth to sneak up and cut the corner off of Saul's robe, which he used to good advantage later. Joseph had to endure YEARS of slavery, prison time, and separation from his family before God completed His purposes with him. And I had lessons I had to walk through on the way to the peace on the other side of the situations.
David found comfort is surrounding himself with those who followed the Lord. His mighty men were his regular support system but they were only valuable when they stayed in tune with the Lord. Joseph didn't have regular support, who believed in God, until his family arrived. I have family who believe in God for my regular support. David recognized this as important and said so in his psalm. "The righteous will surround me, for You will deal bountifully with me" (verse 7b). We cannot do it on our own; at least not all the time. And this too is a blessing from God.
We need our brothers and sisters to help us keep the faith. They encourage us when we go through the storms. Many of them walk with us in those dark times as we wait on God's answers. We may not be able to grab hold of someone's hand for the immediate response times, but God's is ALWAYS there to grab onto. And our family can help us process the aftermath.
Father God, thank You that You ALWAYS hear my prayers. THANK YOU that I haven't been in the kinds of situations that David and Joseph were. Help me NEVER get into one! I guess going through my husband's heart issues was pretty close and You NEVER left my side. Thank You that You hear and answer the "HELP!!!" prayers.
Thank You for the people You have put in my life that stand with me in the storms and in the abundance. I certainly like the 'abundance' better but I will walk with You wherever that path takes us.