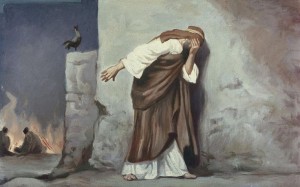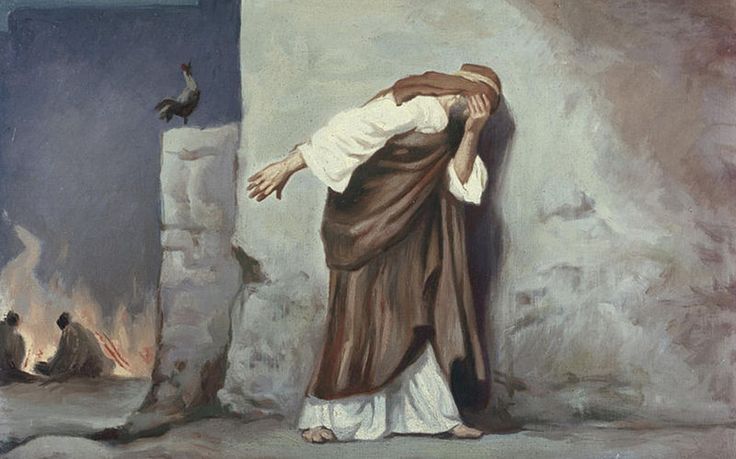 We are joining Peter in the courtyard of Caiaphas' home today. Peter started off the night swearing his allegiance to Jesus, demonstrated that allegiance by lopping off the High Priest's servant's ear, then fled into the night after Jesus told him to put his sword away. After Jesus was bound and led away, Peter circled back and followed Jesus as He was taken to Caiaphas' home. Peter was snuck in the door by John and is now hanging around with the guards who brought Jesus here. Peter is here for one reason; to find out what will happen to Jesus. Tonight, though, Peter is about to face his greatest fall.
Let's back up a bit and get the backstory before we join Peter by the fire. Peter is one of Jesus' closest disciples. Peter, James and John seem to have a closer relationship with Jesus than any of His other disciples. These three were the only ones present at Jesus' transfiguration and with Him in the garden. Peter is the only one who Jesus renamed (Matthew 16:18-19 & John 1:42). Peter was also the most outspoken and the first to respond of the group. Peter rebuked Jesus when He first told the disciples of His impending death. Peter asked to come out on the water with Jesus. Peter was also the first to swear that he would die before denying Jesus.
Earlier this night Jesus tells Peter of what is coming for him. Jesus has just told His disciples that they are all going to leave Him before this night is through, when Peter steps up and makes the most solemn oath of his life. "I will die with You before I ever deny You." This promise is made from the bottom of Peter's heart and he means every word of it. In the very next moment, Jesus looks Peter straight in the eye and tells him that he will not only desert Him but deny Him three times before the rooster even crows this next morning. I cannot imagine the pain that must have caused Peter. Probably as painful as when Jesus said, "Get behind Me, Satan! You are a stumbling block to Me; for you are not setting your mind on God's interests, but man's" (Matthew 16:23).
In the garden when Jesus is approached by the mob, Peter proves his intentions to protect Jesus by drawing his sword and striking the High Priest's servant. These are overwhelming odds; Jesus and three disciples armed with one sword against an armed mob that included Roman soldiers and temple guards. Peter is willing to fight them all. But Jesus stops him cold with a word. Peter is confused. He is in "fight or flight" mode. Jesus has just taken "fight" off the table, so Peter does the only other option left; he runs. But he doesn't run far. He comes back around and follows Jesus from a distance.
Once Jesus enters Caiaphas' palace Peter is shut out. He doesn't have a way in, but he doesn't leave either. John has some influence with some of the servants and gets Peter admitted. We are not told where John goes to or what he is doing, but we know all about Peter's time within these walls.
Peter starts his visit with his first denial. John brings Peter in and Peter goes to sit in the courtyard near the fire the servants and the guards have made. Peter is able to see Jesus from where he is sitting but can't make out everything that is being said. He can tell by the tone of voices that things are not going well for Jesus. Peter then sees Jesus struck by one of the guards who is standing with Him. Peter gasps and sits up straighter in his seat, waiting to see what Jesus will do.
Seeing Peter's reaction, the servant girl who let Peter in at John's request, approaches him and asks him if He was with "Jesus the Galilean." Peter has just seen Jesus taken by an armed mob. He knows how the Roman soldiers treat the Jews. He knows that the Pharisees have been trying to trap Jesus. He knows that this servant girl is in Caiaphas' keeping and is likely to tell him about Peter. He has just seen Jesus struck in front of the Sanhedrin and no one did anything about it. Peter also knows the temple guards are just inches away from him. All this passes through Peter's mind before he answers the servant girl. Just for safety sake, Peter says, "I don't know what you mean" (verse 69). Peter said this in front of several people as he has been warming himself at the fire with the temple guards and the servants who were in the mob.
Peter's response could be taken one of two ways. It could mean that he didn't understand the question or that he was not with Jesus. We know Peter meant the second option, but did the servant girl know? She didn't ask him again so we can assume she took his meaning to be that he wasn't with Jesus.
Peter felt exposed by the fire. Maybe someone would recognize him, especially after the servant drew their attention to him. Peter wasn't ready to leave though. Jesus was still being held and questioned a short distance away. Peter found a compromise. He went and stood by the door. This not only kept him within sight of what was going on with Jesus, but it also provided a quick escape route if needed.
Peter watches as the parade of false witnesses stand to try and convict Jesus. Peter can't hear what is being said here either, but he can see the frustration or elation on Caiaphas' face. His face appears to reflect how the testimony is going. Peter is absorbed in the proceedings. He is also terrified of being found out.
As Peter is standing by the door another servant girl comes up to him and says within the hearing of everyone in this area, "This man was with Jesus of Nazareth" (verse 71). Hers wasn't a question; it was a statement of fact. Peter has to act fast! He is still in so much danger. All he can think to do is lie and deny again. This time he has to make his answer stronger to match her assertions' strength. "I swear I do not know the man."
There is no mistaking Peter's meaning here. He is denying even knowing Jesus outright. The servant girl seems to accept Peter's promise and she leaves him.
Peter goes back to watching as Caiaphas stands right in front of Jesus. Caiaphas steps back and begins yelling, "Blasphemy! His words carry to where Peter is standing. Peter hears Caiaphas and the Sanhedrin call for Jesus' death. Peter stands transfixed as Jesus is struck in the face and spit on. Still Jesus remains standing still.
Apparently Peter hasn't fooled these people after all. A short time after the second servant confronted Peter, those that overheard Peter's conversation with the two servant girls confront him. They have been talking about the girls questions, about Peter's answers, and about their memories of the events in the garden a short time ago. This group has noticed how Peter seemed nervous when he answered the girls' questions. They have noticed Peter's utter fascination with the proceedings. They have noticed his speech patterns. And they have remembered seeing Peter with the sword in the garden. The say, "Certainly you too are one of them, for your accent betrays you" (verse 73).
Hiding in the shadows had not been enough to camouflage Peter's identity. Staying away from everyone who was in the garden had not been possible. He was trying to keep his interactions to a bare minimum but Peter hadn't even thought about disguising his speech patterns. He was found out for sure! He would certainly be standing beside Jesus suffering abuse himself if he didn't act FAST and decisively.
Peter launches into his most fervent denial yet. "I already told you I don't know the man. May God strike me dead where I stand if I'm lying!" As soon as the words leave his mouth he hears the sound of the rooster crowing. Peter freezes in his tracks and all color drains from his face. Jesus words begin ringing in his ears; "Before the rooster crows, you will deny me three times." The full weight of his own words comes crashing down on him. Peter is immediately filled with guilt and shame. Peter's eyes are drawn back to where Jesus is standing. Peter sees his Lord looking straight back at him, not with hate or condemnation in His eyes, but overwhelming sorrow.
Peter is crushed! He turns and flees, knocking anyone nearby away as he runs through the streets. He is blinded by his tears as they pour freely from his broken heart. Peter finally stumbles into the garden where Jesus so recently asked him to pray. He curls up in a ball and weeps bitter tears, finally pouring his heart out in prayer as Jesus had asked him to do earlier. If only he had listened.
Lord Jesus, I'm sure You heard every word Peter said. Each time he denied knowing You. Each word pierced Your heart. You knew beforehand it would happen and You even warned Peter. He didn't listen. He was too sure of himself. He was full of pride in his own ability to stand with You. But when push came to shove, he was pushed and shoved right over the cliff. He let his fear take over. Fear for his own safety. His promise to You was the last thing on his mind while in the midst of the enemy. Also Your words about meeting them in Galilee was absent from Peter's mind.
It is so easy to pass judgement on Peter from this side of the promise. You told all Your disciples that You would rise again EVERY time You talked about Your death with them. But they wouldn't accept Your death and couldn't understand Your words regarding rising again. You told them anyway. Did they have hope during the waiting time, or did they wallow in despair? If only they could have seen with Your eyes.
Father God, I feel for Peter. I'm afraid of ever facing the life and death balance Peter thought he was facing that day. The choice between denial and life or affiliation and death. You say those days are coming. I pray that if I ever face that choice I will not follow Peter's example. Please give me the strength to stand and boldly declare my love for You. Peter never made the wrong choice again between denial and declaration.
I was thinking about the evidence of Peter's association with Jesus and how the people knew he was one of Yours. It was obvious to those in attendance, even in the face of Peter's denial. I pray that the evidence of our relationship is obvious to those who see me. I want to live in such a way that, if brought into court on the charge of being Your child, that I would be found guilty beyond any reasonable doubt. Guilty by Association.
I want to share another poem I wrote a LONG time ago about Peter's night in Caiaphas' courtyard. It is called The Cock Crowed.