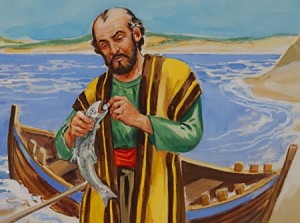 Jesus and His disciples have come home to Capernaum. They have been on the road for some time, teaching and healing wherever they went. The first thing that Matthew records when they get home is getting hit up for taxes.
Did the tax collectors ask Jesus for His taxes before they went to Peter? Apparently they didn't get any from Jesus, if they did ask, so they went to Peter. They didn't ask Peter to pay a tax for himself. Why was that? Why did they come to Peter in the first place? Did Peter look like the one in charge of such things? Why didn't they talk to Matthew? He used to be a tax collector. Is it because he would know they were asking for taxes Jesus shouldn't have had to pay? Matthew doesn't mention that any of the other disciples were asked to pay the tax. Why is that?
Peter was out of Jesus' hearing when he was approached. I wonder if Peter felt pressured to say "yes" or if he really believed Jesus would have paid it if asked. Was Peter trying to keep the peace by saying yes? Whatever his motivation, he didn't immediately pay the tax requested (or required). Did he say yes just to get them off his back? Where did he intend to get the money to pay the tax?
When Peter goes into the house where Jesus was, Jesus approaches him. I find it interesting that he didn't approach Jesus. Did he have the opportunity to approach Jesus before he was questioned by Jesus? Apparently, being out of Jesus' hearing didn't mean Jesus didn't know what was going on. We have witnessed this phenomenon before. Jesus knows MUCH more than anyone expects.
Jesus asks Peter about taxes and tolls. Who has to pay them, the sons or the strangers? In our country it is EVERYONE! In Jesus' area and time, Peter confirms that it is strangers (or others) who have to pay the tax. Jesus states then that the sons are exempt (or free) of the tax then.
Ok, let's do a little sidebar here. I'm assuming that the tax collectors were Jewish citizens who were collecting for the Roman government. If the collector was Jewish and the final destination for the tax was the Jewish nation or the temple, then Jesus and Peter, as Jews, should have been exempt, as they were "sons." But if the collectors were collecting for the Roman government, then Jesus and Peter, as Jews, would have had to pay the tax because they were "others." I'm assuming that this is the conundrum Jesus was referring to when He said, "However, not to give offense to them" (verse 27).
My bible helps tells me that the tax being collected was for the temple, so Jesus was definitely a Son of the "King" of the temple and therefore should have been exempt. It says that they were "religious tax collectors" who approached Peter. It also says that Peter was the disciples' leader. I wonder if the rest of the disciples and Jesus agreed with this assumption, either on the part of the tax collectors or my bible helps author. It still doesn't tell us why only Peter and Jesus eventually paid the tax. My bible helps also say that the tax collectors didn't approach Jesus himself, "in deference to His esteem as a popular teacher.' I think it is more likely that they were afraid of what He would say to them. Jesus wasn't exactly gentle with the religious groups who approached Him. Did they fear He would treat them like He treated the money changers in the temple?
Back to the story. Jesus does not ask Judas to give up any of the treasury money, if there was any at this point, to pay the tax. He makes Peter work for it instead (kind of). Peter is a great fisherman, so this really shouldn't be too much of a challenge for him to catch a fish with a hook. We are used to seeing Peter fishing with nets, but that is not how Jesus told him to catch this particular fish.
Peter is to go to the sea, cast a hook, take the first fish that comes up, open its mouth, take out the coin that will be there, and use it to pay the tax for Jesus and himself. These were some pretty specific and miraculous instructions, for Peter and the fish. I wonder if Peter hesitated even one second after Jesus gave him his instructions. What did he think as he picked up that first fish; just before he opened its mouth? Was there already a fish out there in the sea with the shekel in its mouth or did Jesus cause one to appear in the mouth of whatever fish came first? Interesting that the fish would have just the right amount of money to satisfy the need. Nothing more, nothing less. I wonder if Peter stopped with just the one fish. Did he catch dinner too, or just the tax money? Did he throw the one he caught back after making his withdrawal? That was probably one whale of a tale for Peter to recount to other fishermen later on.
Lord Jesus, thanks for the fishing story. I love how You do the unexpected. Like telling 5,000 people to sit down for dinner when You have maybe enough lunch for three people. Or talking with Moses and Elijah on the mountaintop. How about walking on water because the boat had already left. Your stories are PRICELESS! There was probably a much easier and more normal way to get the money for the tax, but You chose to create a GREAT fish story instead. Was this meant as a faith building exercise for Peter? How hard did he have to work for that first fish? You could just as easily have pulled the coin from behind Peter's ear, but You chose to involve him in the story too.
I LOVE Your imagination and the fact that You put us right in the stories with You. You don't leave us on the sideline while You go about whatever it is You have planned. You entice us with Your instructions or the start of the story, then put us right in the middle of it. We get to watch the action unfold right in front of us and know that it was by Your hand that it was authored and set in motion. Thank You for using me in ways I never dreamed You would. This blog itself if one of those, "You set it in motion", stories. I can't wait to see what You do with it next!