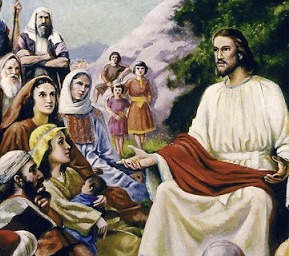 In our reading today Luke makes sure to note that Jesus traveled with men and women. His 12 specifically appointed disciples were all men but many women also learned at His feet. This was the place disciples occupied in that age.
Mark lists Mary Magdalene, Joanna, Susanna and "many others" traveled with and were taught by Jesus. I believe these women provided physical support, as in caring for the clothing of the group and cooking their meals, as well as monetary support. Luke says they "provided for them out of their means" (verse 3). This means that these women had enough money to help care for the needs of Jesus, His twelve disciples and themselves.
Where did they get that kind of money? Joanna was the wife of Herod's chief servant. She probably had access to her husband's wages and funds. Mary Magdalene was thought to be a prostitute and had received money for her services. We are told very little about Susanna or any of the other women, except that they helped out any way they could.
Why did these women travel with Jesus? Luke makes that clear right away. They traveled with Him because of the great work He had done in their lives. Mary was released from the hold of 7 demons. The others had been healed physically and spiritually. These women were so grateful for the work Jesus had done in their lives that they gave back to Him in any way they could.
This arrangement was very unusual for that day and age. It was not considered proper for a single woman to be traveling with a group of unmarried men. Maybe the fact that there were so many women traveling with Jesus that made it ok. Regardless of the stigma, they would follow wherever He led. Several of these women would also be those who went to His tomb that glorious Sunday morning.
These women received a precious gift for their time and money. They got to learn directly from Jesus on a daily basis, right along with His other disciples. This was a VERY unusual arrangement. Jesus was known for His departures from the norm. His welcoming women into His group paved the way for the women who would be instrumental in the building of His church.
Thank You Jesus for welcoming women into Your group. For teaching them right along with the men. You didn't leave us out of Your words or work. We became part of Your plan too. Thank You for including us in Your healing ministry too. Thank You for touching our hearts. I trust these women's generosity touched Your heart too. Thank You for including their stories in Your word. I too want to serve You in whatever way I can. Thank You for that privilege.