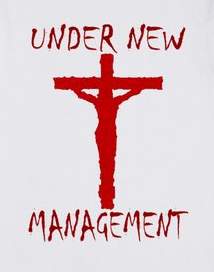 Jesus is still in the temple teaching the people. He is also confronting the religious leaders. Our story today is a very familiar one, as we have looked at it twice already. NO WAY have we exhausted what Jesus put into that story though.
When we looked at the story in Matthew we saw The Wicked Tenants in action. We watched as they schemed and plotted to get the vineyard for themselves. In Mark's telling of this familiar parable we looked at the parallels between Israel's history and the tenants. The Power of the Story left no doubt as to whom Jesus was talking about.
Today, I want to look at the changing of the tenants. In Luke's recounting of this story, Jesus shocks His listeners by telling them that the landowner, "will come and destroy those tenants and give the vineyard to others" (verse 16a). Their response to Him was, "Surely not!" (verse 16b). Surely YES is what Jesus' remarks to them clearly communicated.
Jesus was telling this group that the Kingdom was coming under new management and a new "lease agreement" was being drawn up. This was the changing of the Covenants. Those originally given exclusive rights to the Kingdom were being stripped of those rights. They had abused the privilege, perverted the Kingdom principals, and robbed the King of His due. They were going so far as to plot the destruction of the rightful Heir in order to claim the Kingdom as their own. THIS would NOT go unpunished. They would be stripped of their exclusivity and access to the King would be restructured.
The BIGGEST stumbling block in the path of the old management group would become the cornerstone for the new group. Jesus as the Messiah was something Israel's religious leaders WOULD NOT accept. It's not that they "could" not but that they "would" not. They chose to dismiss every piece of evidence that came their way. Every prophecy pointed directly to Him. His very works shouted His direct connection with God. So their blindness was deliberate.
The new group that was given access to the Kingdom did so through Jesus, the Messiah. The only way into the Kingdom was through recognition and acceptance of that fact. The rules of the Kingdom changed too. Access was no longer conditionally granted by specific behavioral requirements. Now access was granted through relationship cultivation with the Heir.
I wonder if this was one of the main things the religious leaders stumbled over. They had been "trying" to be good enough for God for centuries but never quite making it. They kept having to repent and offer sacrifices. Now Jesus was preaching forgiveness and acceptance, even to those who were the farthest away from the perfection demanded under the old covenant. "One had to earn it and the other was handed it." Was this what they saw?
If they only realized that EVERYONE had to have righteousness "handed" to them. None of us could or would ever make it on our own. Not even the most upright man on earth. Not even the Catholic Pope or any of the Saints. Only Jesus. He is the only one that was born free of the sinful nature that we ALL have. He was a man but He was also God. No other person to walk the earth can claim that. He was perfection itself. So HE could and would live up to the requirements of the first "lease." And in doing so, He had the right to convey His success to whomever He chose.
He CHOSE to convey it to me! He CHOSE to convey it to you too! He CHOSE to convey it to ANYONE, Jew, Greek, male, female, slave or free, that chose Him in return. The "new tenants" are those who truly chose to accept the free gift Jesus offers; His life for ours.
One final note. I'm in NO WAY trying to say that God has rejected the Jewish people. He wants them to turn to Him as much today as He did when He first established them as a people. But that turning to Him involves a new set of requirements. The first of which is accepting that Jesus was and is the one and only Messiah. The Jewish bloodline is not enough to ensure eternal life with God.
Father God, thank You for setting up Your new covenant. I would have been locked out of the old one for more than one reason. The first reason being my lack of Jewish heritage. The most important one though is my total inability to measure up to Your standards. Thank You Jesus that You measured up in my place! I wish there would have been an easier way for You to complete all that was required. I feel the weight of what I put You through, especially when I fall even farther short.
Every time I think of how You were rejected by the Jews I want to scream out, "How could you not see!!!" But then I think of what it would mean for me if everything had not happened as God had designed. I would be without hope. You HAD to be rejected in order to be allowed to make a second offer. If the original bargain had been accepted there wouldn't have been another offer made. THANK YOU for knowing the right time in history to place Jesus so that the conditions for the first covenant fulfillment were outright refused by the original parties. Thank You for planning it so I could be included too.