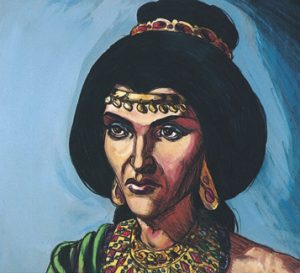 Jesus is still in the temple today. He was just confronted by the chief priests and scribes about Whose authority He was ministering in. They didn't get the answer they wanted and now Jesus is about to add more fuel to their fuming hearts.
Jesus chooses to share a parable about a vineyard owner and his tenants. We all know this story pretty well. We looked at in when we addressed Matthew's telling of it. You can revisit that story of The Wicked Tenants if you want to.
When sharing Matthew's account we put ourselves in the story as it was told. Today I want to live the story through the history of Israel instead. The chief priests and scribes actually listening to Jesus' story that day recognized that He was speaking of them. We are going to look at exactly how the religious leaders behaved as these tenants.
Jesus pointed out that the owner of the vineyard had carefully prepared the vineyard he was going to rent out. The land owner planted the crops, built the structures, bought the equipment, and set everything up for the tenants to begin their work.
God did this process several times. I'm only going to touch on two of those times. The first, and most notable was done during creation. God made the light, the planets and stars, the air, the ground, the water, the vegetation, the animals, and man. He carefully prepared it all. He even grew the garden where He set man. Every inch of His creation was perfect and ready to be used by us, His tenants. But we made a mess of it. We sold it to Satin on a lie.
The next time I want to mention where God set everything up beforehand is when He gave Moses the Law. God went to great lengths to bring Israel out of captivity. He knew when He called Abraham that they would be spending some time in Egypt and He even knew the conditions that they would be facing there. That time was a time of preparation for Israel. They needed time to grow into a people and also time to develop a yearning for freedom. God would be the One to provide that freedom to them.
When they were finally underway to the Promised Land, God gave them His completely fleshed out plans/designs. He specified everything, from what they were to eat to how they were to worship Him. He left nothing out. He prepared it all. He even placed the visions inside of the builder's minds to create what He wanted to give them. That was an amazing miracle! I say this because there is NO WAY to accurately see the beauty of what God instructed Moses to build, relying on the written word only. I am anxious to see the real thing after entering Heaven!
After putting it all down in black and white, or whatever colors their material were; God handed the daily care of His instructions over to the priest. God told Moses who they were to be, what they were to wear, how they were to conduct themselves, how they were to serve the people and how they were to serve Him. It took no time at all for them to mess this up. I would cite the golden calf, but God hadn't officially given them the law yet, so we will let that one slide. Pretty BIG slide there. Right away, Aaron's sons Nadab and Abihu stepped out of line. They decided to offer their offering "their way" instead of God's way. They were already trying to claim God's "crops" (His people and their praise) as their own. They paid the ultimate price for their decision. Interesting that Lucifer was after the same thing when he got kicked out of Heaven.
Skipping forward to Jeremiah, we see that that Jeremiah points out that the priests were NOT following God's Laws and were leading the people astray. They were spoiling the vineyard by introducing destructive fruits into the mix.
The tenants expanded to include the Judges and Kings of Israel, as God allowed the will of the people to lead them into a government more closely resembling their neighbors. God told them upfront that this was not a good idea and that they would suffer for their decision, but they went that way anyway. The priests served the kings of Israel and were supposed to guide them in God's ways. The reverse happened though. The priesthood instead corrupted itself even further to where it was a puppet of the king.
Jezebel and her murder of God's prophets is one of the most glaring examples of the "tenants" killing the "vineyard owner's servants." She did her best to wipe out God's prophets, but He wouldn't let that happen. I love the story of Elijah challenging Jezebel's prophets of Baal to a showdown.
I have been looking for other specific instances of God's prophets being killed, but am hitting a wall. I found two sites claiming knowledge of how many of the prophets died, but the information contained in those writings leaves me MORE than skeptical, so I am NOT going to share them with you. I have found references to evil many other kings of Israel committed, but I am not finding specific references to who killed whom. Nehemiah 9 recounts God's deliverance and provision for Israel and how they rebelled against Him, including stating that they did indeed kill many of His prophets. I trust their memories more than I trust my search techniques. I did find in 2 Kings 21 the wicked works of Manasseh, including his shedding of innocent blood. Being the prophets kept confronting him over his behavior, I have no trouble believing their blood ran with the other innocent blood he shed.
This was the history the chief priests and scribes were recalling when Jesus spoke in the temple that day. They knew their history. They knew that God had, time and again, sent His prophets to correct them or "receive His portion." They probably knew the names of those prophets who were killed for their service. They also knew Who Jesus claimed to be, and the plans they had for Him. "Get rid of the Son and the vineyard is ours!" That was exactly what they were trying to do.
By killing the heir, the tenants hoped to keep the vineyard for themselves. By killing Jesus, the religious leaders hoped to keep access to the Kingdom of God firmly in their grasp. They thought they held the keys to the Kingdom. But Jesus would rip them right out of their hands in just a few more days.
Lord Jesus, thank You for striking right at the heart of the matter with Your stories. It amazes me that the chief priests recognized that You were speaking about them, yet they didn't understand that by killing You, they were completing the chain of events You just described. They rightly judged that those tenants deserved death, yet they thought they would escape their own judgement. To see so clearly, but yet be so blind.
Thank You that You show me truths through Your stories and sometimes even through my dreams. I truly appreciate it when You open my eyes. I don't always excitedly grab onto what You show me, but I do accept it. I am at times just as guilty as the chief priests about not changing my behavior after seeing things through Your eyes. Please forgive me for that Lord. I have no excuse, only "yabuts." Ya, but it's too hard." "Ya, but I'm tired." More likely, "Ya, but my sin is too much fun, or it's not really that bad." I am truly sorry for my attitude.
In my dream last night Lord, You showed me my behavior of laziness and how it affected someone (my dog) I care about. Please forgive me for putting myself above all else. Remind me again how much You went through to put me first. I want to live by Your example. Thanks for showing me my behavior through the story of my dream.