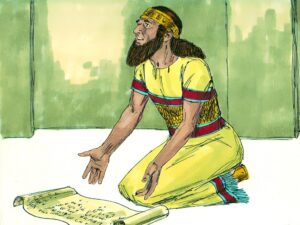 God has sent Sennacherib away as He said He would. But Sennacherib isn't done with Jerusalem yet. His Assyrian pride comes flowing out. And so does Hezekiah's faith.
Sennacherib was ready to come at Jerusalem but God sent him away. In Isaiah's first message to Hezekiah concerning Sennacherib he told the messengers that God would send Sennacherib a false message and lure him away. That is EXACTLY what happened. He heard that the king had left Lachish for Libnah. And Sennacherib sets out for Libnah in pursuit. He is chasing shadows and rumors.
There is a second rumor that Sennacherib receives. He hears that the king of Cush is going to join the fight. I am curious why he sends a message to Hezekiah instead of the king of Cush as a result of this rumor. Maybe he thinks that Hezekiah is encouraging the king of Cush or is expecting help from him. That last one sounds the most probable. Sennacherib would want to put a stop to ANY alliance Judah might enter into so they would be easier to conquer.
I want to rejoin our story but I'm struggling with whether to put today's passage and tomorrow's together or to take them separately. I am feeling a strong pull towards joining them into one. I'm going to pop back up to the top and change the reading from 2 Kings 18:8-13 to be 2 Kings 18:8-19 instead. Now that I have taken care of that let's see where our stories take us today.
♥ ♦ ♥
The contingent of Assyrian soldiers are feeling frustrated. They were hoping for some action when the Rabshakeh taunted the people. It would have been fun to put down a rebellion but the people of Judah refused to even speak. After an hour of standing around waiting for something to happen the Tartan decides it is time to leave.
As the contingent approaches Lachish they notice that the camp is much smaller than when they left on their mission. Three regiments remain encamped about the city instead of the ten who were originally on this campaign. The Rabshakeh was especially concerned because his master was not among those that remained. He didn't expect his king to be in a rear guard position but leaving without his cupbearer was extremely troubling to the Rabshakeh.
The Rabshakeh had served Sennacherib many years in this position. Sennacherib was not always pleasant to be around and he had his mean streaks but such was the Rabshakeh's life. He knew no other and he desired no other.
The Tartan was able to learn of the king's new location with ease. His rank as the highest military officer was not without its perks. No Assyrian soldier dared hold anything back from him. It would mean his life if any man were found doing so.
The Tartan, though he had little love for the Rabshakeh, took him aside and shared the news he had gathered.
"Our king had heard a rumor that the king of Lachish had escaped to Libnah. He and his men went after him. The king could not permit such an act to go unchallenged."
"Then we must leave at once for Libnah" replied the Rabshakeh.
"We will leave as soon as our men have had a chance for a meal and some sleep. We have had a long and disappointing day."
"We need to leave now! Won't the men be revived by the thought of joining the king in another battle?"
The Tartan was firm. "They will not be battle ready without food and rest. We will leave in six hours."
The Rabshakeh had no authority in military matters so he wisely chose to let the matter go. He too would eat and rest while waiting for the Tartan's orders to march on.
While the Tartan, the Rab-saris, the Rabshakeh and their contingent of soldiers rested the king of Assyria was busy. He and his troops were besieging the city of Libnah. They were also gathering intelligence reports from spies all around them. One such spy brought a very disturbing report. He was brought directly to the king once he shared the first kernel of information.
"I hear you have some news for me" inquired Sennacherib.
"I do my king. I have learned that the king of Cush is planning to join in battle against you."
"And who will he be joining with?"
"That is not clear my king."
"I have my own suspicions. You can leave now."
After the spy left Sennacherib's tent the king began to pace the space. His pacing speed grew in proportion to his increasing anger. "How dare that impotent king think he can stand against Assyria! He will learn the error of his ways and pay for his arrogance. Him and his God will be nothing but a footnote in history once I'm through with him; if they even get that much ink."
It wasn't long after Sennacherib's meeting with the spy that the contingent from Jerusalem reached the new campaign headquarters. The Rabshakeh sought out the tent of the king immediately. He felt naked in the absence of his king. As soon as he reached the tent entrance he knew something was wrong. Pieces of pottery lay scattered across the threshold. The Rabshakeh knew this was a common occurrence when his master was angry.
The Rabshakeh didn't even bother to pick up the shards of pottery. He marched directly into the tent of the king to lend his master whatever support he needed. The Rabshakeh fell to his knees just inside the threshold, embedding pieces of pottery into his calves and knees, to demonstrate his supplication to his king.
"Great king how may I serve you?"
"It took you long enough to get here" barked Sennacherib. "What news to you bring from Jerusalem? Are the people in rebellion yet?"
The Rabshakeh had forgotten that he too brought bad news for his king. Sennacherib's mood would certainly darken even more once he heard how the people refused to even answer his taunts. He began to fear for his own safety at this point but there was no getting around the facts of his visit. Doing so would only seal his execution date.
"My king I brought your words to Hezekiah and the people of Judah. I spoke in their tongue so all could hear and understand."
"And" prompted Sennacherib as he took a step closer to the man kneeling before him.
"The king sent three of his advisors to meet with us. The only words they spoke during our entire visit was to introduce themselves and ask us to speak in Aramaic so the people wouldn't understand. We refused their request and delivered your warning."
"AND" growls Sennacherib.
"And those were the only words from the mouths of the entire people of Judah. They refused to even interact with us on the most basic of issues."
"AND" barked Sennacherib a mere hand's breadth from the face of the Rabshakeh.
"And we left to return to you" squeaks the Rabshakeh.
Sennacherib roared in anger and struck the Rabshakeh in the face, sending him flying across the tent. The Rabshakeh lay unconscious and bleeding against the wall. Sennacherib stormed from his tent and went in search of the Tartan. He would drag the full accounting from him.
The Tartan saw the king coming from across the camp. The set of his shoulders and the force of his footfalls alerted the Tartan to the king's mood before a word was even said. The Tartan prepared himself for what was sure to come.
"I have heard that you left Jerusalem without a single convert or inflicting any dissention."
"This is true my king."
"And how do you account for this?"
"We acted to the limits of our orders my king. You gave us no leave to strike the people with military force. Words were our only weapons and when they refused to engage in them we had only two choices; stand there and look foolish or withdraw with the promise of future retaliation. I chose the latter."
"You made it clear then that there would be consequences for their refusal?"
"Most assuredly my king. They will suffer your wrath for their insolence."
Sennacherib's face took on a mirthless smile, one steeped in malice instead. He would see to it that the people of Jerusalem indeed suffered for their insolence.
"Locate a scribe and a messenger. Have them report to my tent at once. Also have someone collect the Rabshakeh from the floor of my tent and see to his injuries."
The Tartan bowed before his king and went off to see to the king's commands with utmost urgency. He understood Sennacherib's unspoken words about his own fate narrowly missing that of the Rabshakeh's whose injuries were as of yet unknown.
As the king approached his tent he saw the Rabshakeh being carried out by two soldiers. The Rabshakeh was a faithful servant. He hoped that he had not done too much damage. He did not enjoy the thought of breaking in a replacement for him while on the field of battle.
The messenger and scribe arrived alongside the Tartan at the same time the king reached his tent. The three men followed Sennacherib into his tent. None dared to mention the blood pooled by the wall or the trial of it that lay splattered across the coverings for the floor.
Sennacherib sat down on his stool and the malevolent smile returned to his lips. He took a moment to compose himself before speaking.
"I have a message for the king of Judah. You are to place it in no other hands but his own. Is this clear?"
"Yes my king" replied the messenger. "I will not fail you."
"See that you don't." Sennacherib then looked over to the pool of blood, drawing the eyes of those in the room with his.
These men had been around long enough to know that they mustn't let Sennacherib see their fear. He would capitalize on it if they did. Drawing their eyes away from the pool of blood they see Sennacherib looking intently at them, like a cat waiting for a mouse to try and move past it. After a few seconds Sennacherib lessened his gaze and moved onto the matter he had summoned them for.
"Thus you shall speak the Hezekiah king of Judah: 'Do not let your God in whom you trust deceive you by promising that Jerusalem will not be given into the hand of the king of Assyria. Behold, you have heard what the kings of Assyria have done to all lands, devoting them to destruction. And shall you be delivered? Have the gods of the nations delivered them, the nations that my fathers destroyed, Gozan, Haran, Rezeph, and the people of Eden who were in Telassar? Where is the king of Hamath, the king of Arpad, the king of the city of Sepharvaim, the king of Hena, or the king of Ivvah?'" (verses 10-13).
The scribe rushed to transcribe each word of his king's message. His pen moved with speed but also care lest his master find some error in his work and punish him. As soon as he was done he handed the scroll to the Tartan who then presented it to Sennacherib. Sennacherib looked it over very carefully as if searching for that one small error he could pounce upon. None were found and Sennacherib, after ensuring that the ink was dry, rolled the scroll and sealed it with his wax signet. After the wax was firm he held the scroll out towards the messenger.
"Take this immediately to Jerusalem and lay it in the hands of Hezekiah, king of Judah."
"Am I to await an answer my king?"
"There is no answer but surrender. IF he falls to his knees before you after reading this message then by all means bring me back a reply. If not, do not tarry in that god forsaken town. Return to me at once."
The messenger bows deeply, retrieves the scroll from Sennacherib's hand and exits. He will complete his mission with all due haste.
Sennacherib dismisses the scribe and he and the Tartan talk of battle strategies long into the night.
The messenger reaches Jerusalem the following morning. He has traveled all night. He wants this message in the hands of the king of Judah as soon as possible. Not only so he can be done with this assignment but also to see how their king responds to such strong words. He has heard of the God of Israel and Judah. He has heard stories of His miracles. He wants to know if He will stand by while His people are threatened AND His name is challenged.
Hezekiah is in his throne room when word reaches him regarding the messenger carrying a letter from Sennacherib.
"Why did you not bring it with you?"
"My king he has orders to deliver it to none other than the hands of the king of Judah. He says he will die before relinquishing it to another."
"Very well. Bring him to me."
The messenger enters the throne room. He paused to bow to Hezekiah then approached and held out the scroll for him to take. Once Hezekiah had received the scroll he stepped a few paces back to watch the king's face as he read Sennacherib's words.
Hezekiah broke the seal with his thumb nail and unrolled it. He began reading the words of Sennacherib. Within the time it took to read the first sentence Hezekiah was obviously disturbed by what was contained therein. Hezekiah's face first registered surprise then began to darken with anger as he moved deeper into the words of Sennacherib. The scroll appeared to vibrate as the tremors of barely contained fury shook Hezekiah's hands. When he had come to the end of Sennacherib's words he raised his eyes to take in the messenger. Hezekiah took a deep calming breath before speaking.
"You have completed your mission. You may go in peace."
The messenger stumbled, catching himself just in time to prevent a fall, as he made his way from the throne room. He hadn't even thought about any danger from Judah while on his mission for Sennacherib. Hezekiah's words brought that possibility to his mind for the first time. He wished the king had said more but he did not fall to his knees in supplication. That was the only answer Sennacherib felt worth reporting. The messenger however was most impressed by Hezekiah's control of his obvious distress. The messenger could only wonder whether the distress was fear of Sennacherib's open threat or rage at Sennacherib's disrespect for Judah's God.
After the messenger left the throne room Hezekiah stood with the scroll still clutched in his hands and made his way to the Temple of the Lord. Once beyond the door and out of sight of the people his knees gave way and he fell on his face before the Lord. He remained in this position for a time, letting the coolness of the floor leach the fire of his anger from him. Once he felt sufficiently calmed he raised himself to his knees and laid the scroll on the floor in front of him. Hezekiah knew where his hope lay so he began to pray.
With his head bowed toward the ground Hezekiah began; "O Lord, the God of Israel, enthroned above the cherubim, You are the God, You alone, of all the kingdoms of the earth; You have made heaven and earth…" Hezekiah raised his face towards heaven and touched his own features as he called out his request to the Lord. "…Incline Your ear, O Lord, and hear; open Your eyes, O Lord, and see; and hear the words of Sennacherib,…" Hezekiah pointed to the scroll spread before him, "…which he has sent to mock the living God…" Hezekiah settled back on his heels as he acknowledged the truth of Assyria's conquests. "…Truly, O Lord, the kings of Assyria have laid waste the nations and their lands and have cast their gods into the fire,…" Hezekiah rose from up again with conviction and spoke the pure truth behind the reason all the other kingdoms fell. "… for they were not gods, but the works of men's hands, wood and stone. Therefore they were destroyed…" Hezekiah sank back down as all his fury drained from him. All that remained was sorrow and humility. He knew Judah too had sinned but he would trust in his God, no matter what His answer. "…So now, O Lord our God, save us, please, from his hand, that all the kingdoms of the earth may know that You, O Lord, are God alone" (verses 15b-19).
Having poured out his heart before the Lord, Hezekiah sank to the floor. He rested in the presence of the Lord. He knew nothing more to do.
(to be continued)
♥ ♦ ♥
If Sennacherib had challenged Judah's ability to repel him Hezekiah would have had no hope. But Sennacherib challenged the Lord's faithfulness and His power. God had told Hezekiah that He would send Sennacherib away. That Jerusalem would be safe. I wonder how much different this third encounter would have been if Hezekiah had sought the Lord instead of paid a ransom to Sennacherib. Would Sennacherib have still taunted the people? Would he have bypassed Jerusalem all together? Maybe God had Hezekiah fear Sennacherib for a short time so He could show His strength. Each step of this journey for Hezekiah built his faith. He already loved the Lord but now he would depend on Him like NEVER before.
Father God, thank You for taking me step by step to the place where I can trust EVERY WORD You have said. My faith is not a blind faith but one built on top of success and failures. It is rooted and grounded in Your word. It will be tested again and again but it will NEVER fail. Even when I fail or fall, Your words remain true. It isn't up to me to protect them or make them come true. That is Your job. Thank You that I don't have to make all things work together; YOU do that.