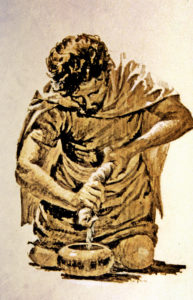 Gideon is nervous. He wants ABSOLUTE PROOF that he is following God's direction. He lays two tests out for God. Tests that NO ONE ELSE could possibly do but Him.
I am going to come right out and admit that I LOVE the idea of "fleece laying" but don't do it enough in my life. I have problems with using it in my life because it speaks to me of 'weak faith' or 'dull ears.' If I wasn't so afraid of admitting either or both of these faults I probably would use it more.
Gideon was unsure, even after THOUSANDS of men came to follow him into battle for the Lord. Was God really calling him to this battle? Could he have heard wrong? Could his pride have led him into this situation? Was he going to make Israel even worse off if he continued?
This was a BIG move! I don't know how I would have felt. The angel of the Lord had proved he was who he said he was with the 'gift' Gideon had offered him. But the only direct command Gideon had received was to pull down the altars. He wasn't told directly to call these men to battle. He had acted under the Spirit of the Lord instead.
Now Gideon is looking around and wondering if maybe he made a mistake. Maybe it was some other spirit that steered him in this direction. Maybe someone else was supposed to take it from here. He HAD to know before he went any farther!
Gideon came up with a sure fire plan to lay before the Lord that first night and he humbly brought it to Him. "If you will save Israel by my hand, as You have said, behold, I am laying a fleece of wool on the threshing floor. If there is dew on the fleece alone, and it is dry on all the ground, then I shall know that You will save Israel by my hand, as You have said" (verse 36-37). Gideon figured that this was a test that only God could do. And He DID! Gideon wrung a FULL BOWL of water from the fleece in the morning.
But then Gideon had a case of the "what if's." What if the ground just dried up quicker than expected? What if I was too late getting out there and missed the dew on the ground? What if the fleece absorbed the water around it? What if someone poured water on the fleece while I slept? So many "what if's" filled Gideon's heart that he asked for one more test.
As Gideon proposes the next test I can see him trembling in fear. He HAS to know but he is almost too afraid to ask. He did NOT come boldly before God with his second test. "Let not your anger burn against me; let me speak just once more. Please let me test just once more with the fleece" (verse 39a). I could be wrong in my assumption as this may be how the people spoke to one another in those days but I don't think so. In his first act Gideon was so afraid of the people's response that he pulled down the altars in the middle of the night. He does NOT appear to be a brave man or even a confident one.
God allows Gideon his one more test and He answers it just as clearly. "Please let it be dry on the fleece only, and on all the ground let there be dew" (verse 39b). There were no "what if's" that could overrule this one. I wouldn't be surprised if Gideon didn't sleep by the fleece to ensure there was no tampering with it this time. I wonder if he marked it somehow to ensure no one could sneak in and switch it in the night.
Gideon had his ABSOLUTE PROOF that God was going to do with him EXACTLY as He said He would. Gideon was assured that it was the Lord who spoke to him and empowered him to gather this army. And Gideon was certain that Israel was going to be freed again from the oppression through Gideon's obedience.
When I was reading Gideon's first request to God, Gideon states that it was God who spoke to him and told him that Israel would be saved through him. He didn't doubt the messenger as he had proved Whose authority he was under at the time the message was delivered. But Gideon wasn't convinced of his own role in God's plan. Was God REALLY going to use him to deliver Israel? From the HOARDS of people camped in the Jezreel Valley?
Deep breath Gideon, God's got your back!
I'm in the middle of a struggle right now. I probably should have 'laid fleeces' before jumping in but I didn't. My issue is NO WHERE NEAR the magnitude of Gideon's but it is still important to me. I wish I had proved out the messenger. I don't want to go into it too deeply but I covet your prayers as I ask God to walk me back out of the mess I'm in. I ALSO need prayer to know if I'm bailing out on God from fear. Am I being Gideon before being brave enough to ask God to prove His message?
Father God, You know my heart. You know how nervous I get when it comes to new things. You know the situation I'm in now. I NEED to know if I'm out from under Your will. I don't even know a good 'fleece' to lay right now. Maybe that is the place I need to start with. Speak to my heart Lord. Show me what to do and where to go. Build my faith if that is the issue. Clean my ears and make Your voice so strong that I hear NO OTHER voice but Yours penetrates my heart and draws me down paths. I'm not asking to shut out the voices of my family for their daily needs but to remove all voices that lead me into decisions for direction in my life that are not of YOU. I wish I had a real fleece because I would be MORE than tempted to use it as Gideon did.