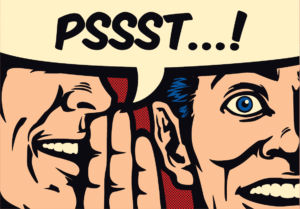 These two proverbs focus on a loose tongue that leads to evil. This tongue is intent on slander and revealing secrets best left alone.
I messed up when I broke the sections down from my bible helps. So I'm trying to get back on track by grouping what I think kind of fits together. I feel like these two verses on the tongue go well together.
These verses remind me of the neighborhood or even church gossip. There is no such thing as a secret around them and the juicier it is the faster they spread it. I have a sister-in-law who has fallen prey to this, even within the family. She became the juicy piece being spread and it didn't matter that it wasn't true. Now she is hesitant to share anything.
I was the subject of juicy gossip one time. I only heard about it third or fourth hand because there was a honorable woman that the gossip tried starting with. Worst part of it is that I didn't even know the gossip. She simply wanted to hurt my relationship with my friend by pretending the bit of information came through that channel. It would have worked if I hadn't followed the trail to the real source. I never did find out what it was I was supposed to have done either.
Slander can ruin a person's life. Slander involves false accusations against another that are usually used to the originator's benefit. It is used as a wedge between people to split them apart and leave the one being spoken against an outcast.
The real 'secret' revealed in slander is the originator's own depravity. One has to be very cruel to do this against another. Even partial truths twisted to reflect badly on someone are just as hurtful. Maybe even more so because this kind also breaks trust. The total falsehood could be dismissed or proven false but when a part of the accusation is true, the person being spoken of cannot be separated completely from the story.
This is where understanding comes in. How much more effort would it take to find out the truth? To see the situation from the other person's perspective. This is what a righteous person tries to do. He is willing to look at all the facts and circumstances. And recognize when it is time to shut up about it.
There are times when it is important for information to be shared but ONLY what is true. Don't stand silent when you see a crime being committed but stick to the facts that you know when reporting it. With a person you see walking in sin, IF he is a brother, go to HIM alone to discuss the matter. Don't air it through gossip.
So what about "belittling" your neighbor? What does this mean? I have a neighbor that is a problem for several people, including my mother-in-law. He is so due to lies he has told and actions he has undertaken, some against other neighbors. Many of the lies are so obvious I don't know why he didn't just tell the truth, but I assume he has his reasons. He has withdrawn to his side of an eight foot fence but that doesn't stop the neighbors from bussing about him. Any strange noises coming from his property, people begin to wonder what he is up to now. And the assumptions are always negative. I wonder what it is like for him living in such a hostile environment. Unless God does something extraordinary I probably won't ever hear the real story of their struggles. It doesn't take much for one neighbor to become an outsider. The saddest fact is that, in this day and age, few people even know their neighbors unless something goes wrong.
Father God I want to be a good neighbor and a good friend. One that does not spread gossip. One that stops it in its tracks and says, "No farther!" I know I have contributed to the talk about my neighbor. Forgive me for that. There is a time to report wrong but then leave it at that and let the authorities handle it. I don't want to carry grudges or make assumptions about what my neighbors are doing. Help me turn a deaf ear when I can't escape the talk and CERTAINLY keep my mouth shut.