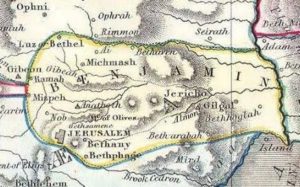 The time has come to assign the inheritance to the last of the tribes of Israel. Benjamin's lot is first up. His portion lay between Joseph's families and Judah.
Here we go with geography and topography again! I am not even going to attempt to figure it all out. SCORES of scholars haven't been able to agree on it so I have no illusions that I could, especially since I'm already geographically challenged.
What I do notice is three important cities that Benjamin received. We see Jericho, Bethel and Jerusalem all given to Benjamin. The cities of Bethel and Jerusalem will figure prominently in future stories. They will also figure into the stories of Jesus' family.
The tribe of Judah was given the southern shoulder of Jerusalem but Caleb was unable to drive out the inhabitants. We are not told if the tribe of Benjamin even attempted such a feat. I'm curious how it is then that Jerusalem later belongs to the tribe of Judah. We know that David would conquer it on day and that He would bring the Tabernacle there for its final resting place. Did it change into Judah's inheritance because one from the house of Judah was able to over throw it? What about the year of Jubilee? Was it supposed to return to the tribe of Benjamin at that time? Or was it a perpetual inheritance for Judah after that because they were the ones who subdued it?
After identifying these three cities, I went searching for Bethlehem. I didn't see it listed in the cities given but the maps show it in Judah's territory. It would have to be because of the description of the northern borders of Judah puts it south of the line.
Joshua spoke against the city of Jericho ever being rebuilt. He said that it would cost the lives of the first born and last born of the man who attempted this. I have a feeling that the tribe of Benjamin lived near Jericho but did NOT try and rebuild it; at least not for several generations.
Benjamin was not a small tribe but its allotted land wasn't nearly as big as its neighbors. Eyeballing it, I would say it was one of the smallest parcels. Zebulun may be smaller but I'm just guessing. Issachar's is pretty close in area, I think. I wonder why this is.
God directed the creation of the portions. God also assigned who got what. Not only was the order of assignment in God's hands but which piece was under His care. Joshua may have gone down the list of portions and let God do the choosing of the tribe. Joshua could have chosen a tribe and let God assign the territory. Or Joshua could have blindly reached into two different lot bags and let God choose who and where at the same time. What was it about this parcel that God KNEW was right for the tribe of Benjamin? Was it that He knew they would be the ones to agree to throw their lot in with David when he was king? They didn't have to but they chose to follow God's man. Maybe that is why He kept them close by.
I wonder what special resources this parcel had that benefitted the people. Did it meet their current needs as the lands on the eastern side of the Jordan did for the tribes that were shepherds or did they adapt their lifestyle to its resources instead? Israel's first king would come from this tribe. And they would always, even after the rest of the tribes fell away, remain faithful to their brother Judah and the like God laid out for His promise.
Little Benjamin. The youngest of the sons of Israel. A child who never knew his mother as she died at his birth. The tribe who God chose to give Israel her first king. Finds a home in the middle, surrounded by brothers of his mother on the north and the first brother who brought joy to his own mother's heart.
Father God, thank You for sharing with me You story. I wish I could have seen how You chose and passed these pieces of land to Your children. I'll have to wait to hear Your reasoning until we are face to face. I have so MANY questions to ask You! I'm looking forward to meeting some of the people who walked those hills someday too. To hear what it was like to see the Promised Land for the first time. To be told, "It's time to build up again."
Holy Spirit, thank You for bringing this story to life for me in some way. It's hard for me to get excited about dry facts. You stirred up questions and observations in me instead and let me go a little off track and deeper. Keep me searching and growing as we go on with the rest of the tribes.