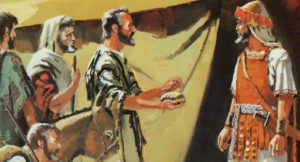 Israel's God has been making a name for Himself in the eyes of the inhabitants of the Promised Land for over 40 years. One group decides to get tricky and save their skin with subterfuge.
In our reading there is one verse that sums it all up Israel's problem. In fact it is only part of a verse: "but did not ask counsel from the Lord" (verse 14b). This is referring to when the men of Israel looked at the provisions their "visitors" had with them from their "long journey." If they had sought the Lord He would have uncovered this deception. Apparently they didn't learn their lesson from the defeat at Ai.
Truth be told, their lie worked better than all the other nations battle cries. That is IF you don't mind being a servant. By deceit they were able to save their own lives. But they lost control of those lives in the process. They said it themselves; "We are your servants" (verse 11b) and that is exactly what they became.
If it wasn't for the kind of promise Joshua and the elders made things could have turned out a lot worse for our deceivers. "We have sworn to them by the Lord, the God of Israel, and now we may not touch them" (verse 19b). Israel's deceivers knew what they had done was wrong and were willing to accept the consequences. "Behold, we are in your hand. Whatever seems good and right in your sight to do to us, do it" (verse 25b). But they also knew the oath that Israel had taken was before Israel's God. That gave them a small measure of confidence. Israel couldn't go back on their word because of Who they swore that oath to. It wasn't just to Gibeon, Chephirah, Beeroth, and Kiriath-jearim but to God. That last part made the oath unbreakable because it relied on His word and not their own.
How many times do I make promises that get me into trouble? More times than I care to count! Promises that take up more time than I have in my day because I didn't think it through. Promises that take up more of my resources because I forgot to count the cost. Promises that make me look good in the eyes of others. Promises that I DON'T consult God about first. Promises where I know I shouldn't be making them because I'm already thinking about how to break them.
IF/WHEN I do the one thing Israel forgot to do BEFORE making promises I save myself a LOT of trouble. When I ask the Holy Spirit to guide me in making the right decision He is faithful to do so. I can trust Him with my future. He will do the same for you if you ask Him. "'For I know the plans I have for you,' declares the Lord, 'plans to prosper you and not to harm you, plans to give you hope and a future'" (Jeremiah 29:11).  But I have to be willing to let Him take the lead.
Father God, this is what I want in my life. I want YOU to take the lead. I want to remember to check out my decision with You before making them. I also want You to tell me clearly when I'm trying to wrestle back control. YOU have the map! I only have bits and pieces of the whole picture. And I know that You are able to use even my biggest mistakes and make something beautiful out of them. I like it better though when You don't have to clean up my messes. Thank You for loving me enough to take me like I am, warts and all, and make me into Your beautiful child. I can't wait to see where this journey we are on will go next!