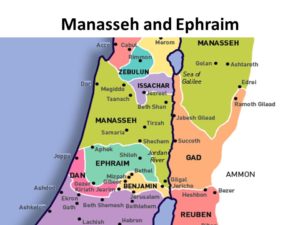 Joseph's descendants are the next to receive their inheritance. The remaining half of Manasseh and all of Ephraim are up. But they are not satisfied with what they are given.
When Jacob blessed Joseph's sons he put his right hand on Ephraim's head and his left on Manasseh's. This was backwards for their birth order but correct for what God had planned for them. Likewise, the tribe of Ephraim received its inheritance first.
I'm having trouble with my geography again, as usual, and finding a map that meets the few requirements I know of. Both Ephraim and Manasseh touch the Jordan and the sea. None of the maps I can find reflect this configuration. The ones that come close don't give Judah all the territory that was claimed. If you put the territories together as one whole then the maps do reflect them reaching both the Jordan and the sea.
Ephraim was given a significantly smaller portion than Manasseh received. This is the tribe of Manasseh's second portion. They have one on the eastern side of the Jordan also.  I don't know if the tribe of Manasseh is divided equally in half or not but this half says they are "a numerous people" and need more land than what they originally were given. Joshua increases Manasseh's portion by giving him forest lands. We also see that Manasseh has cities in Asher and Issachar and possibly Naphtali. I don't know if the extra cities were part of the additional territory Joshua gave them or not. It is possible that those cities lie right along the borders of their neighbors and are actually connected or if those cities lie within the other territories. I'm leaning towards the former explanation myself.
Joshua grants their request for more territory but he makes them work for it. They will have to clear and tame the land he gives them. The people didn't want to do this task because it meant dealing with the original inhabitants and their weapons. Joshua refuses to listen to their excuses. "You are a numerous people and have great power. You shall not have one allotment only, but the hill country shall be yours, for though it is a forest, you shall clear it and possess it to its farthest borders. For you shall drive out the Canaanites, thought they have chariots of iron, and though they are strong" (verses 17b-18).
This branch of Manasseh had an advantage that is identified for us. "Machir the firstborn of Manasseh… was a man of war" (verse 1b). Machir was no longer among the living but it appears that his direct children maintained that same spirit. However, they didn't drive out the inhabitants like God told them to. When they got stronger they made the inhabitants into slaves instead. I can smell trouble brewing here!
This tribe was also distinct in the fact that women were awarded a portion in the inheritance. From that same family who boasted of the "man of war" came sisters who had no brother. The daughters of Zelophehad were brave enough to approach Moses on this issue. Moses to the issue to God and He said to give them an inheritance. Joshua made certain to honor God's command on this. I wonder if they got their nerve to stand up and ask for a portion from their great-great-grandfather.
I wish I knew some of the tribe of Manasseh's future behavior. I have no doubt that leaving the inhabitants living among them had an effect on them. They don't seem to be as motivated as the tribe of Judah in clearing the land for themselves. Is it possible that the cities that remained were part of God's plan? Judah couldn't take Jerusalem. Maybe Manasseh tried to take them but the Lord wouldn't let it happen. I guess this is something to add to my bench questions.
Father God, help me no judge people I only know a little about. I want to say that Manasseh looks like a lazy people but I really don't know their story. They didn't do as You told them to with the inhabitants and they ask for more when they haven't dealt with what they already have. Reminds me of a chant I heard of the television series M*A*S*H; "We want something else!"
I PRAY that is not my chant! Holy Spirit, thank You for opening my eyes to the times when it is. Forgive me Lord Jesus for the times I complain about the gifts You have given me. Help me use what You give me to its fullest extent for You before asking for something more. Thank You for the gifts You have given me; each and every one of them. Help me use them for Your Kingdom.