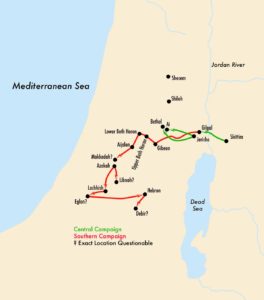 Joshua and all the fighting men of Israel are on the war path. God gave them victory and they just kept going. He takes a HUGE bite out of the country for Israel
Libnah, Lachish, Gezer, Eglon, Hebron, Debir are the cities that fell by the hand of God through Joshua and the men of Israel. When I read these names I recognize many of them from the kings who joined in battle against Gibeon. Lachish, Eglon and Hebron are three of the five mentioned. Debir was the name of the king of Eglon but also the name of one of the cities that were taken. The only names not represented here are Jerusalem and Jarmuth. We know that Jerusalem wasn't conquered until king David took it. Jarmuth was very near Makkedah so it is probable that it was conquered right away.
I'm curious what prompted God to include these specific cities and not others. Israel cleared the board in the south during this time but more cities are on the map than are listed here. I'm guessing that the major battles were recorded instead of each one.
Something else that I found interesting is that, from reading this list, it looks like these battles were one right after another. But from researching the locations and such I find out that this campaign took about a year to complete. That makes more sense to me because Israel would be exhausted otherwise.
Another probable explanation for only some of the cities being listed is that the main group of Israel rejoined the fighters at these specific cities. The main camp where the Tabernacle resided would join up with the soldiers once that battle was over. They didn't move camp with every battle. The soldiers would though if the strike was farther away. This is where the phrase "Then Joshua and all Israel with him" (verses 29, 31, 34, 36, 39) gives us more clarity. When the campaign was complete the whole group went back to the first place they camped after crossing into the Promised Land.
Joshua and the soldiers of Israel are facing walled cities. They are well established and fortified. These people have been expecting trouble from Israel for some time. Somehow the message Moses shared with the children of Israel has reached the ears of the inhabitants of Canaan. They KNEW Israel was coming to take the land away from them and destroy them. That was the whole reason Gibeon tricked Israel.
But these cities are NOT going down without a fight! They pour everything they have into their own survival. Conquest of walled cities has been known to take a LONG time. Often it takes months for them to fall, depending on the supplies available inside the city at the time of the siege. We see that in Israel's future. We don't know the timeline for all of the cities Joshua and Israel took but some we do and those conquests are nothing short of a miracle!
Lachish was captured in two days. Eglon took one day. I believe Ai only took one day. And the battle against the five kings took two calendar days (one solar day because of Joshua's prayer). These were probably exceptions to the rule, but I could be wrong. We know with Ai and the battle at Gibeon that God worked miracles including providing battle help. He possibly could have done likewise on our first two listed.
So long as Joshua followed the Lord's commands in these battles, Israel had success. God told them not to leave ANYONE alive in the cities. They were all devoted to destruction. I don't know for certain but I'm assuming that all these cities were burned too. God didn't want the pagan symbols and altars left for Israel to "inherit" in their new towns.
Which brings me to my last question, or at least he last one I have for now. What happened to the cities after they were defeated and destroyed? God said He didn't want to take Israel into the land too quickly because it would create a vacuum and allow the wild animals to multiply and become too numerous for Israel. So did some of the people remain in these cities to keep the animals at bay or did God keep them out for them? By the time that first year was over all of the southern territory was emptied of its original inhabitants. That's a LOT of territory to patrol and keep safe. God must have given them some kind of system to deal with this because He kept them motivated and on the move.
Father God, YOU provide the battle plans. You provide the victory. You provide the 'after action' plan too. NOTHING escapes Your notice. I can trust You with EVERY aspect of my life. Just as Israel moved from victory to victory, when I put my trust in You, I move that same way. Their lives were not sunshine and sipping drinks by the pool every day. They had grueling battles, hard marches, and roughing it along the way. But in the end, the sweat and tears they put in were paid back abundantly. My life isn't easy and things don't always go smoothly but You have never, and will never abandoned me to my own devices. You have paved the way before me and called to me to move onto those roads. I often have to climb over debris or skirt potholes the enemy throws in my path. But as long as I let You lead I know there is victory ahead!
One thing I ask is that You help me distinguish between the enemies' road blocks and Yours. I NEVER want to climb over an obstacle You have set in my path because doing so puts me in danger. Help me see clearly and follow only Your paths. Thank You Holy Spirit for teaching me each day. For helping me recognize Your voice. Keep me forever fine tuning my eyes, ears and heart.