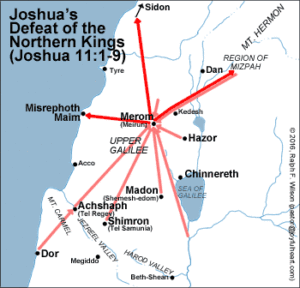 Joshua and the fighting men of Israel have just completed their southern campaign and returned to where they started. The neighbors to the north are in a tizzy!
Jabin, king of Hazor was in a quandary. Israel was getting too close for his comfort. He learned from the battle at Gibeon that five kings weren't sufficient to conquer Israel. He probably figured that Gibeon helped out in that battle. And Joshua had seemed satisfied with staying in the south but now Israel has returned to Gilgal. That is too close for his comfort.
Jabin KNEW that he couldn't defeat Israel alone so he sent for help. He wasn't picky. He wanted EVERYONE AND ANYONE he could get his hands on. His 'party invitation' was addressed initially to specific kings. Those were Jobab, king of Madon, to the king of Shimron and the king of Achshapah. Then he sent out a broad call. He called "to the kings who were in the northern hill country, and in the Arabah south of Cinneroth, and in the lowlands, and in Naphothdor on the west, to the Canaanites in the east and the west, the Amorites, the Hittites, the Perizzites, and the Jebusites in the hill country, and the Hivites under Hermon in the land of Mizpah" (verses 2-3). This seems to represent EVERY region except the south. Probably because the south had already fallen to Israel.
This battle complement reminds me of another battle that is still to come. That battle is the Battle of Armageddon. Both are made up of ANYONE AND EVERYONE the leader can get his hands on. The assembled mass was/will be "like the sand that is on the seashore" (verse 4b). Revelation doesn't use these same words but the birds of the air will gorge themselves on all the dead. Both of these battles are also drawn up against Israel. And both of these battles the Lord fights.
Imagine the look on Joshua's face as this hoard gathers to fight against Israel. I have a feeling it was a jaw dropping scene. If this had been the Israel of the previous generation I would expect to hear screams of fear and running in the other direction. But these men had been witnessing God's power in battle for the last year. They remembered taking Jericho. They remembered the battle of Gibeon. The remembered all the other battles where their opponents melted like water. They KNEW God was on their side. They trusted Joshua and they trusted the Lord.
God, true to form, gave Joshua battle instructions that he passed on to the people. There was no arguing about tactics. There were no contingency plans made. There was only faith and follow through.
Their first instruction from God was, "Do not be afraid of them" (verse 6b). Israel had to trust that God was in control of this battle just as surely as He was in control of all the others. Having Him rain down hailstones and kill more men that way than Israel did with their swords built their faith.
In the natural this battle should have been a massacre, of Israel. Israel didn't even have a walled city to retreat into. They had their open camp with the Jordan river behind them and Gibeon three days journey away. But God promised that "tomorrow at this time I will give over ALL of them, SLAIN, to Israel" (verse 6b, emphasis added by me). God would take care of the soldiers but he had another job for Israel.
This was His second command. "You shall hamstring their horses and burn their chariots with fire" (verse 6c). This is exactly what Israel did. The soldiers had to be dispatched before their rides were dealt with. God turned that massacre on its ear. It was a massacre but not of Israel; of those opposing her. Joshua and the men of Israel struck down every one of them no matter how far or quickly they fled. "They struck them until he left NONE remaining" (verse 8b, emphasis added by me).
Now it was 'payback' time. I'm not certain if Jabin came out with his troops to fight against Joshua or not. But anyone left in his city soon felt the weight of his actions. Joshua, after God gave him victory over the advancing hoard, turned back and captured the seat of Jabit; Hazor. He killed every living person inside that city. NO ONE remained. Israel was allowed to keep the spoils of war though. The only item we know for certain that was kept was the livestock. Every lowland city they burned to the ground. That was God's final command for these battles.
This major battle lasted one day but the rest of the work would take another year. Israel had a LOT of towns to deal with after their kings and soldiers had been dispatched. Israel would fight those who remained in the cities. They weren't given the keys to the gates simply because their kings were dead. They had to fight their way inside too. But because they followed ALL of God's commands concerning the removal of ALL the inhabitants they were victorious the whole way through. "Just as the Lord had commanded Moses His servant, so Moses commanded Joshua, and so Joshua did. He left NOTHING undone of all that the Lord had commanded Moses" (verse 15).
Because of Israel's faithfulness to God's commands, He gave them rest. There was no one left to threaten Israel. It was time to divide the people and build a nation. This wouldn't be a permanent state for them though. They would have MANY more seasons for Israel to stand and swing a sword but new battle plans would be drawn up for those battles.
Father God, You KNOW ALL there is to the battles I face. Thank You that I can trust You to fight for me. I want to follow Your plans FULLY without deviation. I trust You to bring me back when I start to stray from You plan. Thank You that I NEVER fight alone! Thank You too for the periods of rest in my life. Help me appreciate it and use it as You intend for me to.