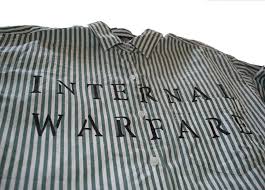 James just spoke of how peace reigns in the body; having right motives. He looks closer at the motives that cause unrest now. "What causes quarrels and what causes fights among you? Is it not this, that your passions are at war within you?" (verse 1).
We want what everyone else has. This is an inborn situation in ALL of us. It is called our sin nature. If ever in doubt just watch a group of children playing. There can be a whole room full of toys but the one in most demand is the one another child is playing with. It doesn't even matter what it is; he/she has it and I want it!
As long as we let our sin nature rule us, that childish attitude never goes away. Here is the United States of America we call it "the American Dream." We idolize it. People come here to become wealthy and have all their dreams come true. Even this joyous time of year promotes that selfish attitude in our hearts. I would love to hear a child sit down on Santa's lap and tell him what he/she would like to bless his sister, brother, or even neighbor with WITHOUT asking for what he/she wanted first.
This attitude is what the Holy Spirit, through James pen, is calling to us to resist. Not just resist but to actively fight against it in our own lives. Our sinful attitude and a righteous heart can't peaceably coexist. "Do you not know that friendship with the world is enmity with God?" (verse 4a).
But how do we fight against our own passions? "Submit yourselves therefore to God. Resist the devil, and he will flee from you. Draw near to God, and He will draw near to you" (verse 7-8a). The first place to "draw near to God" is in His word. The second is in prayer and spending time with Him.
It is not wrong to have needs and even wants. What gets us into trouble is the motivation behind those wants. God knows we all have needs; food, clothing, shelter and such things to sustain the physical body. He even knows our needs before we ask Him. Don't believe me? Check out Matthew 6:5-15 where Jesus Himself deals with motivations in prayer and teaches us God's way to pray. He tells us directly in verse 8 that God knows our needs even before we ask Him.
So it's not wrong to ask God for what we need and want? No, it is only the motivation and attitude behind the request that can get in the way. "You do not have, because you do not ask. You ask and do not receive, because you ask wrongly, to spend it on your passions" (verse 3). It is not wrong to ask to be warm and fed, unless it is simply so your neighbor can see how well you are doing. Having good clothes instead of rags is not a sin, unless you use your "fortune" to hurt another with less. Pray that you have enough that you are not in need and therefore focused solely on survival, and that you don't have so much that you are focused on protecting it or glorifying it instead of focused on God.
"But godliness with contentment is great gain. For we brought nothing into the world, and we can take nothing out of it. But if we have food and clothing, we will be content with that. Those who want to get rich fall into temptation and a trap and into many foolish and harmful desires that plunge people into ruin and destruction. For the love of money is a root of all kinds of evil. Some people, eager for money, have wandered from the faith and pierced themselves with many griefs" (1 Timothy 6:6-10).
Father God, please check my motives. Not just motives in having "things" but in ALL areas of my life. The area of "being well liked" or "having others think I'm talented." Let me use the talents YOU gave me for YOUR glory, not my own. Let me seek to be loved by YOU above all else. These are just a few areas that I know I need to humble myself in. When I put my "wants" into Your hands and ask for Your help with making them pure, You NEVER fail me. I can trust You to bring me back to the path You want me to walk. YOU help me resist the devil. YOU humble my heart. But only when I let You.
Forgive me for holding some parts of my heart out of Your reach. Not that You couldn't reach them if You wanted to but that You wait for me to let You. Thank You for Your patience and love that brings me to the place where I am ready to yield even those parts to You. Thank You for growing that desire in me every day, to give You ALL of me.
I trust You to know what is best for me and to know ALL my needs. Thank You for also meeting some of my wants too, even though they are above and beyond my needs. You are SO gracious to me! Help me remember to always be grateful and return praise to You for Your amazing blessings. Thank You for the ability to sow into my children's and grandchildren's lives with the blessings You have given me. Thank You for letting me sow into the lives of others too through those same blessings. Forgive me for EVERY time I have felt "stingy" in sharing what You have provided. I am not rich but I am blessed and doubly blessed when I can bless others with the right attitude. Not as showy for what I have but a sincere desire to benefit the other. Keep my motives clean Father. Amen.