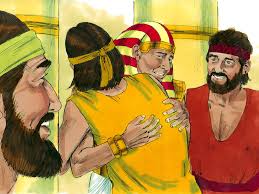 "Everybody OUT!" This is the cry of Joseph after hearing Judah's plea for Benjamin. His brothers have passed the test. Pharaoh even hears of this feat.
We left last time with Judah pouring his heart out to 'the man' regarding his father and Benjamin. 'The man' had judged Benjamin guilty of theft by the evidence found in his sack. As punishment, Benjamin was to be kept in Egypt as a slave. "I cannot now go to my father and tell him that I have failed him. It would be as good as my own hand slaying him. Please, for my father's sake and the boy's, let me stand in his place."
♥ ♦ ♥
Joseph is never alone. There are always attendants or guards or people seeking his advice or services about. This moment in time is no different. Joseph has built a reputation for himself since arriving in Egypt. It was always founded on faithfulness in service, but now it had gone beyond that. He no longer even resembled the boy who was brought here in chains. Now he was second only to Pharaoh himself. As he stands listening to Judah's plea, that façade begins to crumble. His heart is tearing within him. It is a good thing! The tearing is a ripping away of the last vestiges of anger towards his brothers. It is also bursting at the seams with love for the changed men who now stand before him. But more than anything else, it is overflowing with hope at the prospect of finally seeing his whole family again! His father lives and he has not forgotten him!!!! All these years away and his father still longs for him. And Joseph longs for his father too.
But Joseph can't say what he longs to say with all of Egypt watching. He has to maintain his authority if he is to be of any use to his family. He NEEDS private time with his brothers. His REAL family. Joseph turns to his steward holding onto the last shred of control and says; "Make everyone go out from me" (verse 1b).
The steward signals to the guards to escort the prisoner away but Joseph stops them. "Not them; the rest of you." His steward turns his head and looks at Joseph with shock on his face. Did he hear his master correctly? Joseph reads his face and simply nods his head in answer to his unspoken question. The steward quickly ushers everyone else from the room and closes the door.
The brothers watch in amazement and fear as everyone else files from the room. As the door shuts their gaze returns to 'the man'. Why are they here alone with him? What could this possibly mean? What is he planning on doing to them?!
As soon as Joseph hears the click of the door latching, tears begin to stream down his face. Then full force sobs break free of Joseph's lungs. He can't hold it in any longer! The brothers look at him as he melts to the floor before their eyes. "I am Joseph! Is my father really still alive?"
Joseph's words hit his brothers full force as if a blast has shaken the very floor they are kneeling upon. They have no words! Oh, there are words flying around in their heads that beg to be released, but their mouths hang open uselessly and their bodies refuse to respond to any commands to move. Not the least of those words begging release is, "HOW?"
Joseph smiles slightly through his tears as he sees the looks on his brother's faces. The contortions they go through in those precious few seconds will remain with him forever. From fear to utter amazement to scrutiny to wariness.
"Come closer. Look into my eyes. Look beyond the trappings of Egypt. It is me! I am your brother Joseph, whom you sold into slavery.
As the brothers look closer they see the boy they once knew now grown into a man. 'THE MAN!' The faces of those present on that hateful day morph one last time. Written their now is fear and guilt!
Joseph's heart begins to break anew as he recognizes the final look on their faces. He has forgiven them for their sins against him, but they have no knowledge of this precious gift he offers. "Please! Don't be afraid or angry with yourselves for your actions so long ago. God sent me here ahead of you to prepare a place of safety for you. The famine that is over the land right now will continue for another two years. I was sent here by God to preserve you and our entire family from starvation. So really it was God who sent me here, not you. He has exalted me in this land above all people. I'm even like a father to Pharaoh, offering him guidance and direction. I rule over ALL the land of Egypt!"
Joseph's brothers perceived the power of 'the man' upon entering Egypt the first time. Now they learn they KNOW that he is their brother for they see him freely with their own eyes. Several of them remember the dreams that Joseph shared with them as a young man. Smiles begin to form as they accept the gift of forgiveness and restoration that Joseph is freely holding out to them. They were a band of broken brothers, one missing by their own hand. Now they are whole again. BETTER than whole! They are complete.
"I need you to go home and get our father. Tell him about me and all that I have accomplished in Egypt. Bring him here to me; bring EVERYONE here! I will take care of you all!"
Joseph reaches out his hand and touches Benjamin's face then he pulls him into a fierce embrace. Both men break down weeping on each other's necks. They remain locked in this embrace until satiated by the other's presence. "I thought I had lost you forever" whispers Benjamin as the finally release their hold. Their foreheads rest touching together as Joseph replies, "Not forever. All in God's time."
Joseph turns to each of the rest of his brothers and enjoys the same kind of heartfelt connection with each of them. This isn't a reconnection for them, as their previous relationship was always strained. This is the bonding they were meant to have from the beginning. A bond not marred by jealousy, guilt, petty squabbles or even unforgiveness.
While Joseph was revealing himself to his brothers, his steward was secretly listening at the door. He knew something was troubling his master since the first time these men arrived in Egypt. He had been commanded to do some unusual things regarding these visitors. As he hears Joseph's pronouncement to his brothers as to who he really is, things began to fall into place in the steward's mind. He had not known Joseph's full 'rags to riches' story but he had heard rumors of him coming to Egypt from another country. As he continues to listen to Joseph's tale, through a crack in the door, his heart is filled with joy at his lord's fortune in reuniting with his brothers and astonishment at his lord's ability to forgive such offenses as he has heard. Truly his lord is a greater man than he ever imagined! He feels grateful to have been used as an instrument in his lord's journey to reunification, even if it was a bit confusing to follow.
Joseph's steward wasn't the only one to hear Joseph's revelation to his brothers. Joseph's cry was so amazing that the walls of his home could not contain it! Several of his servants heard this news and began to spread it like wildfire! Within half an hour of Joseph making his relationship known to his brothers, Pharaoh had heard of it in his own home. Pharaoh was overjoyed for Joseph! He truly was, but he also had to think of Egypt. What would Joseph choose to do at this point? Would he ask to be allowed to return to his family? No. That didn't make sense. His family was coming to him for relief from the famine. Would he divert supplies back to his family instead? That was a possibility, but what would it mean for his loyalty to Egypt? Finally Pharaoh came up with a perfect solution. "I will have Joseph move his whole family to Egypt. That way he will know they are safe and well cared for without being distracted from his duties to the rest of Egypt."
Joseph and his brothers have been talking for some time. Sharing news of what has been happening to each other during their time apart. There is a knock on the door. Joseph tears his attention away from his brothers to shout his command; "Enter."
Two men enter the room and bow before Joseph. One is his steward and the other is Pharaoh's personal servant. Joseph tells his brothers to wait while he rises and goes to meet with these two humble servants. Pharaoh's servant tells him that Pharaoh wants an audience with him right away. Joseph looks back over his shoulder and sees the faces of his brothers watching him. He smiles at them and says, "Please remain here. I have matters I must attend to." Joseph inclines his head in his steward's direction; "My steward will see to a meal for you in my absence." Joseph then quickly leaves the room. He stops by his chambers where his personal servant quickly freshens his garments and restores his face. It would not do for Pharaoh to see him in such disarray, nor would it do to keep Pharaoh waiting.
Pharaoh's servant is waiting in the entryway when Joseph emerges from his ministrations. Joseph walks before him to Pharaoh's home, only stopping outside Pharaoh's door for the servant to announce him.
Joseph bows as he enters Pharaoh's court. "How may I serve you my lord?"
"It is I who want to serve you my faithful servant. I have heard that your brothers have arrived in the land of Egypt. I am very pleased for you!"
"Thank you my lord. I too am very pleased. I have been without my family for so long. I did not know if I would ever see them again. But I have found that even my father still lives! I would like to send for them and have them join me here in Egypt."
Pharaoh is overjoyed that Joseph came to the same decision he wanted. There would be no need to order him to stay or to split his loyalties between the two lands. "This is my desire too. Tell your brothers to load their animals with as much food as they can carry. Have them go back home and gather your father and the rest of your family and come to me. I will give them the best of the land of Egypt. You Joseph are to take wagon from the land of Egypt for the women, children and your father to ride in on the return journey. Don't worry about what they have to leave behind. All will be provided for them once they arrive here. Hurry! Do this quickly! The sooner they start the sooner you will be reunited with your family and my servant will be healed of his soul's wound."
Joseph is deeply moved by Pharaoh's generosity and his perceptiveness in noticing Joseph's deep longing over the years. He thought he had hidden it well, even from himself, but apparently not. "It will be done as you command my lord."
Joseph hurries from Pharaoh's court and begins preparations for his brother's journey and his father's eventual arrival. Nothing is left undone. Food is packed for the brother's trip. Wagons are loaded with supplies for the return trip for the whole family. Joseph had to confer with his brothers on how many to prepare for. Reuben had confirmed there were around 70 people but Joseph prepared for 100, just to be certain no one would go hungry.
Before the brother's departure Joseph gave personal gifts to each of them. "I know your journey is long and I wanted to give you each a change of clothes for your travels." To Benjamin he gives five changes of clothes and 300 shekels of silver. Joseph also prepares a special gift for his father. "This gift is to be given to my father. It will be a small taste of what awaits him upon his arrival." He loads ten donkeys with the best things of Egypt and ten female donkeys with grain, bread, and provision for his personal use on the return journey.
Joseph gives his brothers one final command as they take up the reins of their animals. "Do not quarrel on the way" (verse 24b). He knows there is still much healing to do in his brother's hearts, but this is a good place to start.
Judah and Reuben smile and shake their heads as they begin their journey home. Benjamin gives Joseph a huge grin and one final wave as they leave.
Joseph watches from his front porch as his brothers depart for the land of Canaan. His wife slips in by his side and he wraps his arm around her. "Why did you not introduce me to your brothers before they left? Do I displease you my husband?"
"No. Not at all my beautiful wife. It is just that I wanted to reserve some surprises for when my father arrives. I want him to be the first of my family to meet you and our magnificent children."
Asenath smiles up at Joseph and rubs his arm. Her body was given to this man in marriage by Pharaoh. The choice was not hers to make. But she has freely given him her heart. A choice she is thankful for on this day. "He is the best man any god has ever made, especially his God." Together they watch until Joseph's brothers fade from their sight.
Joseph will count the days until his family arrives but for now it is time to return to the matters of Egypt. He kisses Asenath one last time before going out to inspect the activities happening at the storehouse.
  ♥ ♦ ♥
Father God, I would have loved to see the look in the brother's eyes as they finally recognize Joseph. His disguise was foolproof! It didn't falter until he peeled it away himself. Probably because his brothers would NEVER have thought to look for him in this position. Coming across him as a broken down slave, they probably would have recognized him right off. But here he was, ruling the world as they knew it.
I also would have loved to see their faces when he told them he forgave them. He didn't say it in those exact words, but when he said that God had sent him here, not them, it must have done something to their hearts. I know from later reading that they didn't believe he had FULLY forgiven them and they certainly didn't forgive themselves, yet. But the burden lifted that day at his words was still amazing. It was also the first step in their permanent healing. I'm SURE they had times when they would clash with each other over things but never again would they try and destroy or kill one another. I wonder if they were tempted to quarrel on the way home. If so, did Joseph's instructions keep them from doing so? I can just see it now; Simeon and Levi begin to argue and fight about whose turn it is to make the fire when Judah reminds them, "Joseph told us not to quarrel, remember?" How quickly did the argument end after that? In that moment did they think about the 'dreamer' who annoyed them or the man who forgave them?
Father let me forgive like Joseph did. For the rest of his life, he did not bring his brother's offenses against him up to them again. He LET GO of ALL of it. The anger, the bitterness, the desire for revenge or even justice. What he held onto instead is God's plan and His faithfulness. "We could ALL have died during this time, including every one of these Egyptians, if it were not for God's hand at work. Thank You God for the scars!"
Holy Spirit, thank You for also showing me that Joseph had to forgive God first. The places he was put were NOT comfortable. They didn't line up with his dreams at ALL, in the beginning. Joseph didn't have the full picture to work with. He had to trust You in everything and for every step. I'm pretty sure there were days when he wanted to scream and yell at You for leaving him in these situations. He never turned away from You but I bet he was angry with You a few times; like when he was thrown in prison for a crime he didn't commit or the fact that the cupbearer 'forgot' about him. I can hear him asking, "Why me? What did I ever do to You?" And You LOVED him right through that anger right back into faith. I'm imagining the incredible 'ah ha moment' he had when his brothers showed up for grain that first time. "So this is why I had to go through all those trials! Thank You Lord for bringing me here for just such an occasion, but I wish You could have found an easier way to get from point A to point B or at least warned me of what was to come." I know I'VE said that a few times! Thank You Father that You don't abandon me along the way and You ALWAYS get me from beginning to end, even if it is with me 'kicking and screaming' along the way.