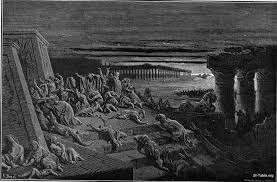 It is time for God to send His 9th plague. This is the plague of darkness. A darkness so profound that it was felt as well as seen.
Fear of the dark is one of the most basic fears we have. EVERY child has experienced this fear. Most grow out of it but some carry that fear into adulthood. The best thing about being afraid of the dark is that when the light is turned on the fear leaves. The darkness that Egypt experiences during this plague can't be driven away by light. NO light will penetrate it. No candle. No lamp. No sunrise. NOTHING can pierce this darkness.
This plague of darkness was another one that was not announced to Pharaoh and he was not given a "chance" to prevent it by obeying the word of the Lord. Moses and God knew what was going to happen and Moses only knew when God told him to act. There wasn't time for the Egyptians to prepare for this "power outage." They literally had to stop in their tracks and wait it out.
♥ ♦ ♥
Moses was used to speaking with the Lord while under his favorite tree. He loved to go there every evening and wait on Him. It didn't matter if the Lord spoke every day, just being in His presence was enough for Moses.
But Moses also heard from the Lord at other times of the day and places along the way. One of the most common places for Moses to hear from the Lord, besides under his tree, was near or in Pharaoh's palace. These times would bring instructions that Moses was to carry out in Pharaoh's presence. Moses NEVER second guessed the reason behind the Lord's directions in these instances. He simply obeyed and was amazed by the power of the Lord.
Today the Lord surprised Moses. Moses was nowhere near his tree or Pharaoh's palace when the Lord's voice rang in his heart. Instead he and Aaron were walking along the street. They were going from one work site to another. It was the middle of the day and nothing extraordinary was happening. There were men and women walking in the streets. There were lessons going on in the temples. There were sacrifices being made to Egypt's gods. There were even slave masters yelling and beating slaves. A typical normal day, especially since the Lord had started working on freeing His people.
"Moses."
Moses stops in his tracks to give the Lord his full attention. "Speak Lord. Your servant is listening."
"Stretch out your hand toward heaven, that there may be darkness over the land of Egypt, a darkness to be felt" (verse 21).
Immediately Moses stretched out his hand toward Heaven, just as the Lord had instructed him to. That moment ALL light was removed from the land of Egypt. It was midday when Moses heard the Lord's voice but by the time he put his hand back down by his side, one would think it the middle of the night. There were no candles burning when the darkness fell. There were no lamps lit at this hour, except in the temples. And this was no storm that simply covered the sun. A blanket of complete and utter darkness descended on Egypt.
One moment people were walking down the street or conversing in a café. The next no one could see their own hand in front of their own faces. Screams could be heard coming from every direction. Confusion reigned throughout the city. People were falling over one another in fear trying to find their way to safety.
Shouts rang out for everyone to stay where they were. This message was passed on again and again until all movement died down. Everyone sat wherever they were. No one moved. Even the horses and donkeys pulling carts were stopped in place. All Egypt began to wait.
"What do you think happened?" "Surely there is some logical explanation for what is going on." "I'm sure it won't last long. We just need to be patient." These are just a few of the comments and questions' being bandied about as all of Egypt sits still to wait.
It is impossible to judge how much time has passed without the use of a sundial or observing the sun's movement across the sky. Minutes turned to hours and hours to days.
This darkness wasn't an ordinary absence of light or nighttime scenario. It was so dark it was oppressive. This darkness was felt all the way through the body. It penetrated the very pores of the body as a creeping cold. It stole one's strength. It was as heavy as a millstone pressing down on the spirit. Not only could no one move about but no one had the desire to move about either.
For three days the Egyptians sat or lay where they were while this darkness prevailed. They ate and drank nothing and lay in whatever filth was created over that time. Finally Pharaoh can sit no longer. He forces his way back up through the despair of darkness and fights for action. He calls out for Moses.
There is no way that Pharaoh's guards can wade through the darkness and find Moses. They can't even find water or a suitable place to relieve themselves. They are no help to Pharaoh but God is. HE directs Moses and Aaron to go to Pharaoh.
During the entire time of darkness for the Egyptians the Israelites have had NO loss of light. From the moment Moses raised his hand to Heaven and plunged the Egyptians into darkness, day and night have continued on as usual for the Israelites. Even in the middle of the cities where the Egyptians sat, Moses could see plainly. The Israelites were given light to leave the cities and return to their homes. They did so without delay. But now Moses uses that special gift of light that only he and Aaron can see to bring them back into Pharaoh's presence.
"I am here Pharaoh" calls Moses.
Pharaoh calls out to Moses, "Go, serve the Lord, your little ones also may go with you; only let your flocks and your herds remain behind" (verse 24b).
Light begins to penetrate the darkness. The heaviness decreases a bit.
"You have to let us have our herds. We are to make a sacrifice to the Lord and we won't know what that sacrifice will be until we get there. We will not leave one hoof behind, we must take them all to serve our Lord."
Light continues to drive back the darkness. The day has broken through and the morning light floods the land. The heavy oppression is gone and the people begin to rise from their places.
Pharaoh is incensed by Moses hard line! "I offered a very fine compromise! Why can't you be reasonable?! GET OUT OF MY SIGHT! If I ever see your face again, you WILL DIE!"
Moses bows respectfully and says "As you say! I will not see your face again" (verse 29). Moses and Aaron turn and walk away from Pharaoh.
It takes two days to clean Egypt of the filth left by the people where they lay and the spoiled food that was abandoned in the markets. Of course servants and slaves were the ones tasked with this job. By the end of the second day things were back to normal.
The Hebrews were still required to make bricks using straw gathered from Goshen as there were no materials left following the locust infestation in Egypt. The slave masters were just as cruel as before. The Hebrews were just as fervent in their petitions to the Lord for their freedom. And Moses and Aaron were faithful in their obedience to the Lord and openly sharing the Lord's promise of release from Egypt's oppression with God's people. Even many of the Egyptians servants who worked alongside the Hebrews were beginning to believe the impossible was about to happen. In the midst of oppression hope WAS rising!
  ♥ ♦ ♥
Father God, I have felt that kind of darkness in my spirit before. A darkness so heavy I felt unable to lift a finger to repel it. THANK YOU that I didn't have to! YOU DID IT FOR ME!!! You brought me to Your word first where You showed me hope through Your psalms. I heard David's cries of anguish turn to joy. You  let me know that You were as ready to turn my cries around as You were his. THIS gave me hope. That hope was small and fragile but YOU protected it until it grew deep enough to hold fast on its own. Then You brought me music again. That music fed my soul, turning my hope into deep abiding faith.
THANK YOU! Not only for bringing me out of the darkness but for letting me experience it too. Without walking through that darkness I would not be where I am today. That darkness inspired our "story time" together. It sparked my desire to journal. It founded how we meet together each day. Thank You for the lessons that came about only because of the dark place I was in. It deepened our relationship like nothing else ever could!
Pharaoh learned nothing from his dark time. Partly because that was a part of your plan but mostly because he didn't reach out to the author of the light while in the darkness. That is the ONLY way out! Thank You again for illuminating my path with Your light! Please! Drive away any remaining darkness in me. Continue to deepen our relationship. Thank You for taking me inside Your stories.