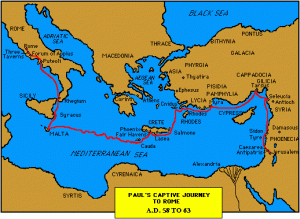 We left Paul and his companions as they put out to sea to try and make it along Crete from Fair Haven to Phoenix for the winter. For some reason Fair Haven was not a suitable harbor for winter. It was already late into the year and risky business to even attempt that jaunt. But the Julius, the centurion in charge would not be persuaded to wait.
We pick up with our jolly band of travelers making it to Phoenix and stopping for a while. We don't know how long they were there but it was NOT long enough. Impatience of Julius spurred them on again at the first sign of fair weather. Hadn't he ever heard of a "False Spring?" I wonder if Paul tried to stop them from setting out again. Julius had already demonstrated that he wasn't concerned about Paul's opinion in this area, so maybe not.
Paul's warning at the beginning came to pass not long after they headed out to sea. The cargo went first, and then the ship's tackle. This was the ropes and the rigging that held the sails. Those were pretty useless in the storm. I wouldn't be surprised if the sails had been torn early on.
The crew was lost, as in they didn't know where they were or what direction they were being driven. They believed they would die. They had no stars or sun to guide them. The storm didn't let up. They could tell day from night but could get no true bearings to guide them. They simply went wherever the wind and the sea took them.
This reminds me of another boat trip; Jonah on his run from God. In that voyage they discovered Jonah was the root of their troubles. Once he was tossed over all was well again. In this trip though their salvation lay in staying with Paul, physically and spiritually. God got his point across on both occasions.
Paul finally gets to say those famous words, "I told you so" but he doesn't stop there. He gives them hope directly from God. Paul didn't tell them he would save them. He told them exactly where their salvation came from. "For this very night there stood before me an angel of the God to whom I belong and whom I worship. And he said, 'Do not be afraid, Paul; you must stand before Caesar. And behold. God has granted you all those who sail with you.' So take heart, men, for I have faith in God that it will be exactly as I have been told" (verses 23-25). God would save them IF they stayed with Paul because God wasn't finished with Paul. There was work to be done still.
I love how even Julius' impatience couldn't stop God's plan. God's plan didn't require Paul and company being shipwrecked. There was no rush to get to Rome. God could also have given the voyage calm seas for the whole trip. But God let natural consequences take their own toll on this group. God allowed Paul to warn Julius BEFORE it got dangerous but he refused to listen. God also allowed things to get as bleak as possible before stepping in to rescue the group. NOT because God didn't care or was busy elsewhere as all this was happening, but so they would recognize HIM in Paul's words.
I don't know about you but I have, on MORE than one occasion, thought I would "help God out" by moving ahead or going a different (easier) way during lessons in my life. I have come to realize that my "meddling" doesn't derail God's plan but it sure makes it harder to get from point A to point Z. If I hadn't put my two cents in it might simply have been a journey from point A to point B but my actions brought consequences along with them that increased my time and difficulty.
Sometimes I don't even realize that what I'm doing is making it harder until we finally arrive at the end and I look back over it all. But I have learned too that those extra stops included some pretty amazing lessons too. Even those hard places where God had to step in and pull me out held value. They showed me that He NEVER left me alone in the first place. That one alone is worth all the heartache. They also showed me that HE is in control. He uses my failings as easily as my successes to bring me closer to Him every day.
My darkest hours were the beginnings of this journey we are on together. HE showed me His love through His word and by inspiring my pen to bring me to His lap. Lessons Learned on Daddy's Lap began when I climbed into His lap and lay down and cried. THEN He could hold me and show me all that He had waiting for me. He never planned for me to have to walk the dark places. I did that on my own. But He never left me alone in those places and used them for HIS glory.
THANK YOU FATHER that You never left me alone! Thank You that I can't derail Your plans no matter how hard I try. Thank You that You are able to bring me back, even from the brink of death, and lead me into Your path again. Your path also has some thorns along the way. It is not daises and kittens every day. But with every struggle, on or off Your path, YOU are in control and are bringing me closer to You with each step. Thank You for never giving up on me. I look forward to the day I take that final step home, but I'm happy to wait until YOU say it's time. Thank You for carrying me safely through the times I didn't think I could wait any longer. Especially then, I was not alone even when I thought I was.