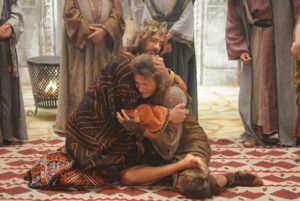 David remembers Jonathan and the promise he made to him. He promised to take care of his descendants and not cut them off when he took the throne.
In non-bloodline passing of a throne, the one taking it would kill all his predecessor's family so there would be no "rightful heir" to stand in the way. This was NOT what David had in mind when he took Sau's throne. David didn't TAKE Saul's throne. It was presented to him by the people of Israel, according to God's plan.
Jonathan had always believed that David would be the next king. He trusted in Samuel's prophecies and he saw God's hand at work in David's life. David and Jonathan were as close at two men could get without being romantically involved. They were brothers of the soul. And during their time together Jonathan asked David to promise to "not cut off" his name and that of Saul when he took the throne.
David wanted to go beyond his promise. He wanted to honor someone of Saul's house because of the love he received from Jonathan; to honor Jonathan's memory.
In 2 Samuel 21 David hands over seven of "Saul's sons" to the Gibeonites to atone for the deaths at Nob. Jonathan's son should have been one of these men surrendered. He was a direct male descendant of Saul. I don't know if his honoring Jonathan's son, Mephibosheth, came before or after the events with the Gibeonites. I believe David would have spared Mephibosheth's life regardless of the timing because he was Jonathan's son.
Mephibosheth, in Israelite society, would be an outcast and reduced to beggar status. But because of his parentage he was secreted away and cared for. He was lame because of an accident while he was young. While fleeing with him, his nurse fell on him and crushed his feet. He never walked again after that.
This story begs to be told so let's do it.
The kingdom is safe. Israel has rest in battle. David still has plans to increase Israel's territory in offensive strikes, but that is for another day. Today he is feeling nostalgic. He is remembering days from his past.
In the majority of his good memories one face keeps surfacing; Jonathan. Battles fought side by side. Victory stories shared between them. Long walks with talks of the future. Standing for one another in the face of adversity. Promises of loyalty, no matter what.
The emptiness of their separation also fills David's mind and heart. Times when their battle assignments sent them in separate ways. Years where he was running from Saul. And finally the death of his dearest friend.
All these memories bring David back to the times he made a specific commitment to Jonathan. He promised to protect the seed of Jonathan. He vowed that he would not wipe the line of Saul from the face of the earth but would protect them. It's time to make this promise a reality.
David calls for his chief servant, Abket. "Locate for me a living member of the servants of the house of Saul. I would speak with such a man."
This was an easy task for Abket. There had always been a network within the servant class that tied them together and kept tabs on one another. This network also function to protect one another. Abket saw no malice in David's eyes when he issued this command. He also knew David as a fine master and king. He had no fear as he went to retrieve a servant who had served in the home of Saul. Ziba was the man Abket knew to search out. He had been a chief servant in Saul's home.
Ziba was easy to locate. Abket knew of his new master and set out for the home in haste. Once Abket reached the home of Ziba's master he sent word through the servant at the gate for Ziba to come out to him.
"Ziba, Abket awaits at the gate. He says he has urgent business with you."
"Did he say what kind of business?"
"No he did not. He said it was urgent though and asks that you come at once."
Ziba knew of Abket's station as chief and personal servant to the king. He wondered what business he could be bringing. Rather than sending word back with the guard, Ziba went with him to the gate.
"Abket, my friend. I hear you have news for me."
"I do Ziba. The king wishes to speak with you. He asked me to find a servant from Saul's house. You are the first to come to my mind."
Ziba is puzzled. "What could the king want of me?"
"I do not know but have no fear. My master is a righteous man. He would not dispatch me if the matter were to do you harm. Also, his face betrayed no ill will when he sent me to find a servant from the house of Saul."
Ziba nods. "I will come with you without delay."
The two men return to Jerusalem to the home of David. Once they arrive Abket informs the guard of David's throne room that he needs audience with the king. The guard turns and enters the throne room to announce the return of Abket. David summons them right away.
Ziba stands before David. "Are you Ziba?" (verse 2b) inquires David.
"I am your servant" (verse 2c) replies David as he bows deeply.
David's face is open and eager as he poses his next question to Ziba. "Is there not still someone of the house of Saul, that I may show the kindness of God to him?" (verse 3a).
"There is still a son of Jonathan; he is crippled in his feet" (verse 3b).
David's eyes light up at this news. Not only a member of Saul's house but Jonathan's own son! Kindness to Jonathan's son will be David's ultimate fulfillment of his pledge. "Where is he?"
"He is in the house of Machir the son of Ammiel, at Lo-debar" (verse 6b).
"I must send for him at once!" David turned to the guard. "Take four of my finest soldiers and go to the house of Machir, son of Ammiel, at Lo-debar. Bring me the son of Jonathan. Take a cart and see to his comfort on the journey."
The guard bows and then quickly sets about his task. Lo-debar is in the territory of Gad, beyond the Jordan river. It will take time to bring Jonathan's son to Jerusalem.
Ziba accompanies David's soldiers on their journey to retrieve Jonathan's son. "It has been many years since I have laid eyes on the boy. He must be nearing manhood by now" thinks Ziba. He has personally seen the excitement in David's face upon learning of the young man. Ziba prays he has not been deceived for he does not want to be delivering the young man to a death sentence.
When the group arrives at the home of Machir, Ziba calls out from the gate. "Machir, it is I Ziba. I would speak with you regarding an urgent matter!"
Machir arrives at the gate with haste. His heart races as he surveys those with Ziba. He trusts Ziba not to bring danger to his door yet the appearance of soldiers is not a sight that can be easily dismissed.
"I come in peace Machir. These men with me come in peace as well. King David requests to honor one from Saul's house. When he heard of Jonathan's son his face surely shown with joy! He asks that Mephibosheth come to him in Jerusalem. We have come to fetch him."
"I will ready him for travel immediately." Machir opens the gate to his home and welcomes David's men inside. "Please refresh yourselves while I see to Mephibosheth's travel needs."
David's men find places in the garden to sit. Machir's wife brings them out bread and wine while they wait.
Mephibosheth remembers Ziba fondly and is pleased to see him after such a long time. "Ziba, what brings you to my side this fine day?"
"I come with an urgent message from the king. He wishes to honor you and has sent me to bring you to him."
"Are you sure it is safe?"
"I myself witnessed his face when he heard of your existence. I believe he means you no harm."
Mephibosheth is comfortably seated within the cart before an hour is passed. The procession is underway once this is accomplished.
It has been some time since Mephibosheth traveled for any length of time. His crippled feet make it impossible for him to step away from the group to find privacy to relieve himself along the roadside. Ziba tends to even these needs for Mephibosheth by carrying him wherever he needs to go when the cart can't reach it.
Five days travel has passed before Mephibosheth arrives in Jerusalem. He cannot remember the last time he was here. It was still under the rule of the Jebusites when he was spirited away by his nurse and other servants of Saul's household. Now it is the jewel of Israel, this city of David.
It is nearing nightfall when the group passes through the gates of Jerusalem. David's soldiers are anxious to complete their task and would have taken Mephibosheth directly to the king if it were not for Ziba's pleas.
"It has been a long and dusty journey. Please allow me to care for my master this night. He needs to wash the dust of the road from his body and rest his bones from the jarring movements of the cart. I will have him ready before the morning sacrifice is offered in Gibeon."
The chief guard agrees to this arrangement. "We will come for you at that time on the morrow."
Ziba sees to all Mephibosheth's needs, including preparing a bath for him and washing his clothing. He wants Mephibosheth to look his best when he faces David.
Mephibosheth and Ziba are ready and waiting, as promised, the next morning. A cart has once again been brought to transport Mephibosheth. Upon reaching the home of David, Ziba puts his charge upon his own back. They stand together as one while the guard announces their arrival to David.
Two guards take Mephibosheth from Ziba's back and support him while they move into David's presence. Mephibosheth had requested this arrangement during their time in route to Jerusalem. He was unable to walk or stand but he wanted to be seen as a man before David. Once in David's presence he would be lowered to the floor on his knees. This was the proper way to show respect for a king after all.
David's excitement at seeing Jonathan's son overflows and propels him from his seat. "Mephibosheth!"
The guards set Mephibosheth on his knees and he lowers himself until his forehead touches the floor. "Behold, I am your servant" (verse 6b).
David's heart goes out to the young man. "Do not fear, for I will show you kindness for the sake of your father Jonathan, and I will restore to you all the land of Saul your father, and you shall eat at my table always" (verse 7).
Mephibosheth is awed by David's words. This is a great kindness but he cannot command such resources. He is but a cripple. No better than a dead dog in the eyes of society. His mouth cannot help but voice the concern of his heart. "What is your servant, that you should show regard for a dead dog such as I?" (verse 8b).
David recognizes the young man's concerns without him having to give full voice to them. And he addresses them with respect and dignity.
Ziba stood waiting near the door of David's throne room. David raises a hand and summons him to stand before him. Then he speaks a future and a hope for Mephibosheth. "All that belonged to Saul and to all his house I have given to your master's grandson. And you and your sons and your servants shall till the land for him and shall bring in the produce, that your master's grandson may have bread to eat. But Mephibosheth your master's grandson shall always eat at my table" (verses 9b-10).
Ziba was more than pleased to render this service to both his previous master and his king. "According to all that my lord the king commands his servant, so will your servant do" (verse 11b).
David made arrangements that day for Mephibosheth's care. He would have servants to carry him in a chair instead of on their backs. He also provided him a home of his own near David's palace. Mephibosheth would never want again.
Ziba and his sons and all their families moved to Gibeah to care for all the lands belonging to Mephibosheth. The fields and vineyards never failed to produce good yields while under their care.
Although Mephibosheth was lame in both feet none disparaged him. He met and married a fine woman. They had a son whom they named Mica. David's promise to Jonathan continued his entire life and drew in Mica, Jonathan's grandson, as well.
David could have ignored his promise to Jonathan. There were probably no surviving witnesses to their pact but David's heart wouldn't let him. The biggest reason for this was that it was a promise made of love, not obligation. And now that he had the ability to honor that promise, he DID and then some.
David's promise was not to kill all Saul's family. David went beyond that. Mephibosheth's condition made him a cast away in society. David had every right to consider him the same but his heart wouldn't let him. He honored him greater than anyone could have expected.
This honor would have been a slap in the face if it hadn't been followed up by providing 'legs' for the work. By placing Ziba back into service David also cared for even Saul's servants. Double blessings!
Father God, thank You for sharing this story with me. I remembered parts of it but You brought it to life for me today. I won't be soon forgetting it.
You keep Your promises even better than David. You also know my needs before I even voice them. I'm SO grateful I have YOU in my corner! I did no more to earn it than Mephibosheth did. Thank You for Your extravagant love!