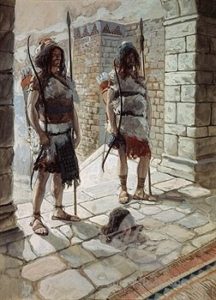 Abner is dead. Ish-bosheth is all that is left of Saul's dynasty. Two of his own captains decide to 'help' David out by killing him. WRONG move.
When Abner went to the leaders of Israel to bring them to David, they were ready and willing to follow him. There was still the matter of dealing with Ish-bosheth but they would cross that bridge when they came to it. Abner held all the power so they would do as he thought best.
Now that Abner has been killed they are back to being under Ish-bosheth's rule. They don't know what to do. Ish-bosheth isn't leader material. He was a figure head; a puppet. And he knew it too. "His courage failed him" (verse 1b).
I'm curious about Baanah and Rechab. We are told they were "captains of raiding bands" (verse 2b). Is this different from being captains in the army? Was their position more of a more sketchy nature? Were men with bad reputations in this position? David called them "wicked men." Was this their general nature or was it this act?
Another possibility occurred to me. Maybe they were loyal to Abner and thought this was a way of honoring his desire to give the kingdom to David. What was it that spawned this plan in their minds and gave them the courage to carry it out? What made them think David would ever condone such an act, let alone reward it?
Since the day Samuel anointed David he had not pushed God's agenda. He refused to raise a hand to Saul or let any of his men do so. He never attacked Israel while on the run. We are told of times the two groups came into close contact with one another but David always retreated. After Saul died there was "a long war between the house of Saul and the house of David" (2 Samuel 3:1a). In none of this did David try and take the kingdom of Israel by force. When Abner came to him with an offer to bring Israel to him, David didn't boast that it was already his because of God's promise. When Abner was killed, David didn't take advantage of that vacancy of power and take Israel for his own. He waited. He left it in the Lord's hands.
I am NOT going to say that these two men were on a mission from God but their actions fed into God's plan. And even after this event, David waited. He would wait until the people came to him and asked him to be their king.
SO MANY TIMES David could have put his own hand to the till and directed his life to match up with God's promises. He COULD have killed Saul on two separate occasions. He could have used his men to storm Israel's seat of power and seize it for himself. He could have even truly allied himself with the king of Gath and taken Israel as a conqueror.
David's hands weren't always clean. He stretched the truth, schemed, tricked people and flat out lied in some situations. But he never took a life without just cause, so far (but that's a story for another day).
I'm sitting here thinking about the deaths of Saul, Abner and Ish-bosheth. The deaths of Saul and his son, David punished the men involved severely. He didn't with Joab. All these deaths opened the path to the throne for David.
One was reported to be a 'mercy killing.' Two were calculated murder. One was hidden. Two were boasted about. One was "bloodguilt" or revenge motivated. One was power motivated. One was 'commanded.' All three left a vacuum in power. All three were mourned by David. All were condemned by David, even though they benefited him. He played no part in these deaths; before or after.
Not that I like bloodshed, I just feel there is an imbalance in David's responses. I fully approve of his outrage on the part of the murders of Ish-bosheth. I understand David's point of 'not raising your hand to God's anointed' but not even to end his suffering when begged to do so? (IF his story was true.) But I don't understand David's 'slap on the wrist' for Joab. Is it because of the "bloodguilt" condition in the law? Did it really apply in this case?
Reading back over the events where David took strong measures, he does so as a requirement of bloodguilt. "Shall I not require his blood at your hand and destroy you from the earth?" (verse 11b). "Your blood be on your own head for your own mouth has testified against you, saying, 'I have killed the Lord's anointed'" (2 Samuel 1:16b). Maybe that is the difference. They were all to repay bloodguilt. David let Joab's act settle the account even though he didn't approve of it before or after but he could not pass on the debt. There would be no end if this was allowed.
I don't like ANY of it. I hate bloodshed. But I do believe in justice. I also believe that man's hand can work God's plan without being told to do so. That holds true today just as much as it did in David's day. It is SO MUCH easier to look back in history and see God's fingerprints than it is to look at today and tomorrow and KNOW for certain where God is taking us. I wonder which hands are working His plan purposefully and which don't realize their ultimate contribution. He is STILL in control. His plan WILL come to pass. And it is going to get worse before it is all said and done.
Father God, You know my confusion. You know how I struggle with injustice. I try to balance the scales in everything I do. I also lean more towards forgiveness and restoration than ultimate punishment. But my 'leanings' aren't always what You choose to use. You have granted me and the whole world MASSIVE amounts of forgiveness. You have done MIRACLES in the line of restoration. But not everyone wants Your gifts of forgiveness and restoration. I can't fix everything. And Your ultimate plan won't be complete without judgement. I trust You to know when to punish with the sword and when to correct with the word. I HAVE TO LEAVE IT ALL IN YOUR HANDS.